You might have heard of the Atkins diet from your friends and your gym mates — this low carb, high fat, and protein diet can be your way to getting that summer body that you have always wanted. Cutting down on carbs is always the best idea to get rid of that excessive fat. You might not notice it in an instant, but being slim because of a healthy diet gives you the glow and the "wow" factor that you'll always get addicted to.
However, when you are a pasta lover and going on an Atkins diet, hold your forks. Pasta is your worst enemy as it usually contains a lot of carbs that are way beyond the required macros for your diet. Yet, when you just can hold your horses and still want to dig in on some pasta at least, then you need not worry; Woolworths Australia can provide you with your pasta essentials that do not compromise achieving your body goals.
You may purchase these pastas and have some sauces and greens for an efficient Atkins diet you could never hate:

Price: $2.50
When penne pasta is just your vibe, you can get it in low amounts of carbs with this product. Created with 25% fewer carbs and a good amount of protein, with a score of 5 stars for taste. This is a smart choice for those going for a controlled carb diet but who love to eat anything pasta, with only 50.5g of carbs per serving and 24.9g of protein.
Moreover, what's penne without the pesto sauce, right? Might as well purchase the Barilla Pesto Genovese Pasta Sauce that gives you the authentic Italian herbs and spices that have been put together for a savory taste. You will get 4.7g of carbs only and 21.9g of fat for every serving.
Other than that, you may also put Woolworths Mushrooms Cups Sliced to provide your meal a perfect kick and make a complete package of pesto penne pasta good for your Atkins diet needs.
Now, who says pasta is always loaded with carbs?
Price: $3.50
Made with konjac to create a natural pasta that does not go beyond your carb intake, this is one of the best pastas you can buy at Woolworths. The organic fettuccine pasta is made with time-honored cooking techniques to provide you with that seemingly classic and luxurious taste for your pasta cravings. It only has less than 1g of carbs, suited perfectly for your carb count per day. Also, it's only produced by mixing purified water and konjac flour, without any artificial additives that could ruin your diet.
Now, if you're looking for a low-carb white sauce, we got you. Enjoy your fettuccine pasta with Leggos Lasagne Bake White Sauce With Tasty Cheese, for a creamy and cheesy taste you'll surely enjoy indulging yourself with. Get only 6.34g of carbs, with 10.13g of fat in every serving. You may even add some chopped bacon on top of it, for a guilt-free and Atkins diet-friendly kind of food you will never be able to resist.
Satisfy yourself with a cheesy fettuccine pasta tonight… of course, minus the carbs!

Price: $3.90
Ey! Who's craving for good spaghetti? Worry not as you can still have that red sauce goodness even when you're on an Atkins diet. Savor yourself with this low-carb spaghetti pasta made also with konjac, prepared from a well-mixed ratio of only water and vegetable base. You'll never get tired of the long slurp with a saucy end with this spaghetti pasta made especially for your needs.
Sauce? Of course, it's always tomato sauce for your spaghetti pasta. Spc Spaghetti Tomato & Cheese Tomato & Cheese Sauce is a good spaghetti sauce choice for a low carb person like you, denying you those unwanted carbs where it only contains 19.9g but is still as good as the real thing. More so, it's packed with a cheesy flavor, so you can skip grating some cheese and have a sauce that compliments your pasta like no other.
Tired of not being able to pair your pasta with anything? Try the Atkins Low Carb Crispbread and enjoy a crunchy crispbread with your cheesy pasta. The best part is it only has 1.8g of carbs.
Perhaps you are up for a good gratification with fewer carbs? Then have a date with yourself… it'll be satisfying to your palate.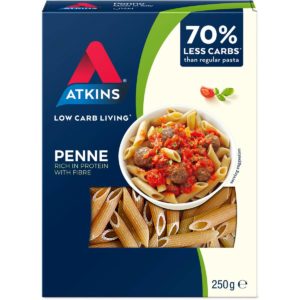 Penne pasta with reduced carbs has never been as good as the normal pasta. This penne pasta lets you have a balanced meal that cuts down on carbs, but never frowns when it comes to taste.
You may pair this with some tuna from John West Calcium Rich Tuna and have an amazingly high protein count of 17.0g with only 1g of carb content. You may also want to top off some spinach for some additional protein, or fry 3 slices of bacon for a higher fat intake.
Need we say more?
Now go on. These Woolworths products are just waiting to be put in your basket!