According to Bride to Be magazine the average cost of a wedding in Australia is  $65,482!
Weddings are sending some couples into debt!
Some couples will put off getting married due to their financial situation. You don't have to take out a second mortgage in order to get married!  Here are the best ways to save money on a wedding.
Get married on a day that isn't a Saturday
It seems that more and more couples are getting married on the days of the week. Fees for hiring wedding venues are much cheaper on days where the venue would usually be vacant.
Find a venue that allows you to bring your own alcohol and food
If you need to purchase food from the venue it will drastically increase your costs.
Venues have astronomical profit margins on their food and alcohol. If you have to purchase your food from them it can get very expensive.
Purchase your own alcohol
Buying several bottles of $10 wine is much cheaper than forking out $7 per glass. If you have the option to BYO alcohol make sure you take advantage of it.
Arrange the catering yourself
If you have the option to bring your own food you can hire a cheap caterer or get your close family and friends to bring a plate of food.
Consider having a buffet instead of a sit-down meal
The average cost of a 3-course sit-down meal in a wedding venue is $100 per person.
If you have 200 people that equates to $20,000 just for the food!  If you instead have a buffet table you can save thousands of dollars.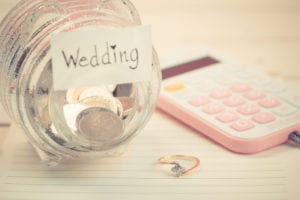 DIY your wedding cake
Wedding cakes can be very expensive. The worst part is that nobody really eats them. They are more for decoration. Try to get someone to make one for you as a gift for your wedding.
Rent your wedding dress
Instead of spending thousands of dollars on a dress that you are only going to wear once, you should rent one instead!
If you have already bought a wedding dress you can always rent it out after your wedding to recoup the cost!
Make your own bouquets
As soon as you mention the word wedding your florist's eyes will see dollar signs. Instead, purchase your own flowers and make the bouquets yourself. Or better yet buy fake but classy bouquets.
Buy second-hand items
Buy anything you can second hand, dresses, veils, suits, decorations you name it!
Make your own playlist
Hiring a band or DJ can be very expensive. Your guests will still have a good time regardless of whether or not there are professionals doing the music.
Get a friend to do the photography
If you have a friend with a good camera and basic photography skills get them to do the photography. You can always edit the photos later.
Make and print your own invites
There are many services available online that help you to make your own stunning wedding invites. Make your own and print them out on nice paper at a store that specialises in printing.
Don't invite everyone you know
You don't need to feel guilty about not inviting certain people to your wedding if you are paying upwards of $100 per head. See who you can and cannot cull from your wedding.
Buy a white dress that isn't a wedding dress!
There are many nice white dresses that are not technically wedding dresses. Try buying a nice white dress that can double up as a wedding dress.
Borrow cars
Hiring cars for weddings can be expensive. Not only do you have to pay for the car hire but you usually have to pay for the insurance that comes along with renting one. If you have a friend with a nice car try to borrow one off of them.
Only serve beer, wine and soft drink at the bar
If you are having a bar tab try to limit drinks to basics such as wine, beer and soft drink. This will be much cheaper than spirits and cocktails.
If people have the option to order sprits and cocktails that they do not have to pay for the bar tab can skyrocket very quickly
Rent a house to host your ceremony and reception at
There are many homes available for rent that you can hire to host your wedding. A house will be a lot cheaper to hire than a wedding venue.
You can even extend your stay at the house for a honeymoon and a place for your guests and wedding party to stay at.
Get married in a garden or outdoors
A lot of parks and gardens will allow you to get married at no cost. The only thing you will need to pay for is the seating, decorations and wedding celebrant.
Host your ceremony at home or at a friend's house.
This is similar to hosting your wedding in a rental. Not only will you save money on your wedding but you will also save money by having the option to organise your own catering and alcohol.
Get married off-peak
Wedding venues will jack up the pricing during peak wedding seasons. Research the cheapest times to get married in your area.
Ask for money as a gift rather than presents
This is the best way to recoup the money you spent organising your wedding. You may even end up with more money than what you spent!