MOPA (Museum of Play and Art)  is a fun and interactive children's museum. There are currently 2 locations. One in Geelong and one in Melbourne (Sandringham). We visited the Geelong location and had an amazing time. Our son Charlie who just turned 2 loved the museum and didn't want to leave once our session was over. There was so much to do and he was generally able to participate in every activity.
The museum is targeted to kids aged 0-7 but I think kids aged up to 10 would have a great time here.
Do you need to book to go to MOPA?
Yes! MOPA Geelong runs on session times. Session times are listed below.
Weekday sessions times:
Morning: 9.30am – 11.30am
Midday: 11.30am – 1.30pm
Afternoon: 1.30pm – 4.30pm
Weekends & Holiday Session Times 
Morning: 9.00am – 11.00am
Midday: 11.00am – 1.00pm
Early Arvo: 1.00pm – 3.00pm
Late Arvo: 3.00pm – 5.00pm
Facilities at MOPA Geelong. 
A cafe serving coffee, drinks, sandwiches and fruit.
Baby change rooms
Toilets
Pram parking
Heating and air-conditioning
2 party rooms
Pricing:
Infants under 1 are free. Children aged 1-18 are $16. Adults over 18 are $12 and seniors are $10 per session. MOPA also has yearly memberships so that you can visit as much as you like in a year for a one-off payment. See their website for membership prices.
Parking at MOPA Geelong
There are plenty of 2-hour parking zones around the museum which should be okay as sessions at the museum only last 2 hours. But there are also some 4-hour zones if you're willing to walk a bit. There is also a small car park located behind MOPA. To get to the car park you'll need to go down to the end of Cullens Place Geelong, then enter the car park. The car park is $5 and only accepts coins which is important to note. I would just use the street parking as the Cullen street car park is quite tight and hard to find. Just make sure you come early so you can find parking.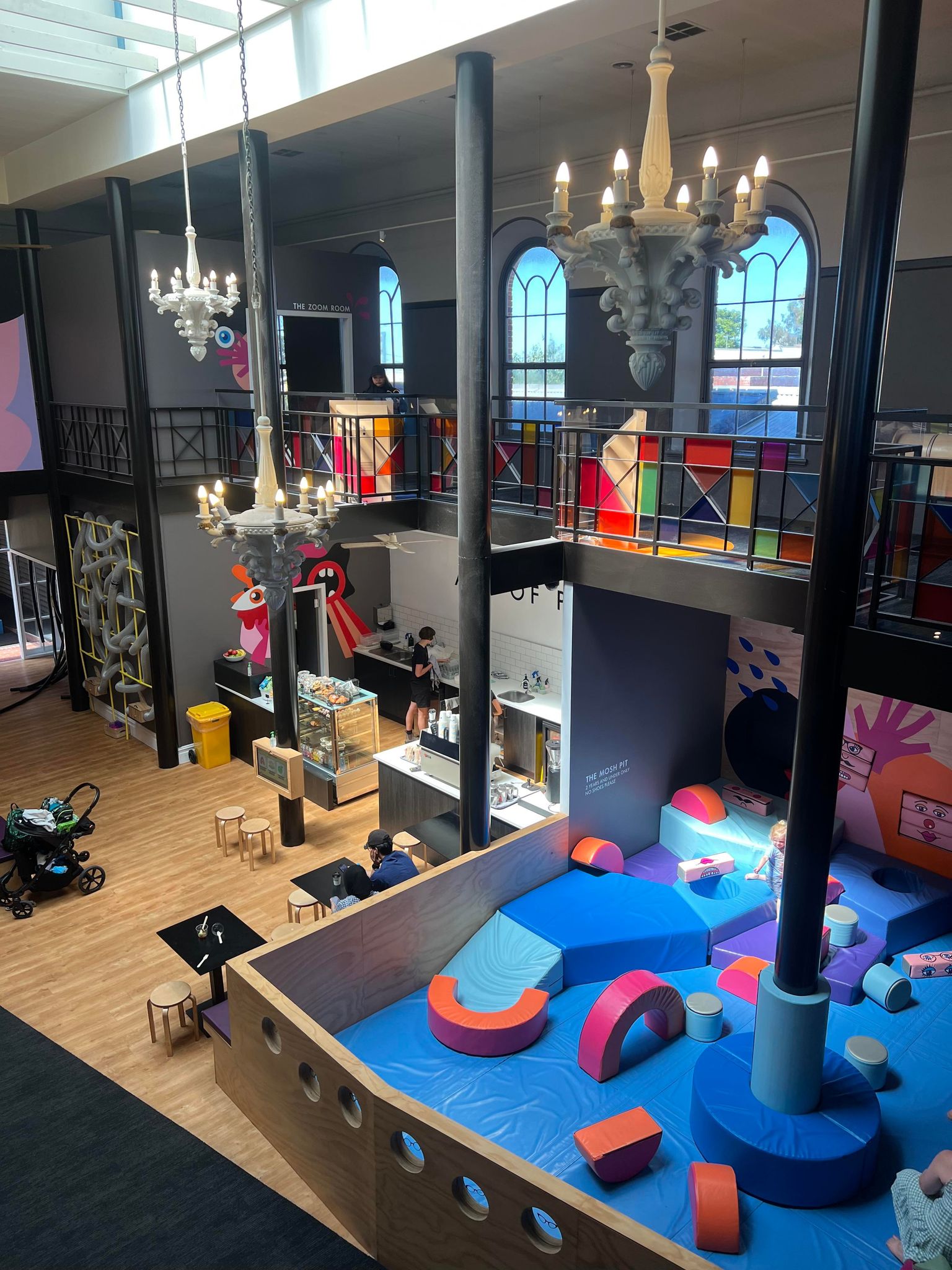 Play Areas at MOPA Geelong
There are so many interactive play areas at MOPA and we didn't need to wait to use anything as there was enough at the museum to keep all of the kids busy enough to prevent anyone from fighting over any of the exhibits and play areas. This could have been because we went on a weekday but I'm sure you won't have an issue if you go on a weekend. This is because bookings at MOPA are essential and session times keep guest numbers low enough so that everyone gets a chance to play with everything.
Play Areas and Exhibits at MOPA Geelong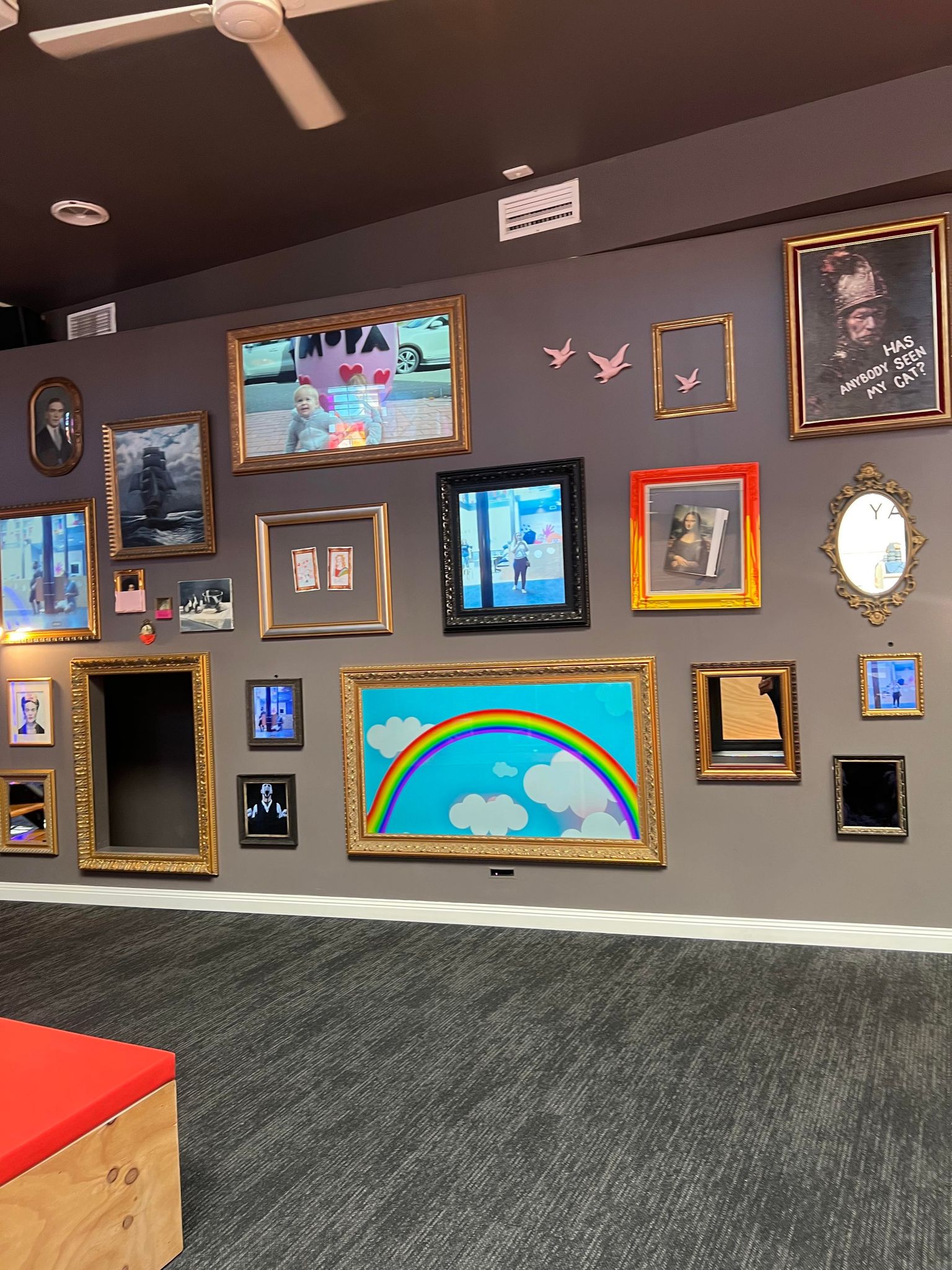 There are several interactive screens scattered throughout the museum that you can interact with. These were very popular.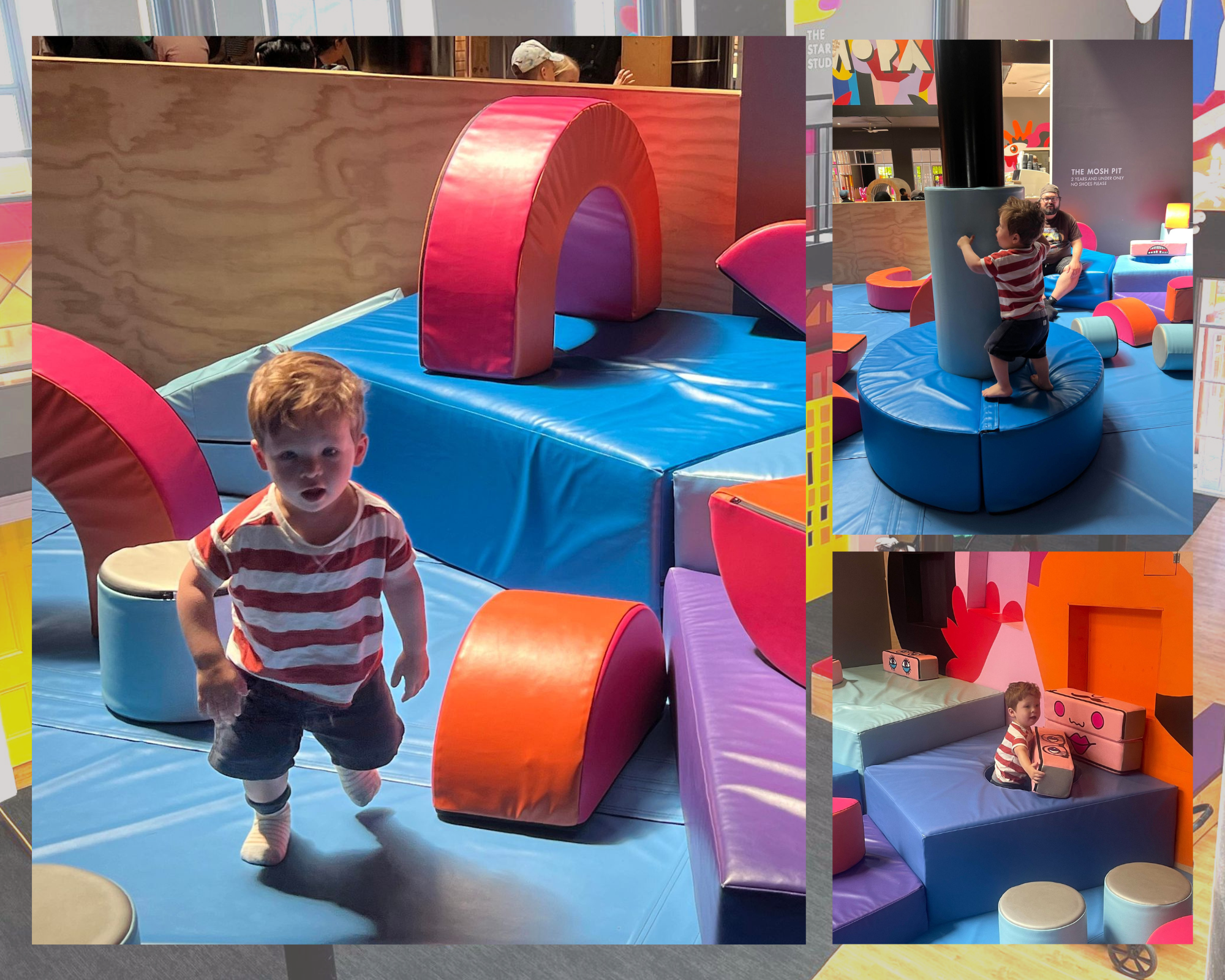 For the little ones, there is a soft play area for kids aged 2 and under. This was Charlie's favourite area. He kept going back to this after briefly exploring the other exhibits.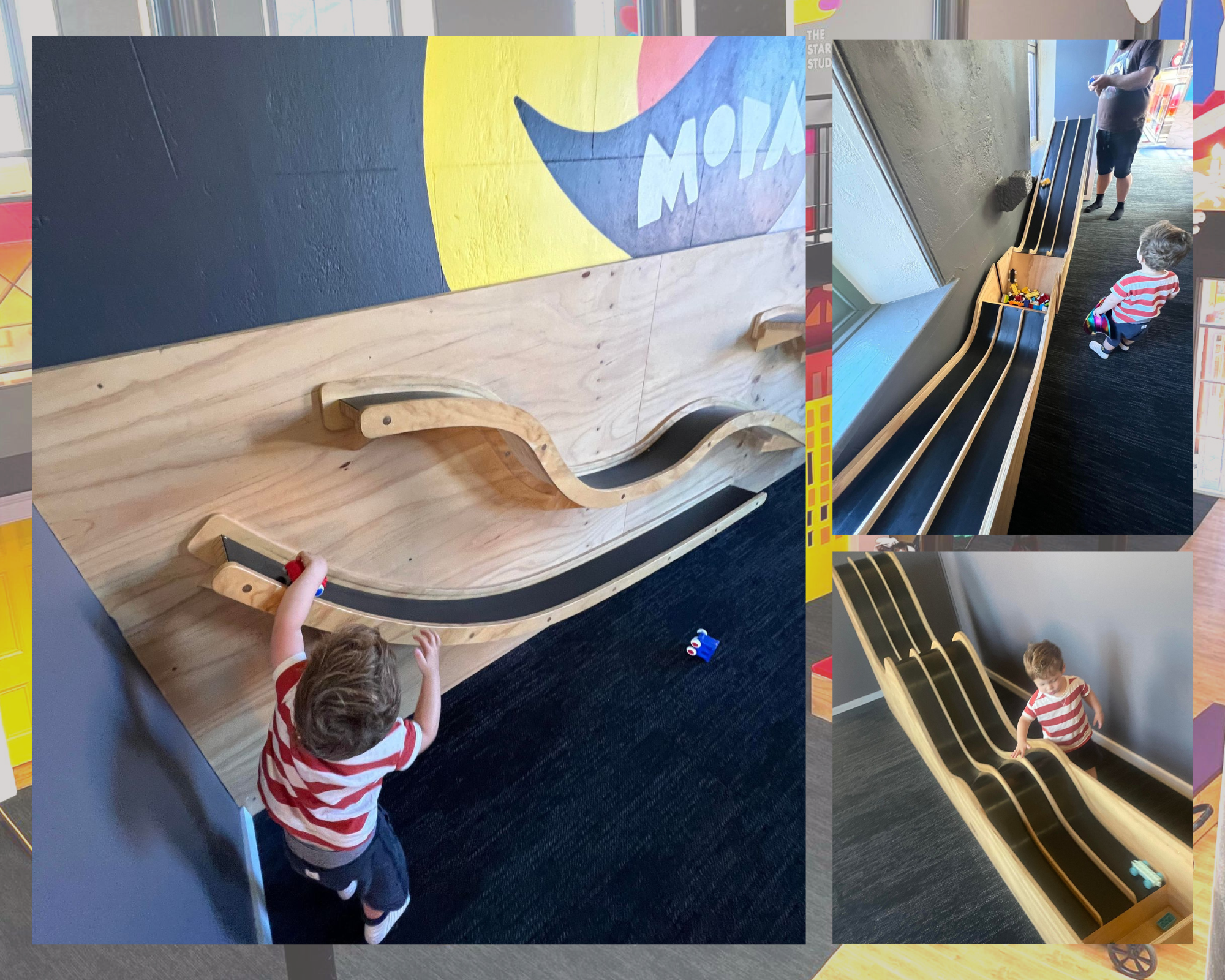 There are a few more play areas upstairs but it's important to note that there is no lift access. Upstairs there is a car play area, a quiet play area, a dress-up area, and a few interactive screens and optical illusions to play with.
In the car play area, you can play with gravity and push cars on various size ramps. There are also Duplo cars and you can make your own car and experiment with heavy cars versus light cars and more.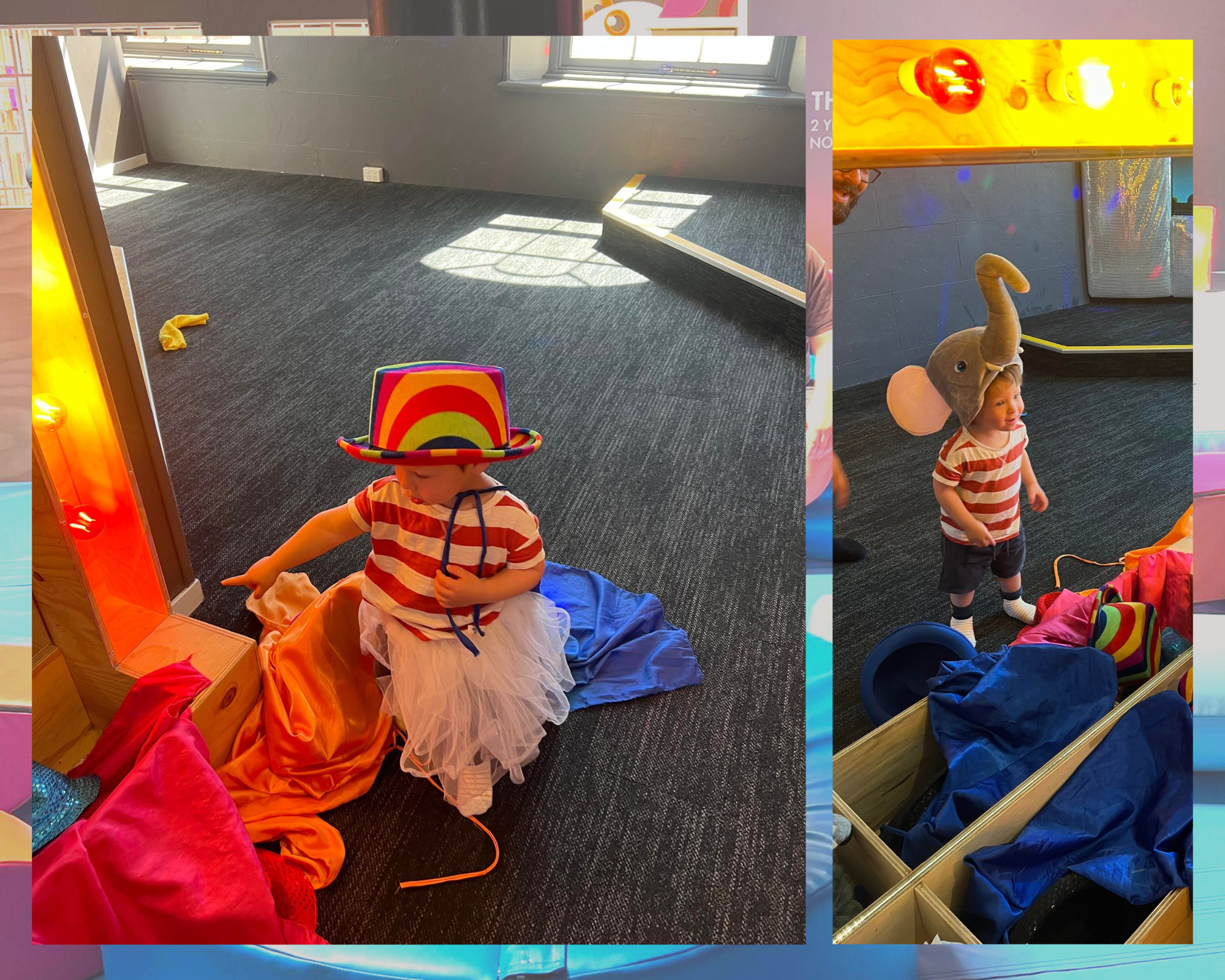 The dress-up area is a lot of fun. Little ones can really use their imaginations and play with lots of different props and costumes. There is also a TV upstairs playing music videos if your little one likes to dance. (I know mine does)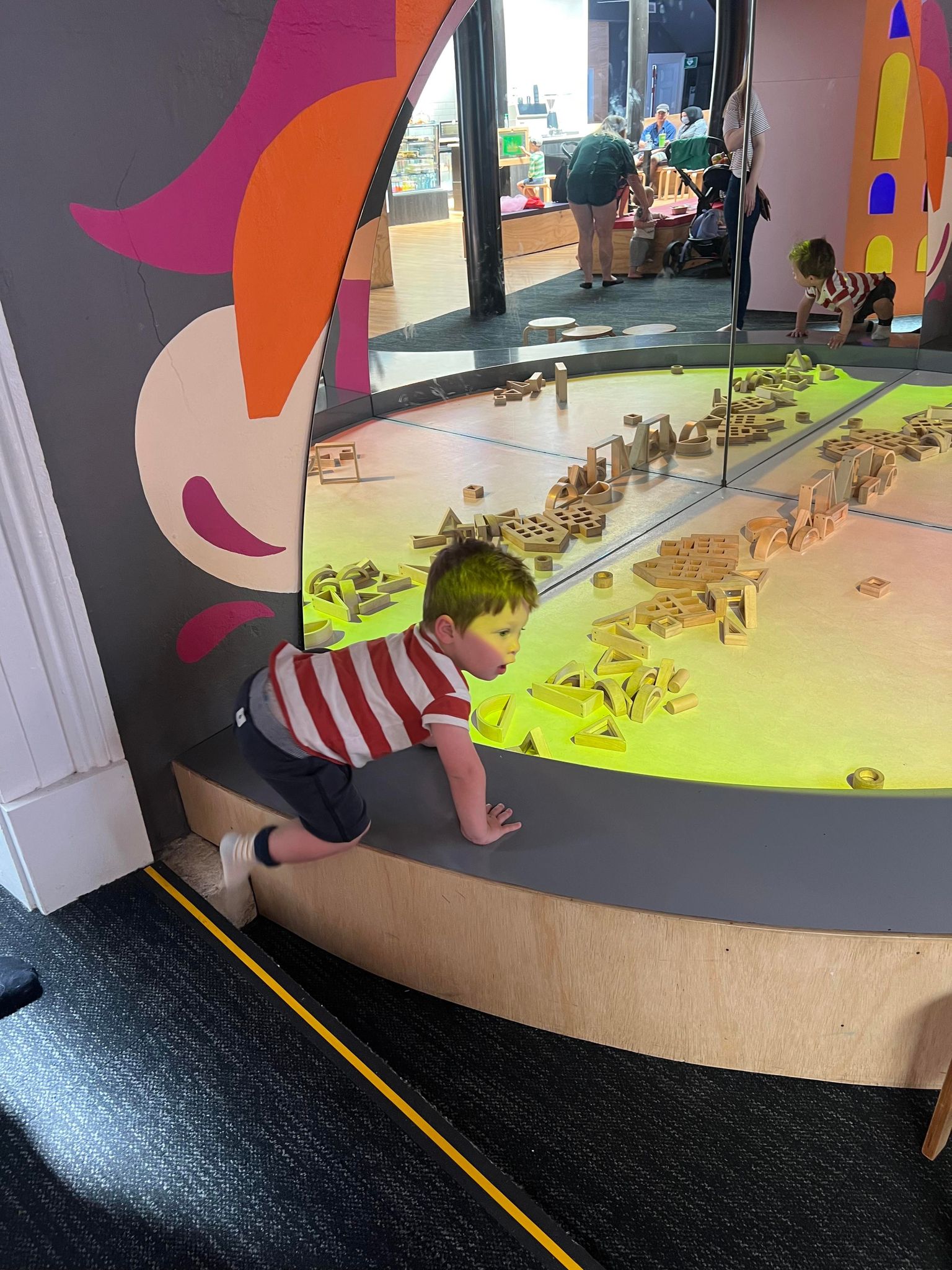 If your little ones like blocks then there is no shortage of blocks here. There are large blocks and small blocks. mirror blocks, Duplo and pretty much any other kind of block you can imagine.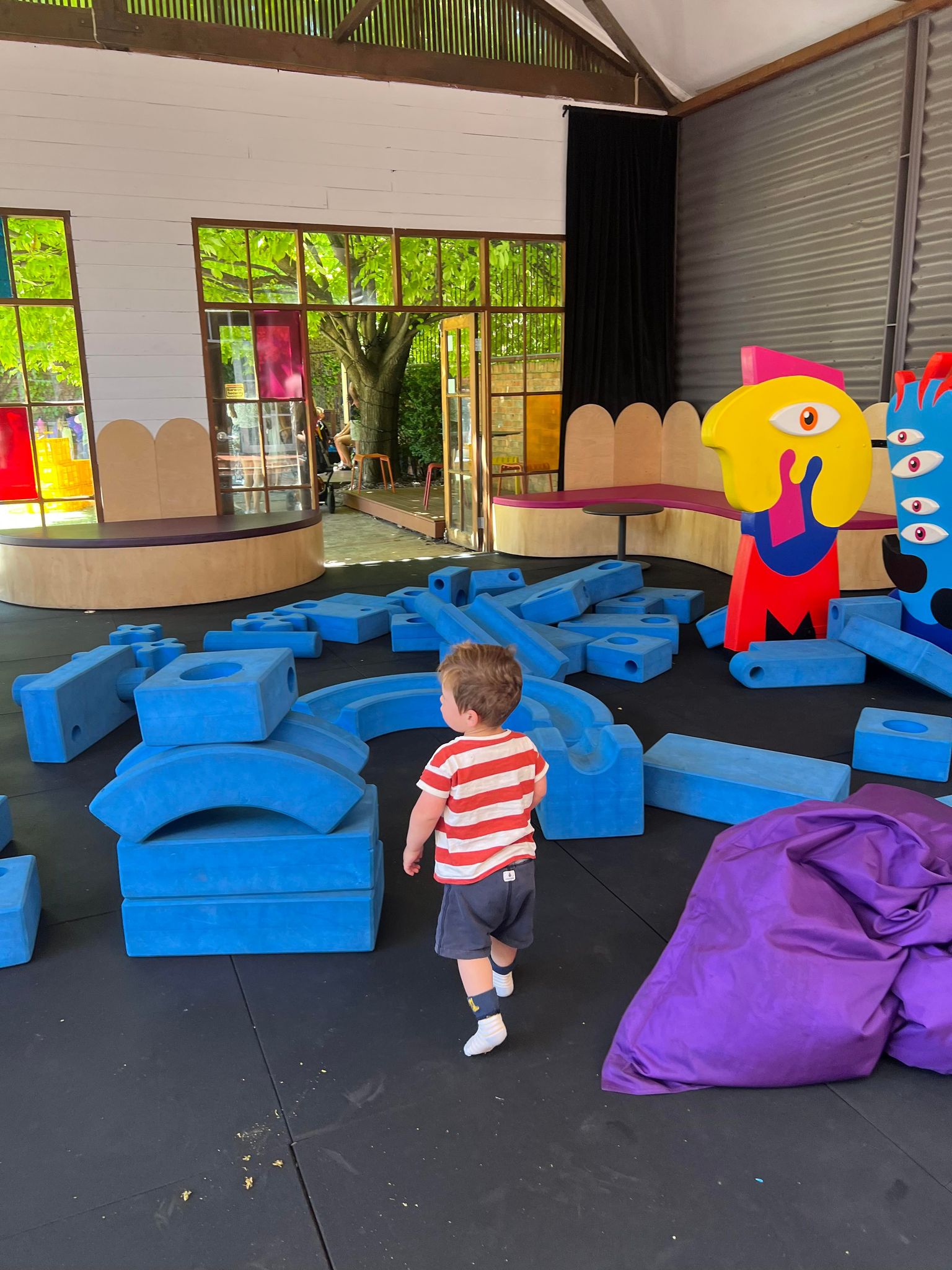 These giant blocks are great for older kids and can be placed together in a variety of ways to make whatever their imaginations can conjure.
There is also a miniature version of the large blocks but I would still say it's more suited to kids aged 3 plus. My newly turned 2-year-old had no clue how to use these.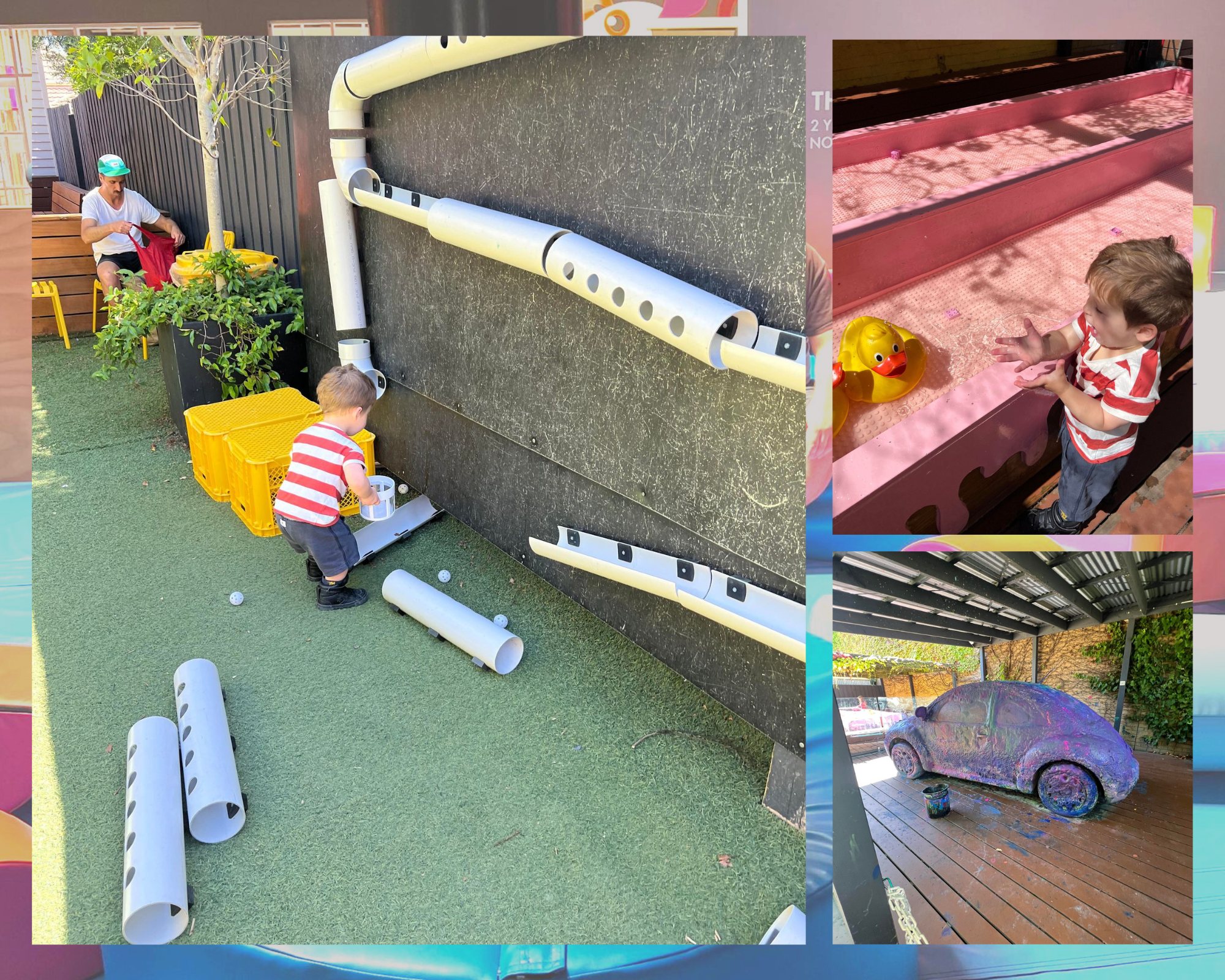 Outside there is a car to paint, a water play area and a giant magnetic ball run. The magnets on the ball run were quite strong and hard for young ones to manipulate but are a lot of fun with help from a "grown-up".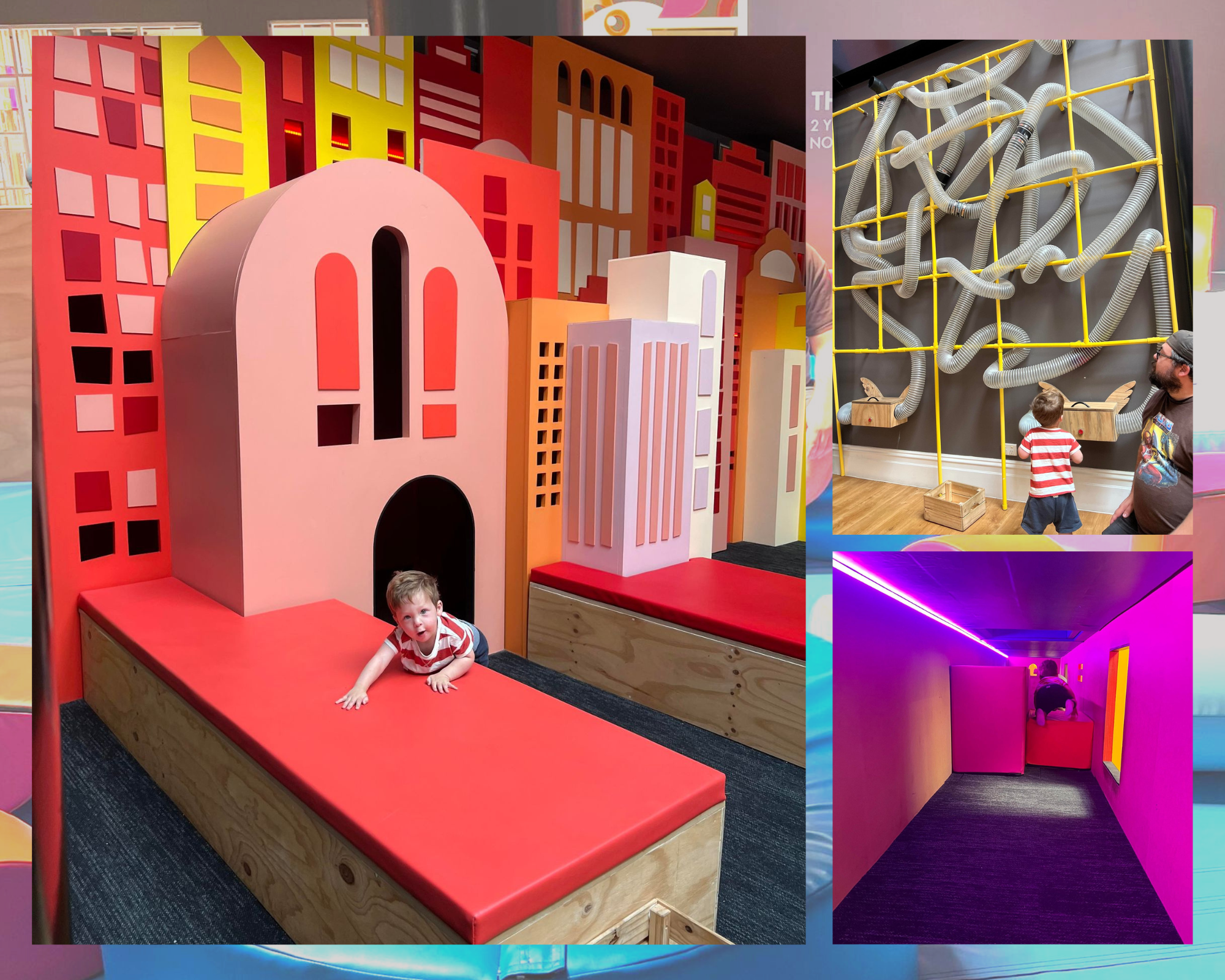 Here are some more photo collages of the indoor play areas. Charlie had so much fun here. The main attraction at MOPA is the large play structure in the centre of the venue which kids have a lot of fun cli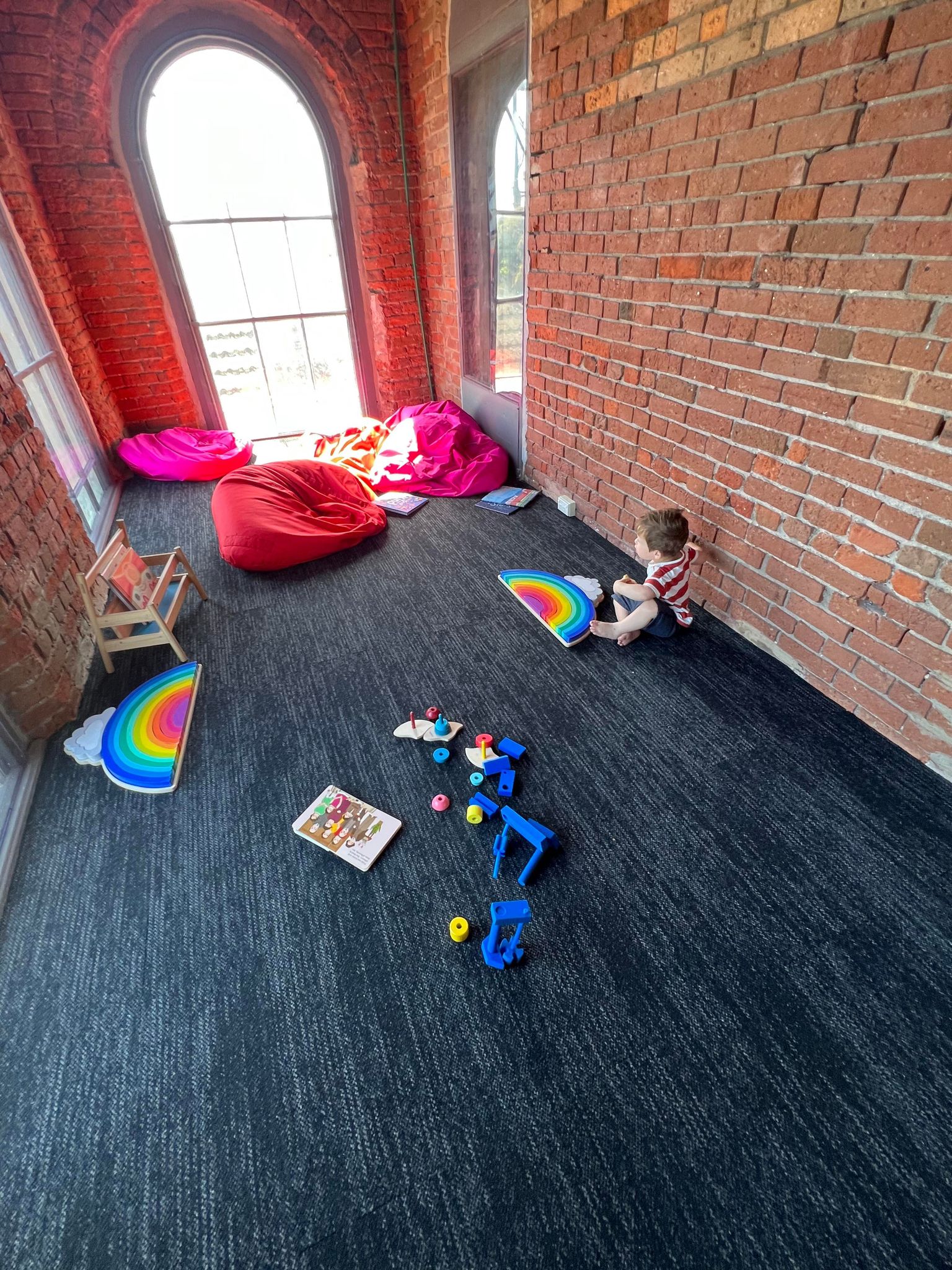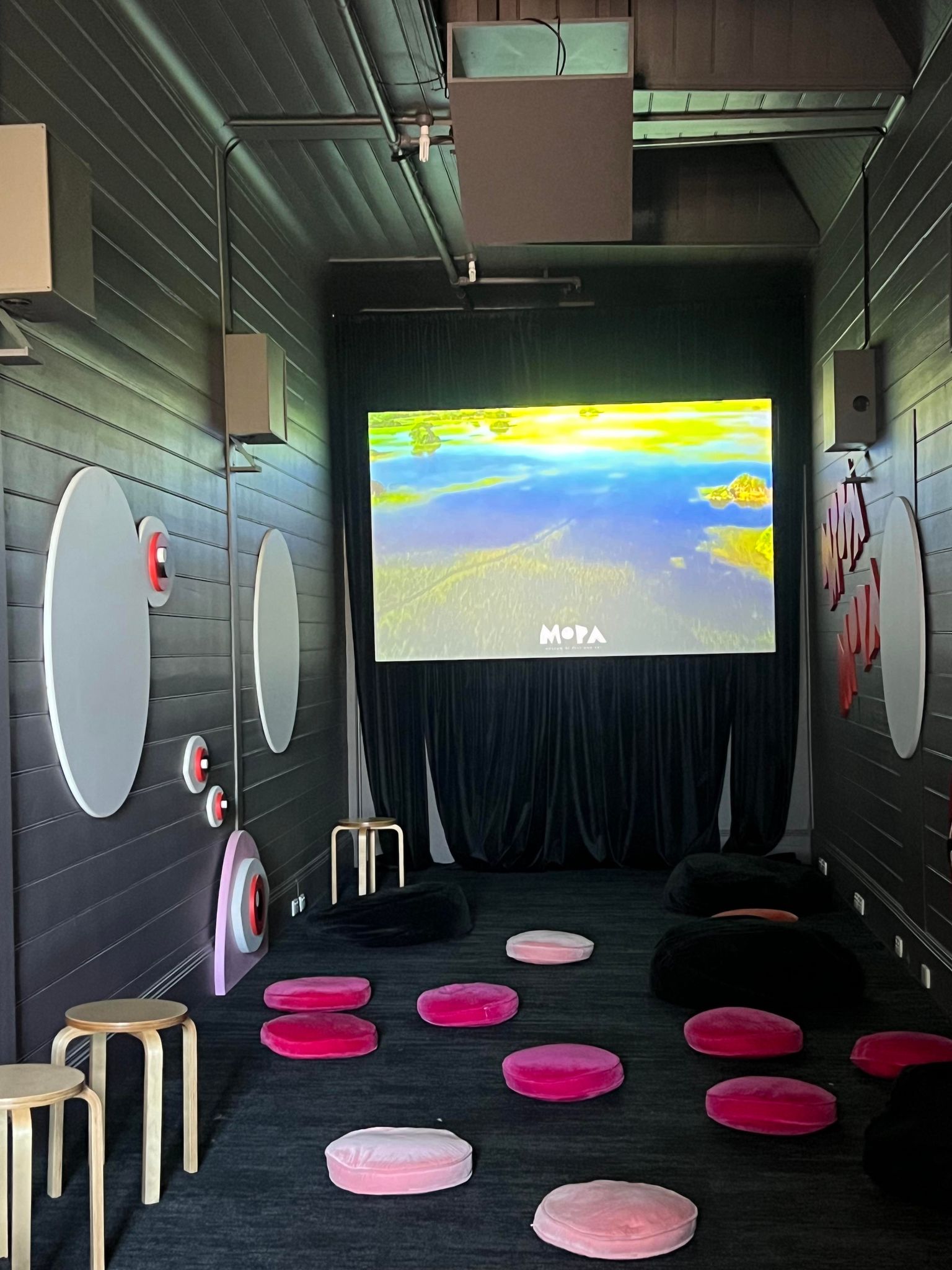 Because MOPA is a children's museum it can get quite noisy and overwhelming, If you want to escape the noise there is a small cinema near the pram parking area and a quiet play area upstairs. There are also some books in these areas if you like.
Address: 51 McKillop St, Geelong VIC 3220