If you're looking for a play centre near you look no further than this list. Play Centres are a great way to keep your kids busy on the school holidays and weekends and are great places to burn off some energy and get active and have fun without screen-time. Whether you're looking for somewhere to go this weekend or are looking for a play centre to host a birthday party in there should be something on this list for you. 
There are a huge amount of play centres in and around Melbourne. It's hard to choose which ones to go to. Some play centres are certainly better than others.  I have put together this list to help you find the best play centres and trampoline parks in Melbourne near you that are worth your time and money. 
Here is a tip for keeping your stuff secure at play centres. Playcentres are notorious for lost items. Since you usually need to leave your bags, shoes and belongings behind while you play.  It's a good idea to put custom stickers on your belongings. This makes it easy to find your belongings if they end up in the lost property. You can even put your name and number on them so if they get lost people can find you and return them to you.
AiroWorld Trampoline Park Altona North
Address: 61 Dohertys Rd, Altona North VIC 3025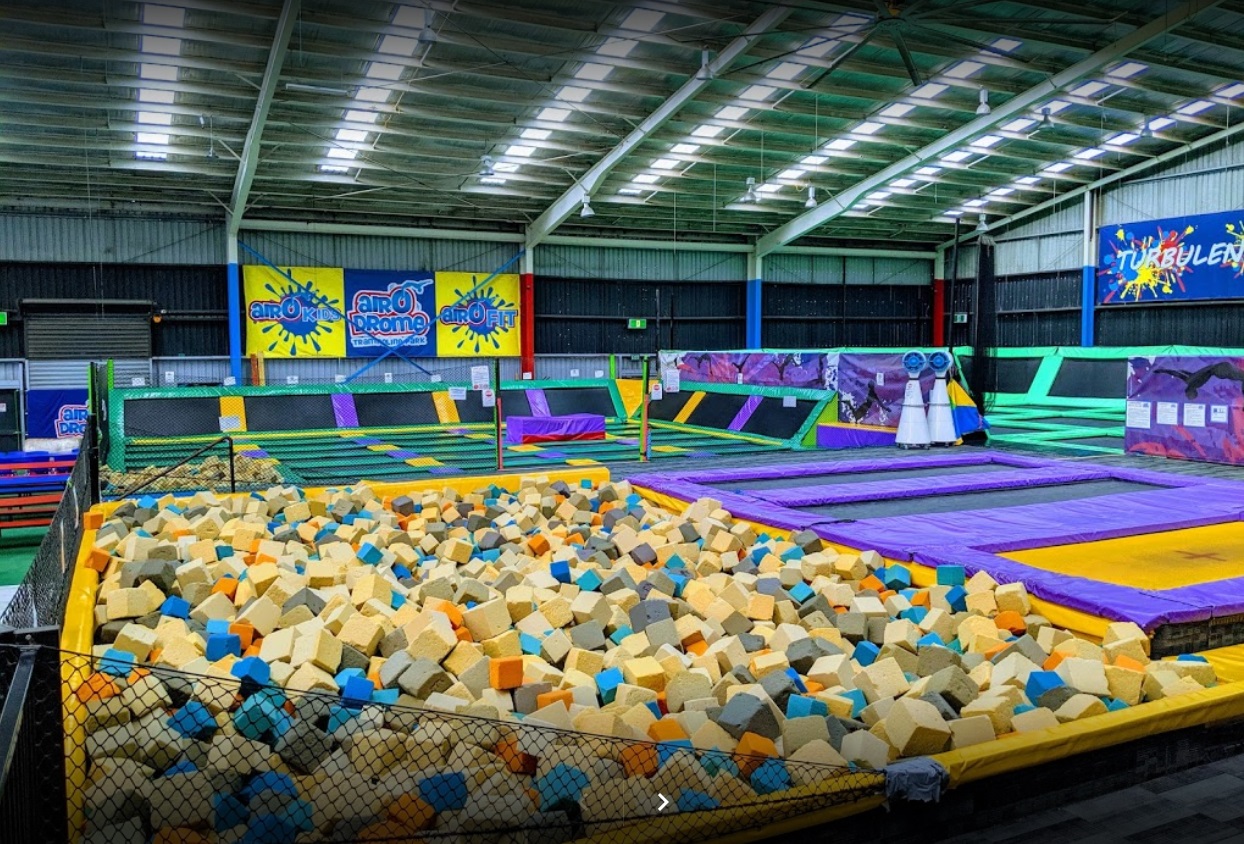 AiroWorld (formerly named Airodrome) is a HUGE indoor trampoline park located within the Westgate Indoor Sports Centre. The play centre is split into 2 sections. There is a huge area with dozens of trampolines and another section full of inflatables and jumping castles to bounce on. The best part of AiroWorld is the huge foam pit. Even I want to jump in there.
Bounce, Essendon Fields, Glen Iris, Geelong and Blackburn North

At many of the BounceInc locations, you will find a ninja warrior style course for you to challenge yourself on. If you take your ninja warrior skills more seriously the Glen Iris location also has a fortnightly class for kids over 8 called ninja squad. Bounce in Glen Iris is probably the best Bounce location in Melbourne. There are 50 trampolines, a giant bag to jump into, a dodgeball court, a basketball area and more.  Bounce the day away at Bounce!
Crocs Playcentre, Hoppers Crossing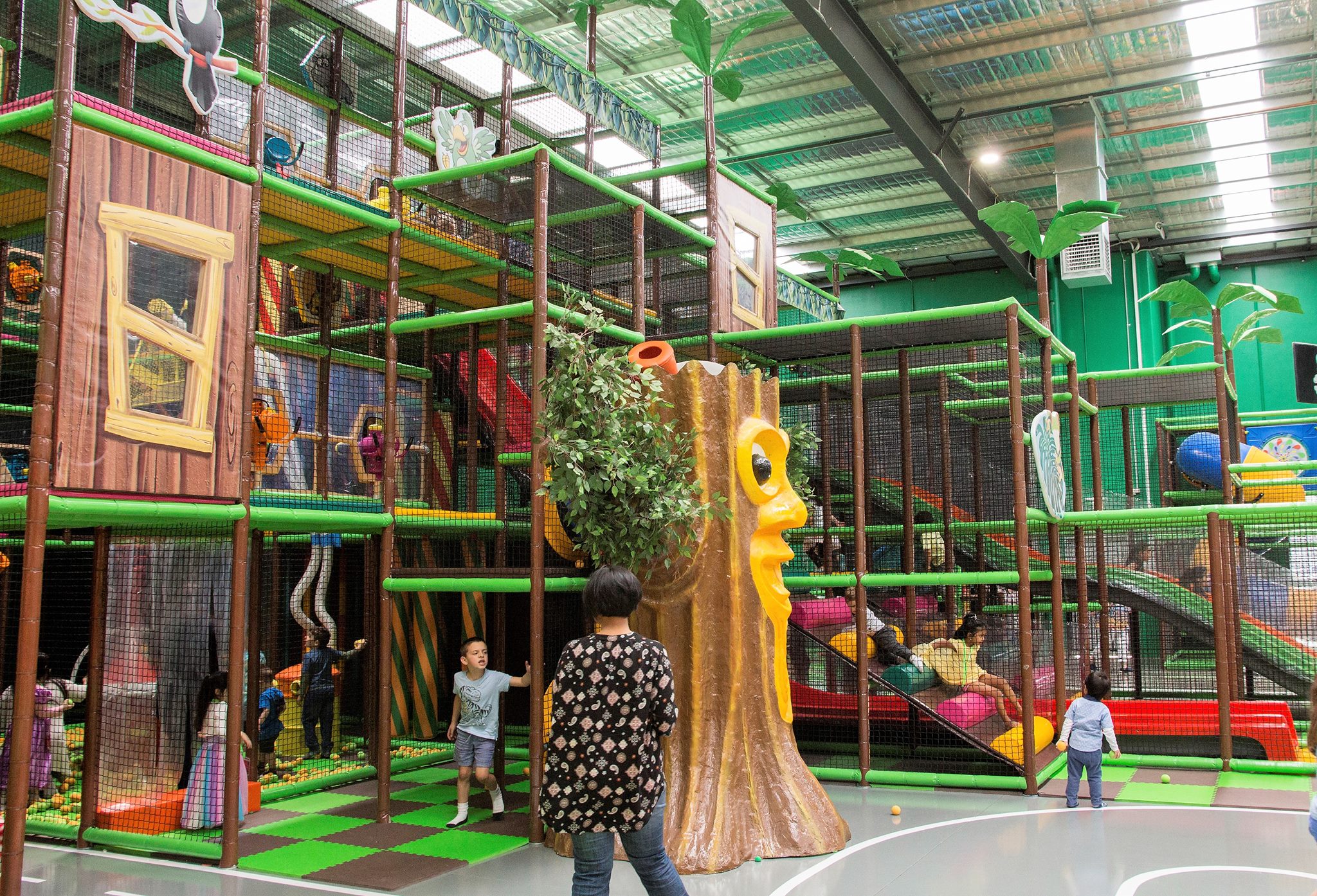 There are many Crocs Playcentres around Melbourne but the Crocs Playcentre in Hoppers Crossing is probably the best one worth visiting. It's a great jungle themed play centre in the western suburbs.  Crocs Playcentre has play equipment for children of all ages and a designated toddler area so you won't need to worry about your little ones being trampled by older kids.
DreamCity South Wharf
Address: DFO South Wharf, Shop 114/115, Level/1 20 Convention Centre Pl, South Wharf VIC 3006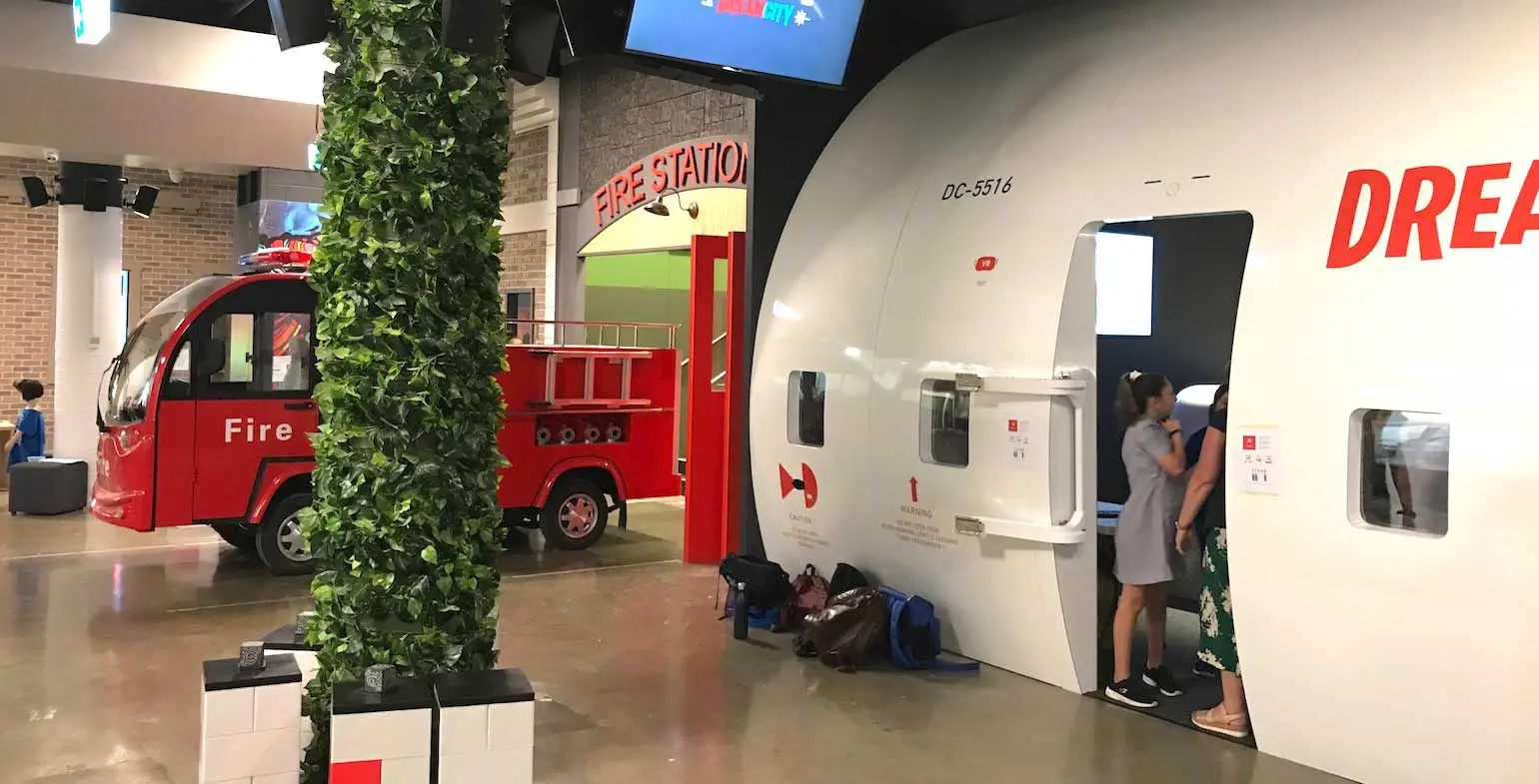 DreamCity Melbourne is located inside DFO South Wharf. If you have heard of Kidzania, DreamCity is very similar.  It is a kid-sized city that inspires kids to learn through exploring different occupations in the STEAM industries. (Science, technology, engineering, the arts and mathematics. It's suitable for children aged 3-13. It's something to add to your Melbourne bucket list.
Flip Out Box Hill and Derrimut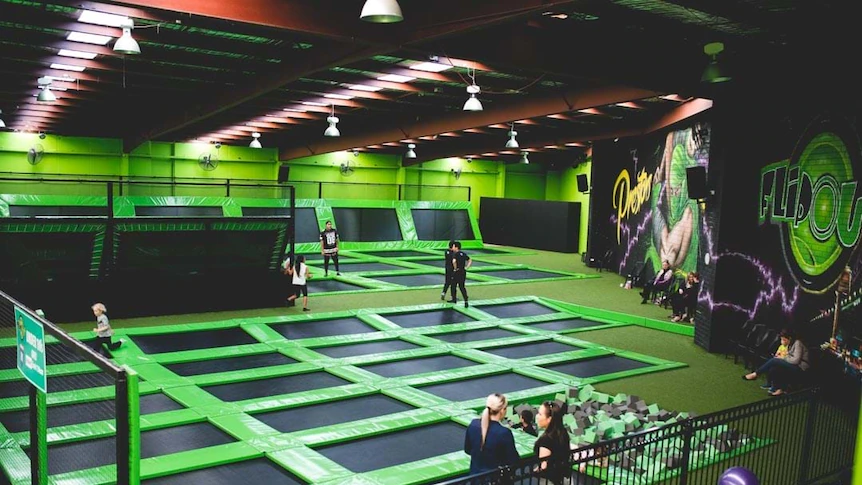 Flip Out Derrimut is a great trampoline park but if you want to do more than bounce head on down to Flip Out Boxhill. The Boxhill location has a large playground, ninja warrior courses, ninja classes and lots of things to climb. It's certainly worth a visit.
Funtopia Maribyrnong and Carrum Downs (Australia's Biggest Indoor Playground!)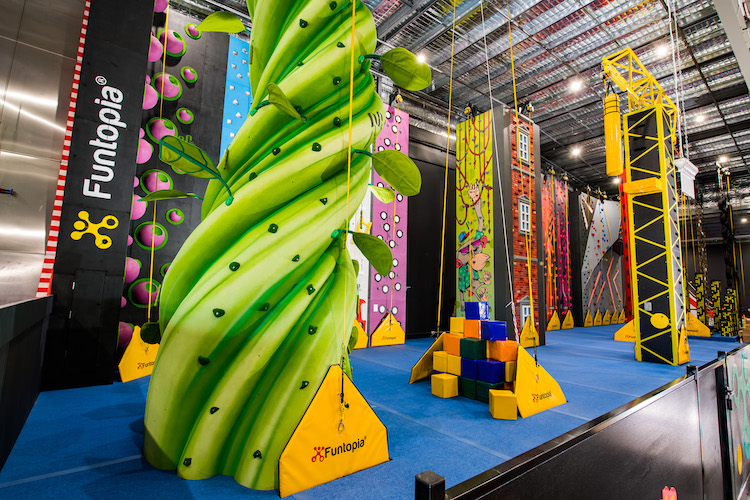 Funtopia Carrum Downs is Australia's Biggest indoor playground! There is a toddler area, a huge variety of things to climb, a giant vertical slide, a huge playground and a cafe for the adults to enjoy.  The playground is even Australia themed! Kids can play in the MCG, Sydney Harbour Bridge or Great Barrier Reef!. Funtopia Maribyrnong also has a playground and climbing area. There is also a replica Melbourne tram to play in!
GoClimb, Coburg
Address: LINCOLN MILLS HOMEMAKER CENTRE, 64-74 Gaffney St, Coburg VIC 3058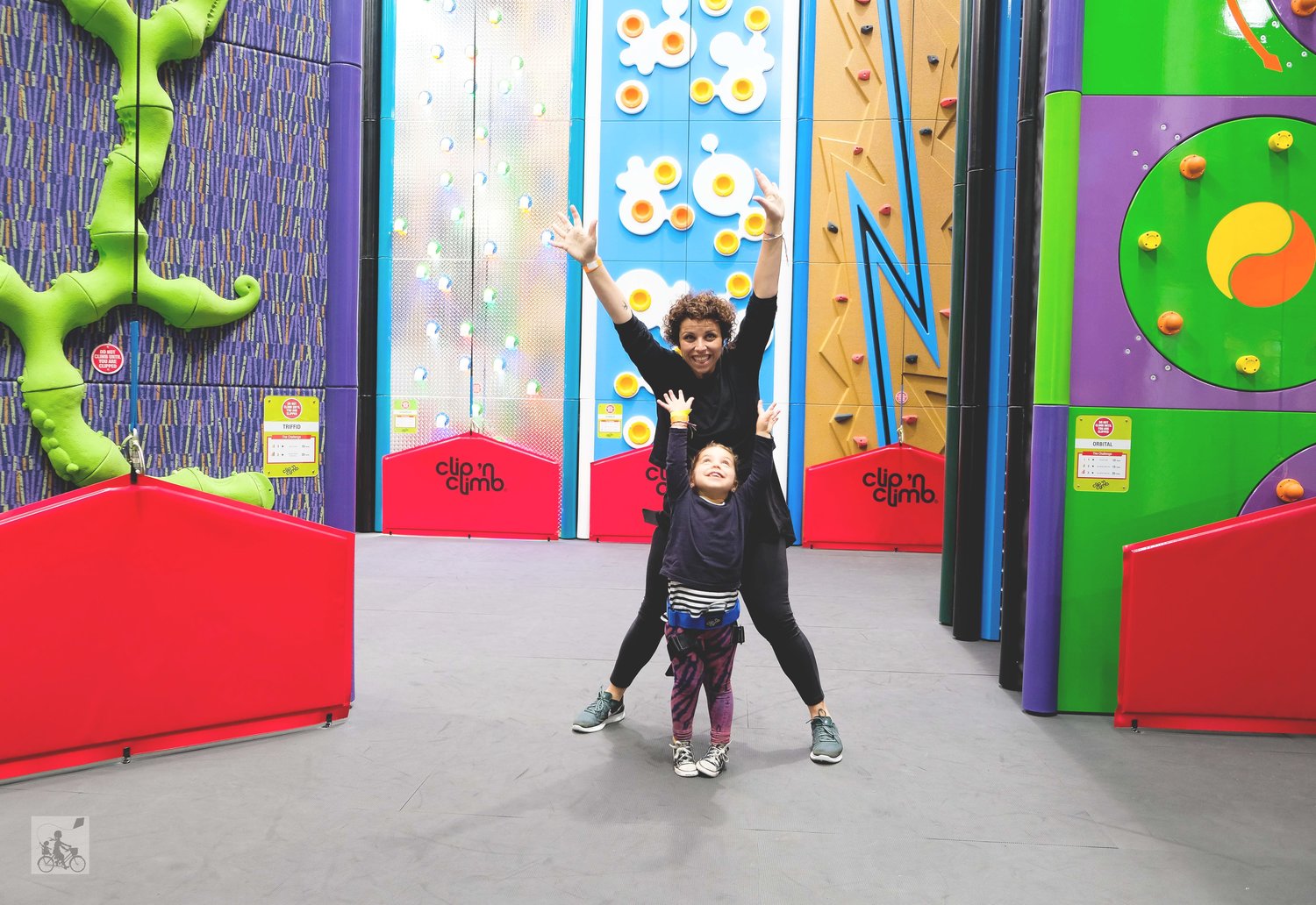 GoClimb Coburg has more than just things to climb. There is also a challenging ninja warrior style obstacle course, a playground and a play area for kids under 2. There is also a cafe for the adults to chill out in while the kids play.
J Park, Oakleigh South
Address: 352-356 Huntingdale Rd, Oakleigh South VIC 3167
J Park is a huge 5000sqm play space in Oakleigh South. It is best for older children as there isn't a designated play area for little ones. There's a high ropes course, a swimming pool sized ball pit, a 6 level playground, a rock-climbing wall, ninja parkour course, flying fox and more. Update J Park is now closed, I'm devastated, but it's currently for sale so I'm hoping someone reopens this epid play centre.
Jump Deck, Knoxfield
Address: 123 Lewis Rd, Knoxfield VIC 3180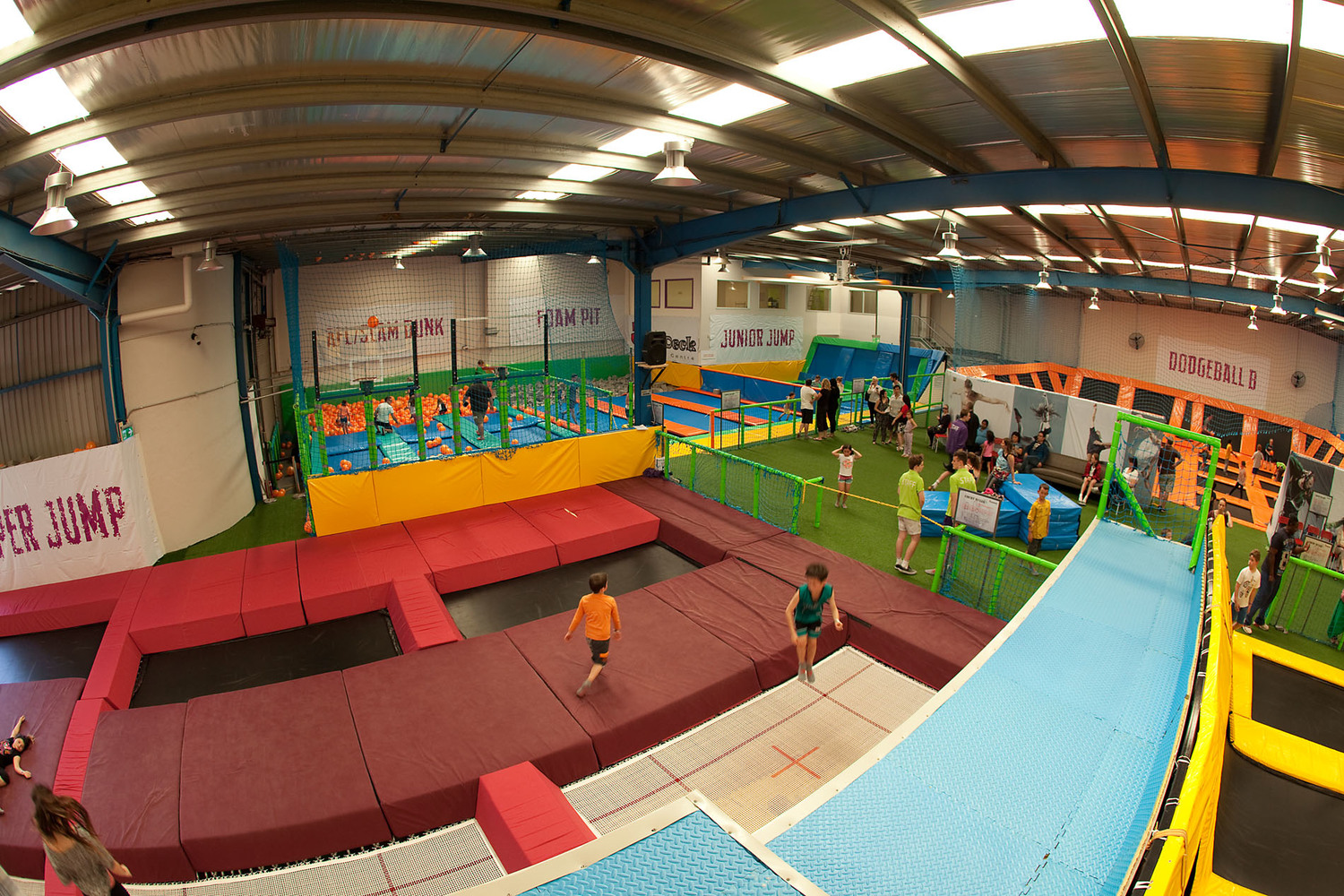 Jump Deck has multiple play areas to bounce and play in. There is a giant ball pit, a junior jumpers area for children under 110cm, a volleyball court, a tennis court and an indoor playground!
When you go there don't forget to jump into cushion central. It is a giant pool filled with colourful cushions and pillows. It's a great soft and safe place to play.
Landing Play Centre, Bundoora
Landing Playcentre is a beautiful play centre that doesn't smack you in the face with lots of bright colours like most play centres. There are 3 zones. A baby zone,a toddler zone and the main zone for kids aged 5-11.  The Play centre is free for children under 12 months of age and adult entry is only $4 and it includes a drink voucher! The venue also hosts children's parties and you can even hire the whole venue if you want it all to yourself!
Bounce Heidelberg Formerly Known As Latitude, Heidelberg
Address: 590 Waterdale Rd, Heidelberg VIC 3081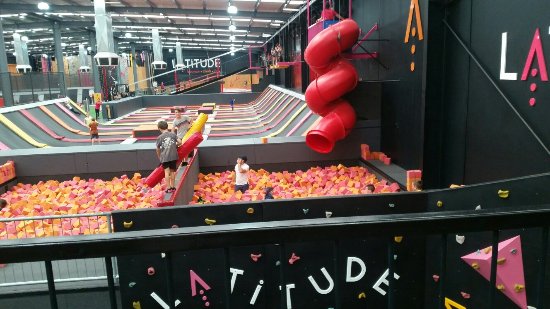 Bounce Heildelburg is a huge play centre there is a playground, a trampoline park, a ninja obstacle course and an indoor climbing park all in one venue. There is plenty to do. Bounce also hosts children's birthday parties if you want to give your kid the party of the year.
Legoland Discovery Centre, Chadstone Shopping Centre
Address: Level 2/1341 Dandenong Rd, Chadstone VIC 3148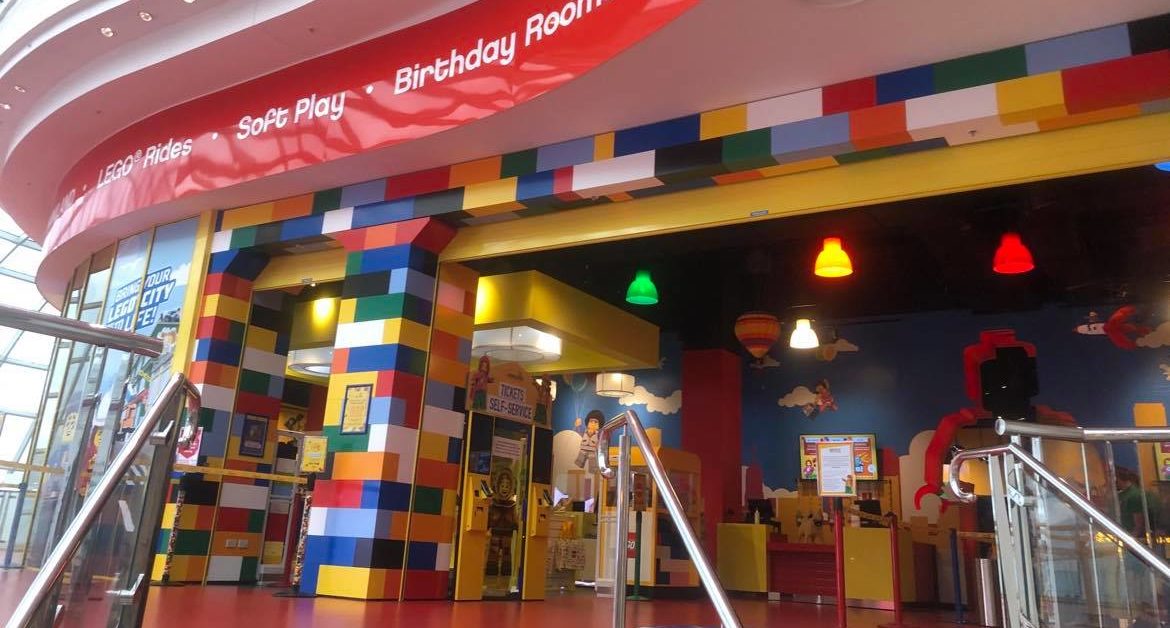 The Legoland Discovery Centre has 13 exhibits including a miniature Melbourne made entirely of lego. See how many Melbourne landmarks your kids can point out such as Luna Park, Eureka Tower and Flinders Street Station. There is also an indoor playground, and 2 rides for your kids to enjoy. Once your kids have burned all of their energy there's a cafe to recharge their imaginations.
MOPA (Museum Of Art and Play) Geelong
Address: 51 McKillop St, Geelong VIC 3220

MOPA isn't technically in Melbourne but it's worth a trip from Melbourne. It's only 1 hour from the Melbourne CBD. The Museum Of Art and Play is a children's museum that allows kids to explore their creativity.
Ninja Parc, Bayswater
Address: 13-17 Burton Ct, Bayswater VIC 3153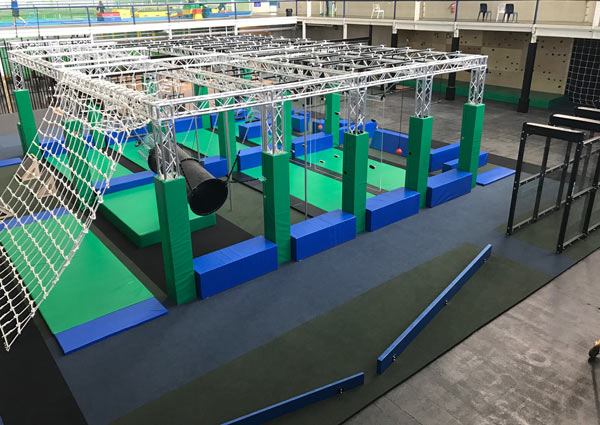 Ninja Parc is a huge ninja warrior style play centre for people of all ages. The best part is adults can use the equipment too so you can get active while playing with your kids. Head on down to Ninja Parc and put your ninja skills to the test.
Rabbit Hole Play Centre, Braybrook  
Address: 13/227 Ballarat Rd, Braybrook VIC 3019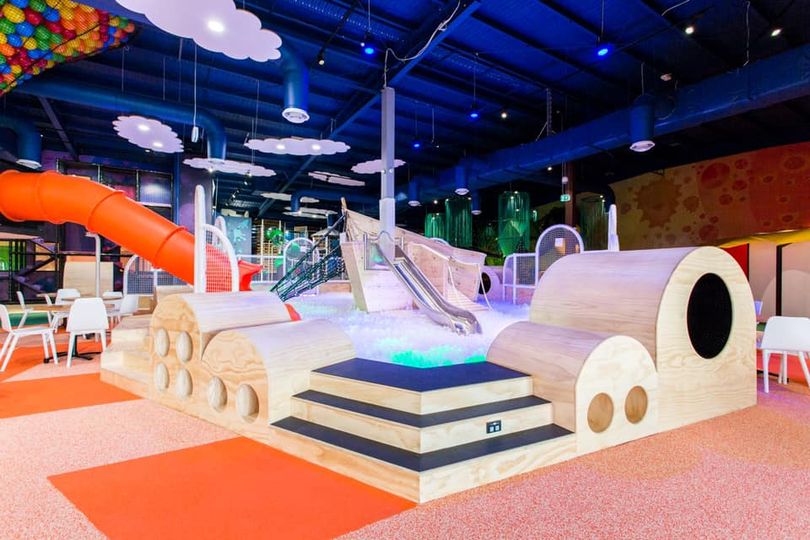 Rabbit Hole Playcentre isn't your typical play centre.
It's vibrant, aesthetically pleasing and more unique than your average play centre. The centre is made up of four play areas. There is Sea World, Forrest World, Carnival and Space World.
The play centre is designed for kids of all ages. The carnival area is best for toddlers but just make sure you keep an eye on your little ones as older kids are also allowed in the carnival section.
There is also a giant ball pit filled with clear balls that change colour depending on the lighting.
Rainbow Town Glen Waverley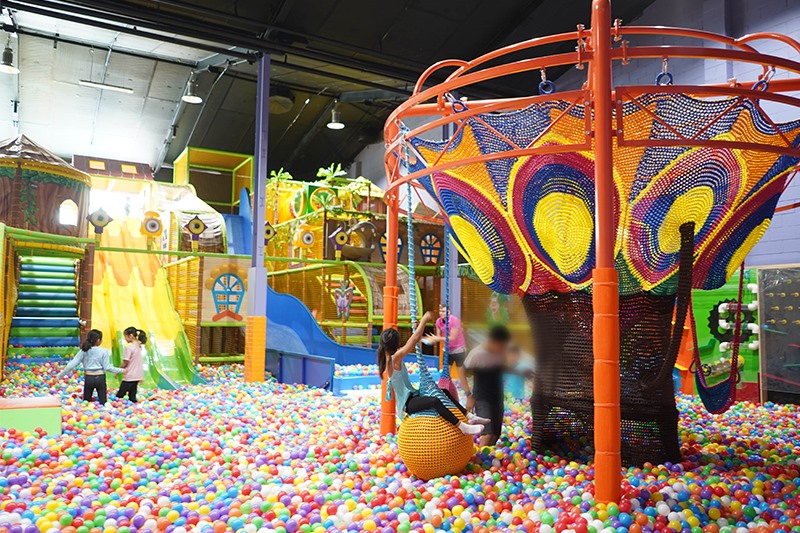 Rainbow Town is another huge play centre. It's colourful, vibrant and a whole lotta fun. There is something for kids of all ages here.
Relax and Play, Altona North
Address: 1 Gilbert drive, Altona North VIC 3025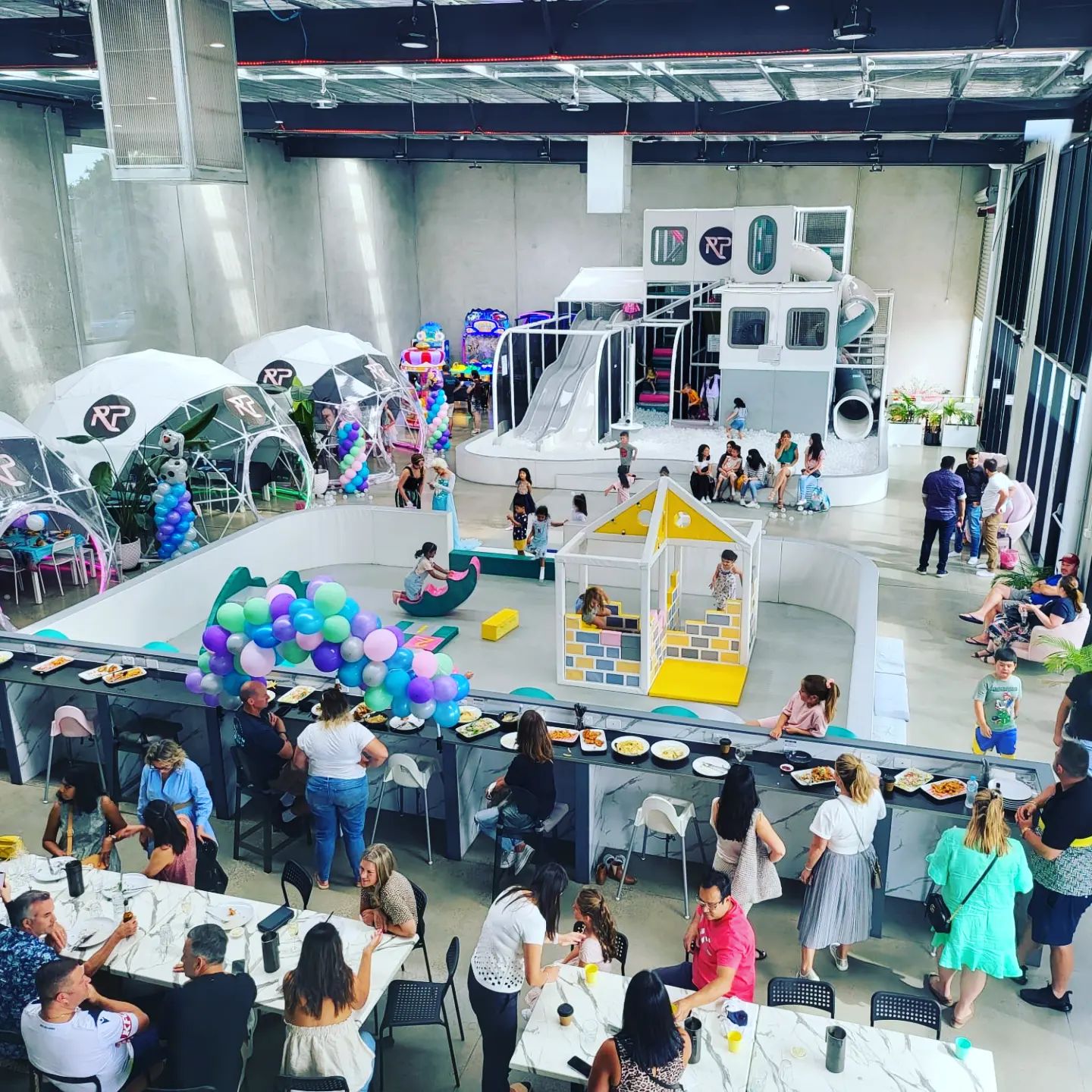 Relax and Play is an indoor play centre with a trendy cafe and beauty salon! And the cafe is much better than your standard play centre cafe. They actually have good food that you would find in some of Melbourne's best cafes. The play centre has minders that can watch your children while you get your nails or eyebrows done in the salon! They also offer massages, manicures and pedicures for children too! Your kids will feel super grown-up getting a mummy and me manicure and pedicure.
The centre also offers yoga classes for adults and family yoga classes. The family yoga classes are available for kids aged 3 and up. If you haven't been here yet it's a must. It is probably the most underrated play centre in Melbourne.
Rush HQ, Rowville
Address: 39 S Corporate Ave, Rowville VIC 3178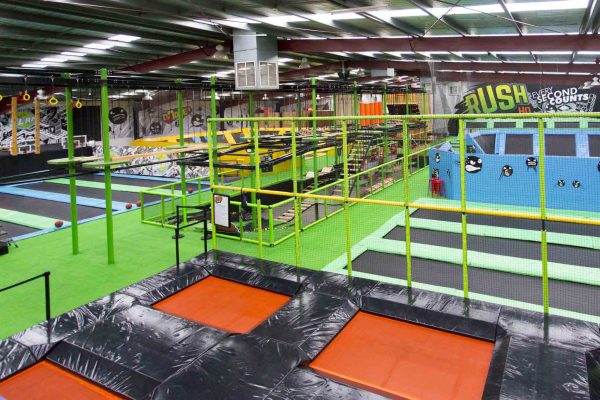 Rush HQ is a huge trampoline and adventure park. It's great for kids of all ages. There's a ninja course a huge amount of trampolines, rock climbing walls and a high ropes course. There is also a junior jumpers section for kids under 110cm for young children to enjoy.
Super Zu, Dingley Village
Address: 362-364 Boundary Rd, Dingley Village VIC 3172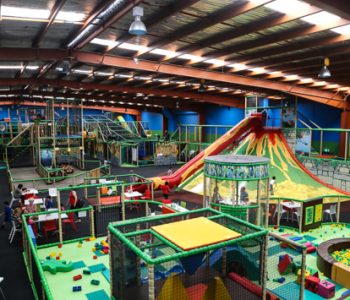 Super Zu is a "zoo" themed play centre. There is a tube slide, a playground, trampolines and a climbing volcano.
We Rock The Spectrum, Preston, Moorabbin and Geelong
A lot of play centres can be a sensory overload for kids on the spectrum. The music, lights and in-your-face bright colours can be too much for a child on the spectrum. We Rock The Spectrum is a play centre for kids of all abilities. The equipment is designed by occupational therapists and is great for children with limited abilities or kids with sensory issues.
Have you been to any of these play centres or trampoline parks in Melbourne? What are your favourite play centres in Melbourne that you think we should feature on this list?