Over 26 of The Best Educational Kids Shows on ABC iview
Kids have it easy these days in terms of access to TV shows. I remember when I was a kid and if I wanted to watch something I would have to wait for it to come on TV.
Or I would need to own a VHS copy which would usually mean watching the same episodes over and over.
It has never been a better time to be a kid. There are hundreds of shows available to watch on-demand whenever they want. Kids these days don't know how good they have it. I am lowkey jealous.
And the crazy part is that ABC iview is free! All you need is access to an internet connection to watch. Which if you're reading this article I'm assuming you do. All you need to do is create an account and start streaming on the ABC Kids app or ABC iview app.  
When I was a kid ABC Kids didn't have that much to choose from, but they sure have improved…And of course, it isn't that great for children to watch TV and we as parents shouldn't use it as a babysitter for our kids. BUT if they're going to watch TV it might as well be educational.
And no, Bluey isn't on this list. I love Bluey but I'm just not sure how educational it is. I'm sorry Bluey. Please forgive me. If I'm wrong please let me know and I will happily add Bluey to this list.
Okay, rant over. With that being said, here are the best educational kids shows on ABC iview:
1.Sesame Street
Who doesn't love Sesame Street? I will be the first to admit that Sesame Street is one of my favourite children's shows. Sesame Street has been charming our screens for over 50 years and there are dozens of episodes to enjoy for free on ABC iview.
There is always a letter of the day and a new word of the day to learn in each episode.
The songs are also super catchy. If you're anything like me you will find yourself singing a song in your head, then you will realise you're singing along to the Elmo's World theme song or the letter on the day song.
Sesame Street even caters to adults too. There are many references to adult shows for adults to enjoy. If you haven't seen the Sesame Street Game of Thrones parody please go watch it on Youtube. It's a must-see.
There are also always celebrity appearances on the show. I love seeing how many I can spot when my son is watching Sesame Street.
Celebrities that have appeared on Sesame Street include Adam Sandler, Sofia Vergara, Steve Carell, Jim Carrey, Danny DeVito, Tina Fey, David Beckham, Jessica Alba and many, many more. Honestly, there are too many to name.
Anyone who's anyone has been on Sesame Street at some point. Check it out for yourself. Your kids might not know who they all are but at least you do!
2.Ready, Steady, Wiggle
If you're a millennial parent like myself you probably see these guys as the "new" Wiggles but they've actually been performing as The Wiggles now for nearly 10 years. Apart from Anthony "Wiggle" who has been wiggling away and rocking out to "Hot Potato" for nearly 30 years.  
The "new" Wiggles are here to stay and they're better and more diverse than ever.
The Wiggles now feature sign language in most of their songs and also teach colours and numbers in multiple languages!
See also The Wiggles Nursery Rhymes and The Wiggles World.
3.Play School Science Time 

Play School has now expanded and has a whole show dedicated to science! Play School Science time is a great introduction to science for young children. Watch Play School hosts Luke and Rachael use everyday items to create fascinating science experiments.
4. The Octonauts
The Octonauts are a super adorable group of inquisitive explorers who love to learn about animals that live in and around the sea. The Octonauts consist of a polar bear, a kitten and a penguin. It's a great show for preschool-aged children.
Children will love watching The Octonauts embark on their land and sea adventures. It's a great way to learn about animals. Don't be surprised if your young children know more about underwater animals than you do after watching this.
5. Learn a Word
"Learn a word" is a great TV show that teaches young readers how to spell and identify sight words. It is even supported by the Australian national curriculum. The episodes are all under 2 minutes long so they are the perfect length for young children with short attention spans.
There are over 100 episodes available to watch on ABC iview so there is plenty for your children to learn and watch.
6. Go Jetters
Go Jetters is aimed at children aged 4-6. It follows four explores Kyan, Xuli, Lars and Foz as they travel the world. With their teacher who is a disco unicorn! In each episode, the Go Jetters learn about a new city, geographical location, world event or attraction.
This show is great as I believe it is important for children to learn about the world around them. I'm surprised at the number of adults that don't have a concept of where things are in the world.
Don't be surprised if kids who watch this show know more about the world than most adults. This show is a must. The episodes are all approximately 11 minutes long so they are great for little ones with short attention spans.
7. I'm a Creepy Crawly

Kids seem to know a lot about animals but they aren't taught much about insects. Each episode of I'm a Creepy Crawly focuses on a different species of insect. There are plenty of episodes to watch on iview, so maybe give it a watch with your little ones. You might even learn something too!
8. Teeny Tiny Stevies 

The Teeny Tiny Stevies are an ARIA award-winning Australian music group. Their music has now been turned into a children's TV show that teaches children about something new through music. There are various educational episodes to enjoy such as Plastic, Science, Baby in Mum's Tummy, and an episode about consent called Boss of My Own Body.
9. Numberblocks

The Numberblocks is a great educational show for preschoolers and toddlers. It teaches basic numeracy, addition, counting and subtraction in a fun and vibrant way.
Each episode explores a new number and helps teach children the true value and meaning of numbers through songs and animation.
10. Horrible Histories

Horrible Histories is a show based on the best selling Horrible Histories books aimed at primary school-aged children. The show teaches children about history through silly comedy sketches. There are currently 2 seasons of Horrible Histories to enjoy on ABC iview. If you haven't watched Horrible Histories yet. You're missing out.
11. Pencil Pals 

Pencil Pals is a children's show about 4 pencil topper friends named Bee, Alien, Dinosaur and Cockatoo. The Pencil Pals love learning about grammar and spelling together. Every episode of The Pencil Pals is available on ABC iview now.
Join them on quests such as learning the difference between their, there and they're. Which is obviously an important thing to learn.
12. Titch and Ted Do Maths

Titch and Ted is a live-action comedy show about maths for children. There are three 30 minute episodes available on ABC iview right now about geometry, fractions and measurements to enjoy.
The episode on fractions is especially great as we know how hard learning about fractions can be. When fractions are taught in school they can be a hard subject to grasp. Titch and Ted tackle fractions in a fun way that's easy to understand.
13.Tell Me a Tale
Each episode of this Australian made series explores emotional intelligence and teaches children how to deal with their emotions. The episodes are short and run for around 1 minute each but it's still worth a watch.
14. Play School
Play School has now been on our screens for more than 50 years and it's something many Australians have grown up with. It's now something we can share with the younger generation.
Play School is now better than ever. Play School is still teaching children how to learn through play and is a staple on Australian children's television.
15.The 

Stickie

 Gang
The Stickie Gang is a show about three friends Mia, Eddie and Angie who love solving problems and playing games together. Episodes of the show include Telling The Time, Months Of The Year and Days of The Week, just to name a few.
16.Full Proof
Full Proof is a show that teaches culture, science and basic world geography. In each episode, a child from a different country attempts fun and exciting science experiments.
17. Science Max: Experiments at Large
Science Max is a show that supersizes all of the science experiments you can do at home. All 35 episodes are available to watch on ABC iview so check them out for yourself!
Andy Day's Shows on ABC Kids
Andy Day hosts educational children's television shows about wildlife and animals in general. Here are his 3 shows you must watch on ABC iview:
18. Andy's Wild Adventures
Andy's Wild Adventures teaches children all about wildlife and a little bit about world geography. In each episode, Andy travels to a different part of the world and learns all about a different animal.
19. Andy's Safari Adventures
In Andy's Safari Adventures Andy works at the biggest wildlife park in the world! This show focuses on educating children about wild animals such as lions, meerkats, arctic foxes and more.
20.Andys' Secret Hideout
In Andy's Secret Hideout, Andy is joined by animal guests in his secret hiding spot. This is a fun show that encourages young children to learn about animals such as reindeer, dogs, raccoons and more.
21. Odd Squad
The Odd Squad is about a group of child secret agents who use the power of maths to solve cases. This show will test your kid's problem solving and maths skills while keeping them entertained.
22. Wow That's Amazing
Wow That's Amazing is about all the science experiments, mind games and puzzles that you can do at home with everyday items.
23. Operation ouch
Operation Ouch is a British children's comedy series hosted by doctors, Dr Chris, Dr Xand and Dr Ronx.
The doctors conduct fun experiments and teach kids about anatomy and the human body in a fun and easy to understand way.
There are a whopping 9 seasons on ABC iview to get through. Adults are also sure to learn something too by watching this show.
There are also two spin-off series to check out on ABC iview called Operation Ouch!: Do Not Try This At Home, Operation Ouch!: Hospital Takeover and Operation Ouch!: Virus Alert. So be sure to check out the spin-off series if you liked the original.
24. Behind the News (BTN)
BTN (Behind The News) is a news show for kids.
BTN explains current world events in a fun, interesting and kid-friendly way. It is best suited for upper primary school and lower secondary school students. However, adults may also prefer BTN to regular news at it is much less explicit than regular news can often be.
News can be hard to digest and often too violent for young viewers.
BTN allows kids to keep up with current world events without the complicated jargon and adult themes often shown on the news.
See also BTN Specials, BTN Explainers, BTN Media Literacy BTN Newsbreak, BTN Antarctica Special and BTN Lunar New Year.
Where to watch: ABC iview.
25. Teenage Boss
Teenage Boss is a fun reality show that teaches young people about budgets, money and responsibility.
It is hosted by maths teacher Eddie Woo and teaches some great life lessons. In each episode a young person is given control of the monthly family budget. This is one of those shows that parents will also enjoy.
26. Mister Maker Around The World
Now, this is a Mister Maker series I can get my head around because it features my favourite subject—geography! In this series, Mister Maker packs up his arts and crafts and takes them around the world.
Here are some honourable mentions for other great educational kids shows on ABC iview:
The Wonder Gang

Dino Dana

Dog loves books

Dirtgirl world

This is Scarlet and Isaiah

Kiddets

Sally and Possum

ScienceXsplosion

How To Do Stuff Good

BONUS- Shows that are fun but not so educational.
Here are some other good kids shows on ABC iview that aren't usually educational but they're too good and iconic not to include. Also everyone will hate me if Bluey isn't on the list:
Bluey
Hey Duggee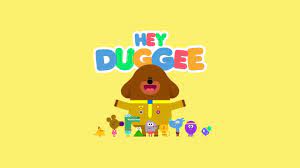 PJ Masks
Bananas In Pyjamas
What are your favourite educational kids shows on ABC iview that I might have missed?