Going on a low FODMAP diet from milk and dairy, onions and garlic, sweeteners. These ingredients are found in many foods so they are hard to avoid. Because of this, a lot of people are resorting to making their own foods or sticking to snacks with minimal ingredients. But you don't have to miss out. There are many things you can still enjoy,
What does FODMAP stand for and mean?
FODMAP stands for fermentable oligosaccharides, disaccharides, monosaccharides and polyols. What does all that mean? Essentially it means short-chain carbohydrates which can cause irritation in people with medical conditions such as irritable bowel syndrome.
Here are some low-FODMAP foods available at Woolworths Australia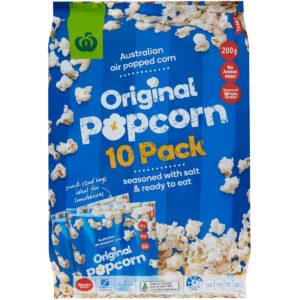 Price: $2.75
Snack in with popcorn during a movie marathon or while in the office. This low FODMAP snack is made with pure corn, with the perfect amount of saltiness that's also MSG-free. It has no artificial flavor enhancers, no wheat, and is also dairy-free. Munch in a fluffy popcorn that feels light for your stomach, great for those who don't want to disrupt their bowel movement in unforgivable circumstances.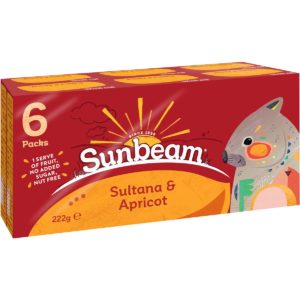 Price: $2.40
Go and have those low FODMAP dried grapes from Australia. Sultanas, a variety of grape, are thought to be low FODMAP compared with berries. This product is gluten-free and nut-free as well, containing ingredients that do not cause involuntary bowel syndrome for those with sensitive appetites. What's more is that it has no artificial colors and flavors, perfect for those wanting to eat natural and less preserved food only. Enjoy the taste of dried sultanas and have a light snack that will satisfy your food reservations.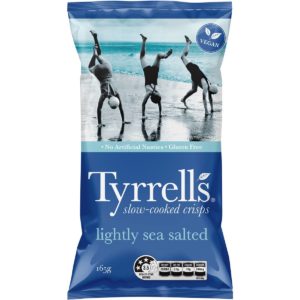 Price: $2.50
Potato chips are a snacking person's holy grail. Bringing in the crisp, lightweight potatoes, and the right amount of saltiness, this snack might be just the perfect food on the go. Achieve that signature curl and crunch that's vegan-friendly and gluten-free, without any ingredients that can cause IBS for those on a low FODMAP diet. It's made with 100% potatoes, slow-cooked to perfection, with a dash of sunflower oil and a good amount of salt to achieve a flavorful potato taste.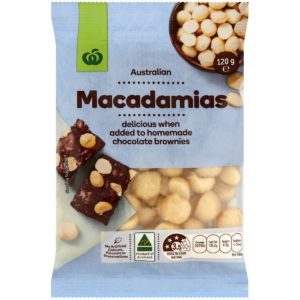 Price: $5.00
When you're a fan of nuts, be careful. Some nuts can be high and FODMAP may be your worst enemy. However, you can still enjoy macadamia nuts, as they are considered low in FODMAP —- perfect for someone like you! Enjoy the delicious macadamia nuts, all flavored with sesame seeds and soybean that prevent you from having IBS while enjoying munching on its peanut-y goodness. All the more, this product is good for those on a keto diet as well.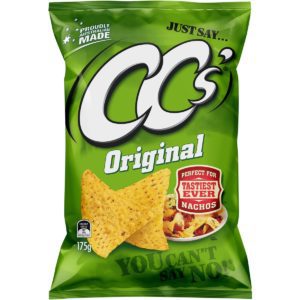 Price: 3.75
Did you know that corn is a good antioxidant rich in vitamin C and fights diseases like cancer and heart disease? Yep, now you know. Above all, corn is a low FODMAP food that you may always enjoy without the need to worry about an abnormal bowel movement. Apart from this, this product is made from real Aussie ground corn, which is also gluten-free, and vegan-free too. A good snack that can be perfect with any kind of dip you want. Need we say more?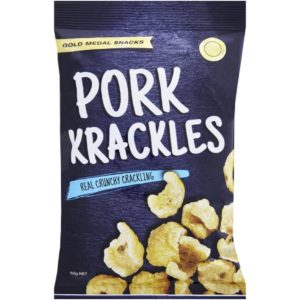 Price: $2.15
Get that porky goodness with a crackling sound like no other. This is your best alternative for chips but can be a good way to avoid carbs too. A pack of pork crackles that's FODMAP friendly, contains ingredients low in FODMAP like soybeans, yeast, pork rind, and vegetable oil too. Just a disclaimer… don't eat it in the office —- the crunch might get everyone's attention!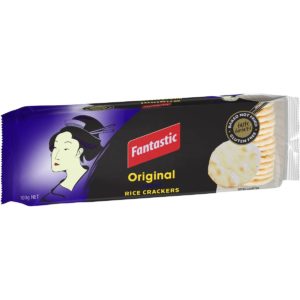 Price: $2.00
Up for some irresistible snack that you can eat anywhere and feels light for the stomach? Then enjoy these rice crackers without the need to worry about your bowel. Like the name itself, it tastes fantastic, filled with crispiness in every bite. Nevertheless, though it has wheat, it's just a minor ingredient that can be considered low FODMAP too. Need not overthink; your bowel movement is safe.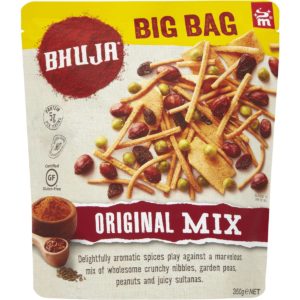 Price: $5.00
Nibble on some crunchy green peas, peanuts, and juicy sultanas that are packed with flavour and spices. One pack gives the Asian herbs and spices a crunchy texture you will definitely love. It sure is a party in your mouth, with the different components altogether in a pack. Still, it's low FODMAP friendly, giving you the taste of cumin, noodles, and chips that just hits the right spot.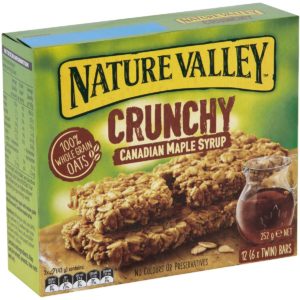 Price: $5.50
Looking for a quick fix and for something sweet? Bring this snack together with your everyday essentials that are tummy-friendly. Made from oats and the savoury sweetness of maple syrup, it can be eaten any time of the day. However, oats can be high in FODMAP if eaten in large quantities. Hence, 1 bar is enough to beat that hunger you feel even when you're in a hurry.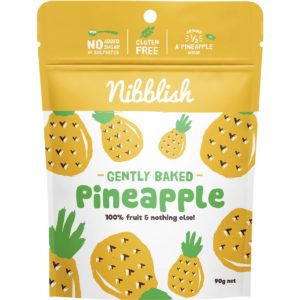 Price: $5.00
Out with the plain and boring salt —- give yourself a sweet treat with these dried pineapples found at Woolies. Oozing with the sweetness of pineapples, yet also chewy, these dried pineapples can be your lucky savior when hungry and on a low FODMAP diet. While pineapples can be a hassle, you'll have a good nibble on this treat that's packed for easy munching and is delightfully great for your taste buds. Although pineapples can be high in FODMAP when taken in large quantities, just remember to eat them in moderation; 25g is moderate FODMAP, however, that's a handful of dried pineapples already!
Here are some other low-FODMAP foods you can find at Coles and Woolies: 
Allens Lollies
GF butter shortbread
Mamee Rice Sticks and Rice Chips
Naturally Good Muesli Clusters and Muesli Cookies
Kez's Kitchen Gluten Free Chocolate Chip Bikki Bakes 
Kez's Kitchen Anzacs
Kez's Kitchen Florentines
Golden Days Peanut Nut Snaps
Kewpie mayonnaise
Ben & Jerry's dairy-free ice cream
Chobani Greek yoghurt (low FODMAP
flavours)
YoPro (low FODMAP flavours)
Next time you're at Coles or Woolies try one of these FODMAP treats at Woolies. Grab a bite anywhere, and satisfy your cravings and your stomach's needs without overthinking about IBS. You'll never know when these snacks will be needed. Thus, save a pack in your bag and you're always good to go… of course without the unwanted disrupted tummy.