I'm a fool for greenery ⁠— just being in nature is one of my favourite things. After a lengthy lockdown period, my throng of indoor plants wasn't quite cutting it. The suburban exhaustion had hit us both hard, so when Dion suggested we go to Trentham, we set off immediately.
I always play A Walk In The Black Forest when we're driving down secluded, verdant roads. It's the perfect soundtrack to both set and lighten the mood.
As soon as we drove into town, we were saturated with the essence of quaint, country Australia ⁠— including a greeting from a family of four grey roos. We intended to start at The Garden of St Erth… but it's temporarily closed, so we had to make do with staring longingly at its exterior. Luckily there were plenty of other attractions to be found nearby.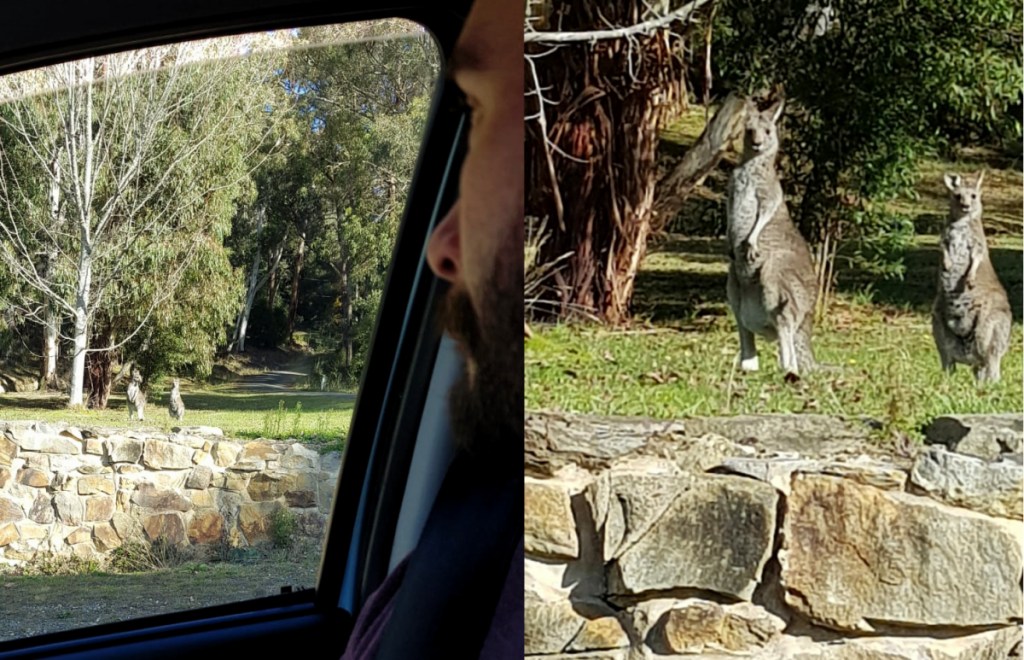 "A kissaroo from me to you!"'
Trentham Town Centre
There's a lovely little swatch of shops along the main street, each with a distinct personality. Even the petrol station has a bold and squishy cat guarding it, making a mundane experience much more memorable. It looks like it was crafted by a 3D animation student, who sculpted a group of greyish loaves of bread, which then took on a life of their own. A modern mythical beast.
There's a cute little patch of stores with items like artisan honey, paper dolls, thread snips and wildflowers available to purchase. They instantly evoke a doorway into slow living, country life, and allow you to take some of it home with you. There's a coffee shop which will fix you up a wonderful drink, well up to date with the gentrified Melbourne palate. A welcoming little nursery is tucked behind, with an impressive array of items, despite its humble size.
RedBeard Historic Bakery is another draw which should never be missed. Their 75 tonne Scotch oven built in 1891, produces a humbling-ly good baked good. Even the IGA is worth stepping into, just for the nostalgia boost. You'll likely come across confectionery and other treats you haven't seen since childhood. We left with some butternut snaps and headed to Quarry Street Reserve.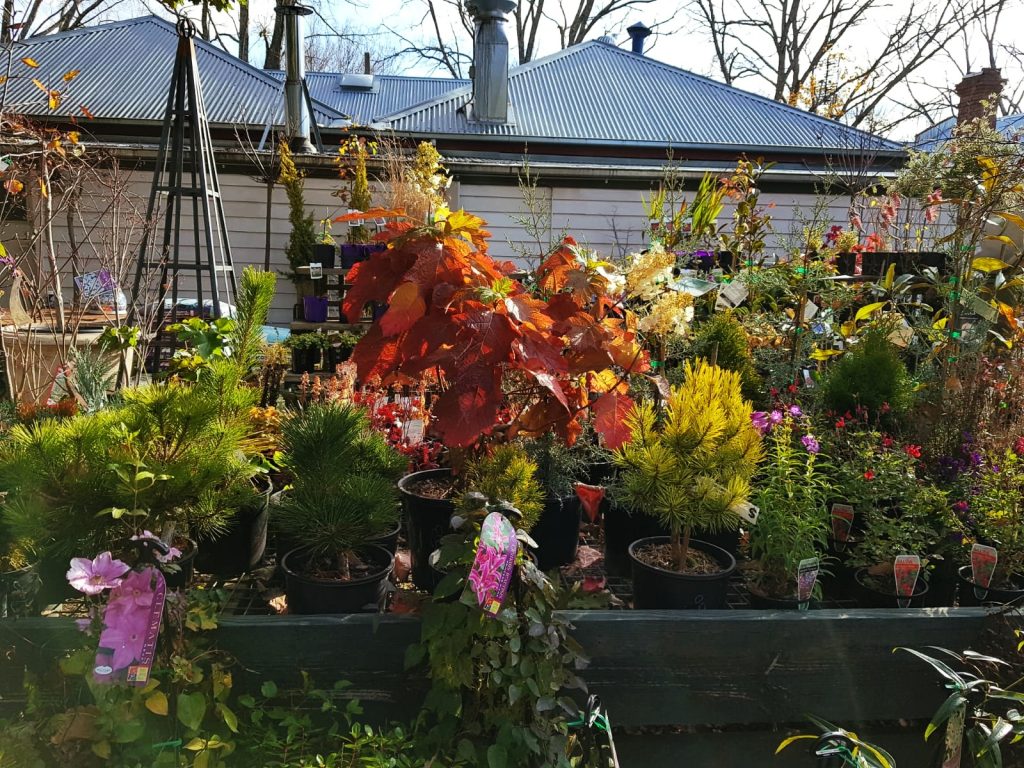 Any nursery that stocks Snowball trees is alright with me!
Water and Fowl
The Reserve is a literal stones-throw away from the Trentham shopping strip, (even if you have weak arms). If you like ducks, ponds and quaint little bridges, you are in the right spot. One person's yard was crawling with about 20 ducks at once. I said to Dion, "Imagine you buy a lovely country home, move in, and every day thereafter you find a swarm of ducks on your lawn?" At least your veggie patch would be pest free! After a stroll around the pond, I couldn't help but sit on a little peninsula and watch the ducks and other waterfowl, with the autumnal leaves offering a delightful smattering of compostable confetti.
The air also smells like maple syrup. I'm not sure if it's the maple trees or if they just pipe it through the drains to lure in tourists.
Either way I'm not complaining.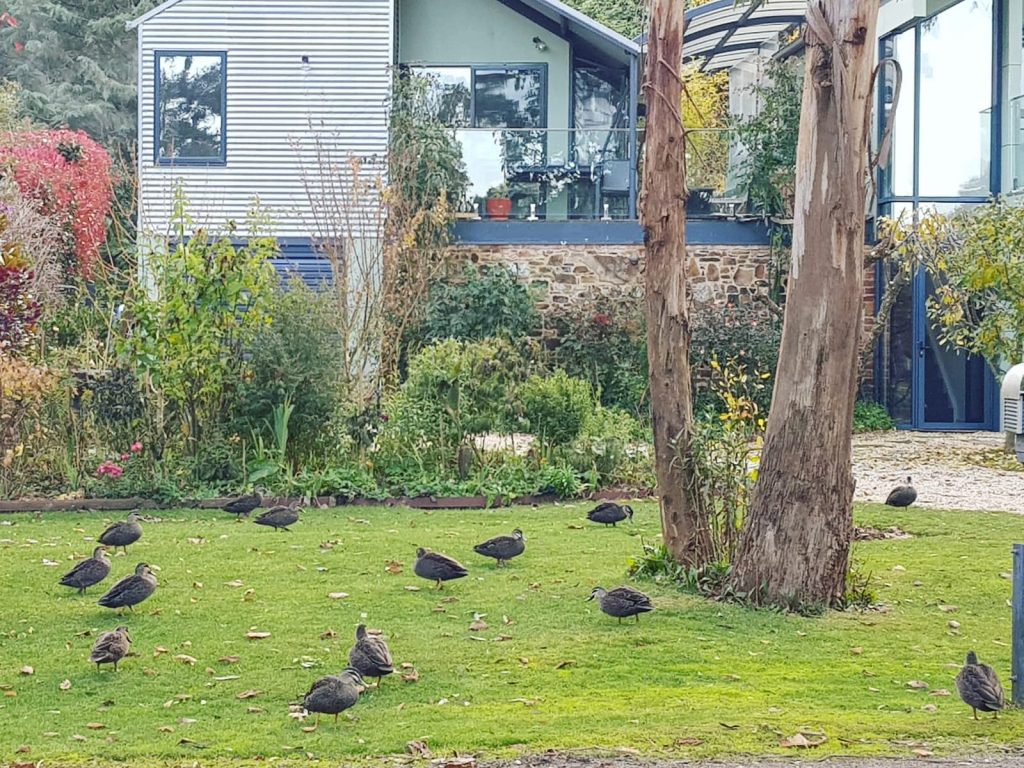 "Actually, according to the will, the ducks own the house."
Trentham Falls
Trentham Falls are a very short drive from the town itself. There seem to be quite a lot of nature walks in the area, but with my finicky knees, I'm about as ambulant as your average geriatric. That's never stopped me from getting my healthy dose of natural adventure in, though. There's a short, not-too-steep walk to the falls from the parking area, which also has a couple of picnic tables for public use. It's a spectacular view. The lack of direct access to the base and top of the falls gives them an air of untouched, organic wonder, which makes them even more special. Dion was particularly enamoured by the naturally occurring, vertical vegetation.
Michael the Barbarian
To cap off our lovely day trip, we were looking for somewhere to grab dinner. Which wound up with me bullying Dion into going to a spooky little shed in the forest to buy fruit. And it was the best decision we'd made all year.
As eateries weren't open for eating-in at the time, I Googled the best place for food in the area. The highest ranking was a place called Black Forest Farm. We're constantly smitten by eateries which utilise self-grown produce, so we headed right there.
We followed the signage, drove over a small bridge to a secluded landscape, and… it almost looked abandoned? We thought we were intruding on someone's property by mistake. Or maybe they were closed due to COVID?
We drove back to the entrance. But there was a sign on display out the front? They must be open! Or, y'know… dead. Dion was concerned and wanted to leave. Eventually, I coerced him into embracing the adventure of it all, and we drove back over the bridge.
We were met by a lovely gentleman who seemed to spontaneously manifest before us, beaming and welcoming us to park. Our lovely host introduced himself as Michael (the Barbarian). A sudden collective of mottled border collies (six in all) also appeared to greet us, with charming temperaments fit for their breed. He invited us into the shed, which was brimming with heirloom produce and home-made preserves.
We were encouraged to try everything, in a manner so generous it firstly seemed borderline aggressive to my reserved British temperament. Everything we tried was astonishingly good. To the extent that I'd consider it quite reasonable to find it was somehow bewitched.
We loaded up with fruit, veggies, and jams… and then were gifted an enormous quantity of free pine mushrooms, chutney and stuffed peppers… and invited back to camp on his property next to the lake. His immensely generous nature was jarring, in the best possible way. When paired with the food, it was like being grabbed and shaken out of your droll modern life.
All in all, a stellar date. Even with restrictions still impacting some of the sights, Trentham and surrounds offer a divinely distinct, Demon-endorsed escape to the country