As soon COVID-19 restrictions loosened up a bit, you wanna know what we did? We went out and got some greenery, dammit. And what better place to immerse in a spectrum of green, in Melbourne's CBD, than the Royal Botanic Gardens?
Now, we could write multiple articles about this place (and probably will eventually) due to the following reasons:
It was founded in 1846, so there's a lot of history to unpack there.
It's so huge (about 94 acres!), you could visit dozens of times and likely not see all of it (and it's constantly changing).
With almost 50,000 individual plants covering 8,500 different species, its staggering diversity will surprise you at every turn.
Sculpted gardens, serene lakes, unique city views and quaint rest houses make for endless photo ops.
Home to the Melbourne Observatory and National Herbarium (yeah, science!)
Host to the Moonlight Cinema, where you spread out on the lawn and catch one of many varied films screened throughout summer.
To summarise: lots of things that are huge and old. So yeah, a LOT of potential date ideas here. I could keep going, but I'd probably be better off writing a book about it and making a profit. For now, here's what we got up to, as a sort of template for your own RBG date:
Enter via Gate C
Entry to the gardens is via one of nine gates (Gates A to H, plus the Observatory gate), so it's a bit of a Choose-Your-Own-Adventure. We grabbed a park on Anderson Street and headed in through Gate C. My main reason was that it was closest to Guilfoyle's Volcano, which I'd seen on signs and maps but never experienced in person.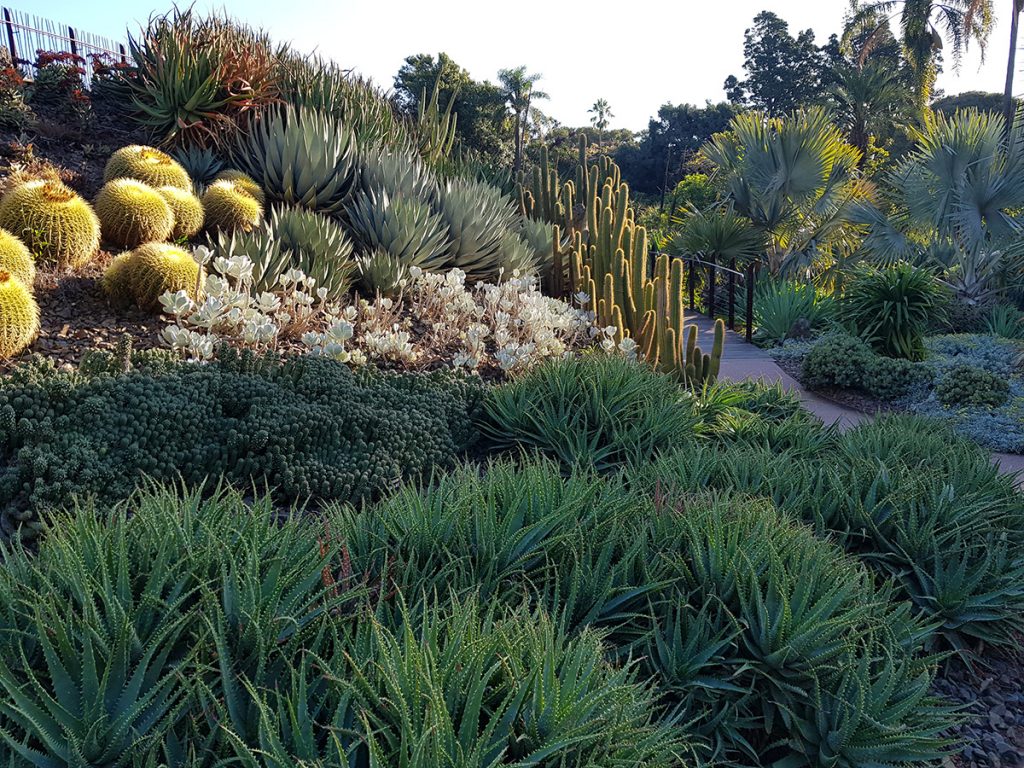 Spoiler: not an actual volcano
Essentially a man-made hill with a massive crater, it was built in 1876 to store water for the gardens. After 60 odd years of neglect, it was recently revitalised as a rather impressive exercise in sustainable landscaping. The winding path up the mound is lined with a fascinating and seemingly alien array of drought-tolerant cacti, succulents and other native plants. It's a fun opportunity to test each other's plant knowledge, or just make up names for things. At the summit, you'll find the water-filled crater, a mini man-made lake complete with islands. It's a great spot to soak up some nice views of the garden and maybe get into a little creative photography.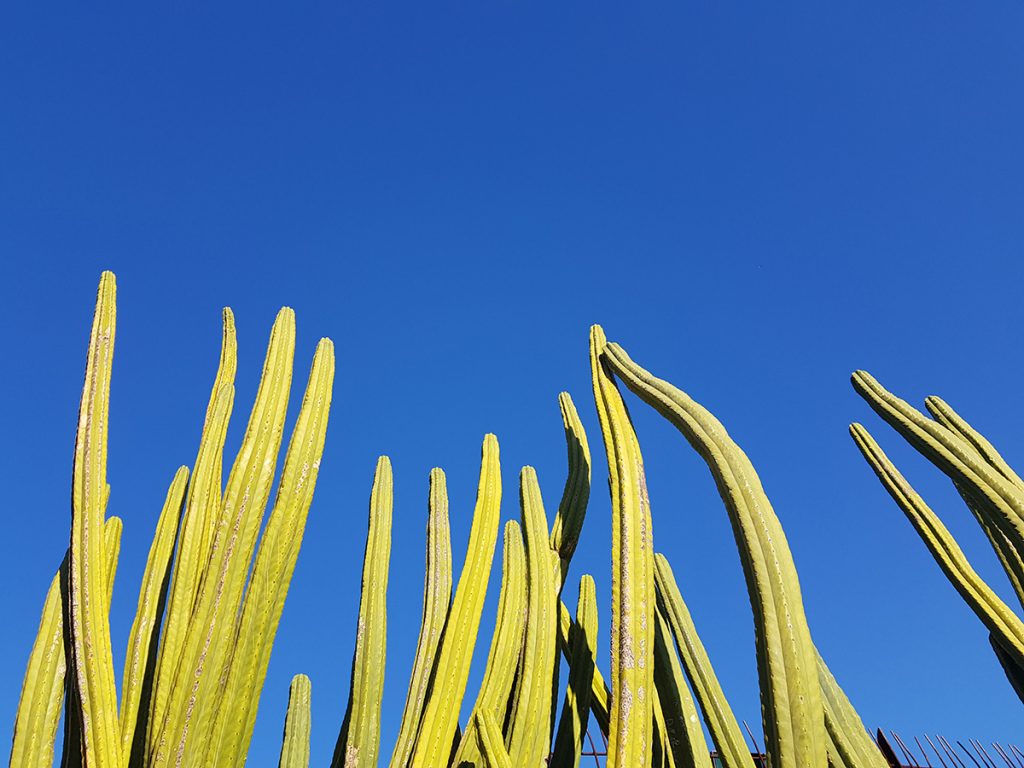 I'm an artist.
Onward!
We ambled on roughly northward up the garden paths, marvelling at the diverse range of established plant life. There aren't many other places where you can find oaks, pines, palms, cycads and Australian natives all within close proximity of each other. We passed several of the individual garden collections or "exhibits", I guess you could call them, such as the Californian Garden and the Water Conservation Garden. I also happened to spot this little guy: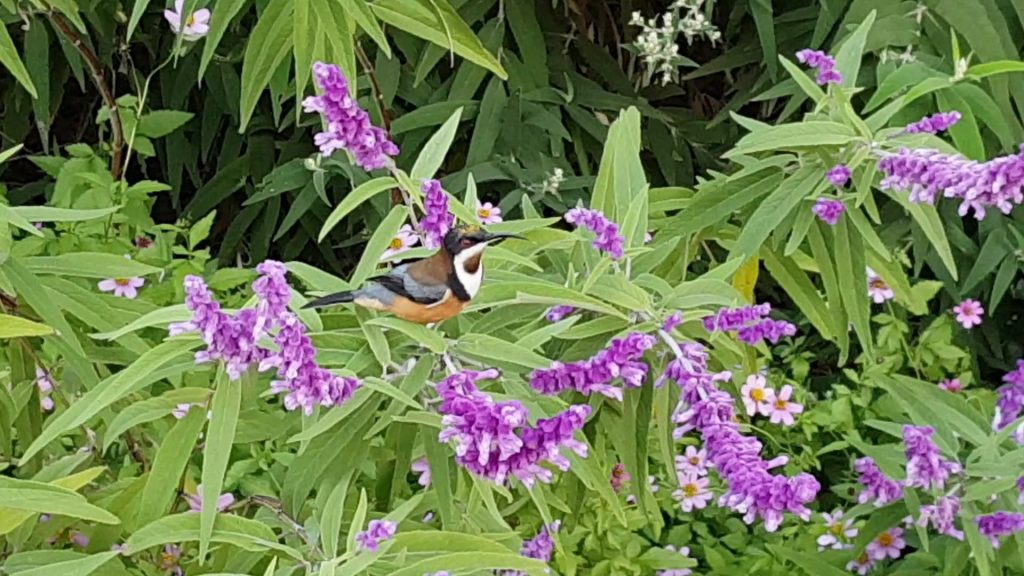 Between these individual gardens the majority of the space is filled with neatly trimmed lawns. Lawns, which follow the undulating terrain of the grounds, which you may choose to traverse instead of the paths for a more free-roaming and calf-burning experience. Many of these lawns would also be perfect for a picnic (which I regrettably did not pack on this occasion). The best one (IMO) we found was the Taxodium Lawn which juts out into the Ornamental Lake. This is just a really darn nice spot to sit and enjoy the picturesque views of the islands and watch the waterbirds doing whatever waterbirds do. Which can be just… bizarre.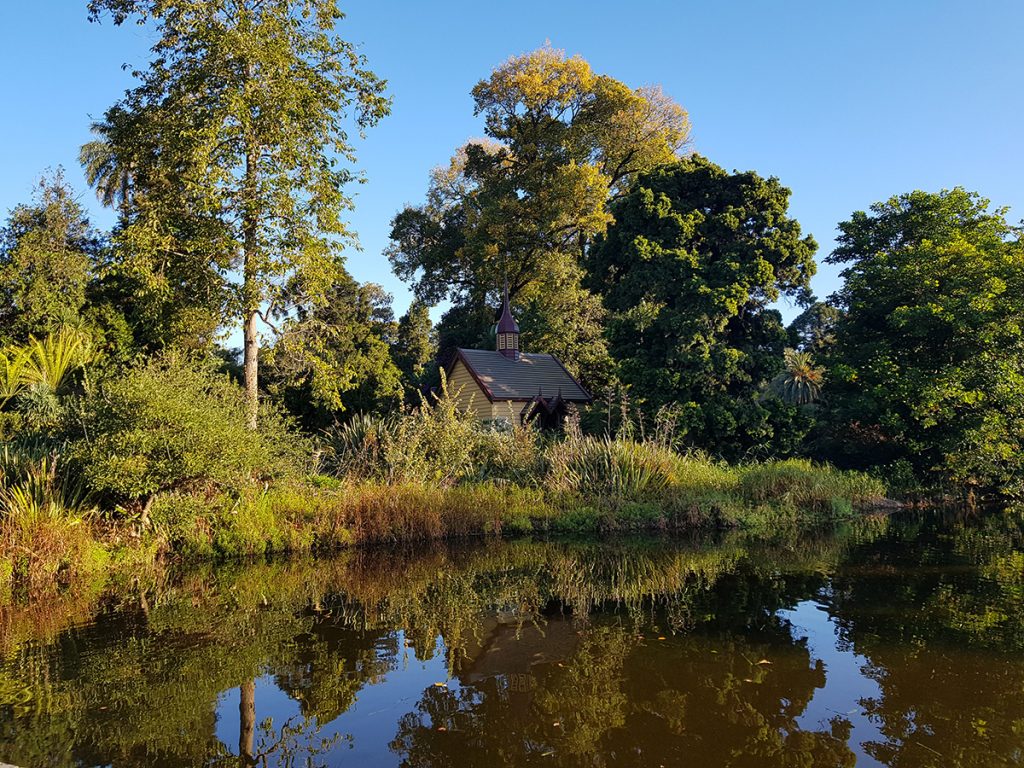 If this were a cottage in Europe somewhere we'd totally move in.
We also passed the Terrace Cafe and Gift Shop that overlooks the lake. Unfortunately, they were closed due to the Covid-19 situation. In normal circumstances they also have guided boat rides which depart from here, which hopefully will resume later in the year. Because hey, as far as romantic dates go, private boat rides are pretty high up there.
Look, just go see it for yourselves.
I'll be waffling on forever otherwise, because there is just way too much to see and do in the vast expanses of the Royal Botanic Gardens for me to cover in one article. Whichever adventure you choose, it's somewhere equally fit for first dates or four-thousandth dates. Whether you're a tourist or a local, everyone should visit this amazing place at least once.