Ballarat is the third biggest town in Victoria (after Geelong and Melbourne). In terms of date destinations, it's probably most famous for a certain gold-rush era historic theme park known as Sovereign Hill. Though well worthy of its commendations, we'd like to tell you about Bird World, another little gem just a short drive from the town centre.
A Visit to Ballarat Bird World
When it comes to wildlife parks, we've consistently found that the best ones are usually the smaller, privately-owned establishments. Most we've encountered are family owned and operated. They have a lot of heart and soul behind them that offer some really unique experiences. Ballarat Bird World is no exception.
The sprawling 14-acre site was purchased by the Sperber family in 1974, with the goal of creating a sanctuary for the many native birds they passionately bred and raised. First opened to the public in 1992, it is not only home to a vast array of parrots, cockatoos, parakeets and various other native species, but also some pretty impressive landscaping.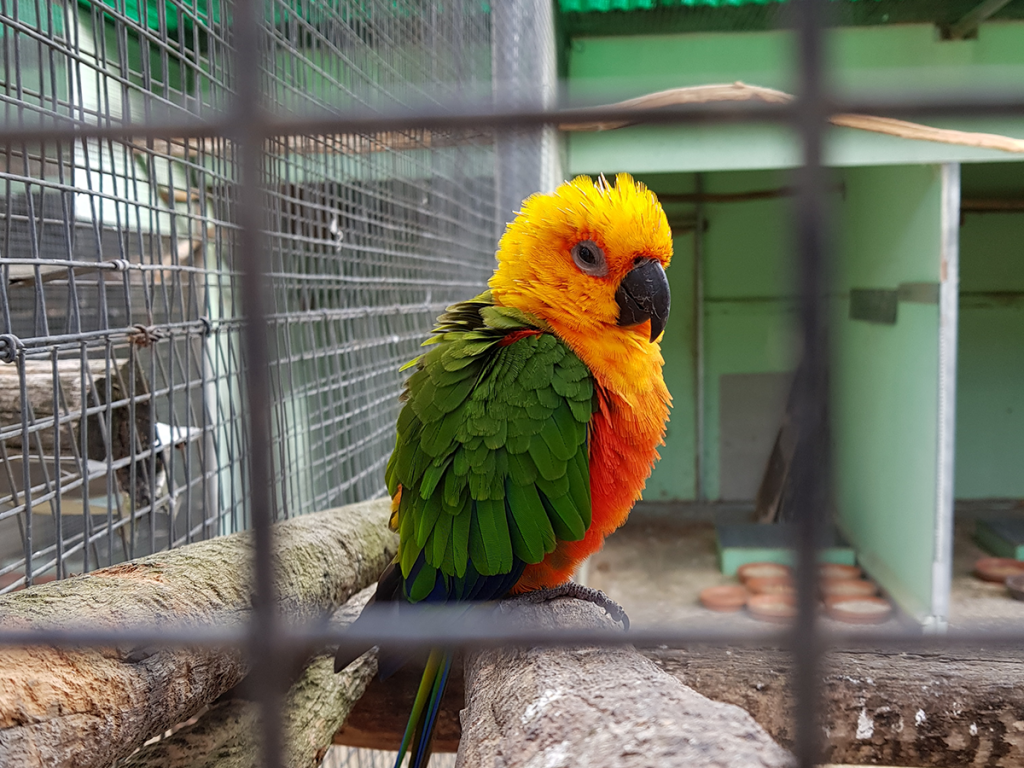 From Ballarat's town centre, it took us about 15 minutes to drive to the park, located in the suburb of Mount Helen. Entry to the park is $15 (or $12 if you have a concession card). The place is a winding trail of wooden walkways, meandering through some typically Australian bush foliage, punctuated by lush waterways, and rocky landscaped features. The most impressive of these landscaping features is a massive tiered waterfall. This thing is like ancient Egyptian-level engineering. I seriously cannot comprehend how a husband and wife and their two teenage sons built this thing.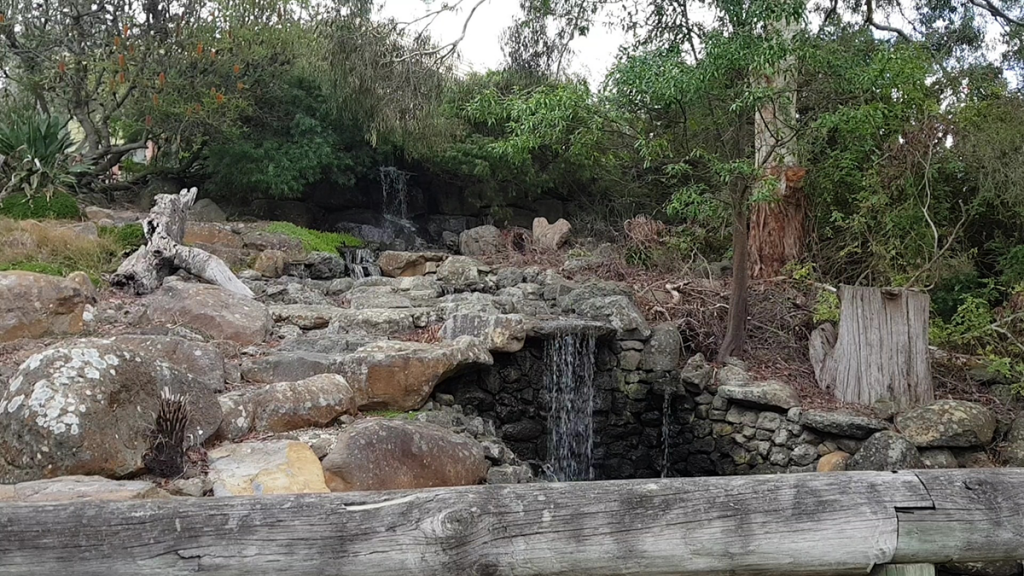 This photo seriously doesn't do it justice.
Most of the birds in the sanctuary are housed in numerous, large cages with room to fly in. There's also a large aviary, which is a lot of fun to walk around and see which birds you can spot hiding amongst the trees. I'm not a big bird person myself, but I found the variety of colours (and noises) astounding. One of the birds had been specifically trained to mimic a cat's meow. You'll find quite a few familiar characters here (oh boy, are they characters), like galahs and rosellas. This may be one of the few places you'll get to see them up-close in all their cheeky splendour.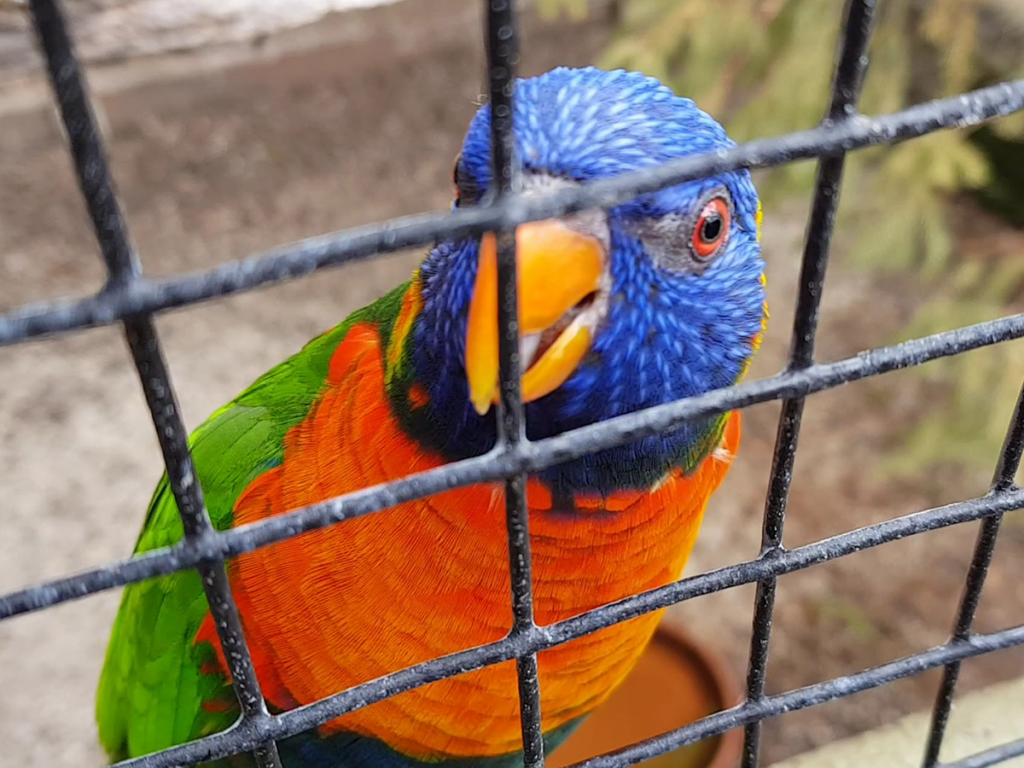 "Polly wants your liver!"
Close Encounters of the Feathered Kind
Speaking of up-close, the highlight of our visit was definitely the black cockatoo experience. For no additional charge, you can have your photo taken (with your own phone/camera) with one of the park's majestic and somewhat intimidating black cockatoos. Whilst admiring said cockatoos and their fantastic red tail feathers, we were engaged by an elderly gentleman. He revealed himself to be Paul Sperber Sr, one of the park's founders. While park operations are now in the hands of Paul Jr and his family, Paul Sr still delights in mingling with park guests.
He insisted we come into one of the larger enclosures to get acquainted with one of the birds. We took turns taking photos of each other whilst the large black-feathered beast climbed on our heads. These are not small birds. See for yourself: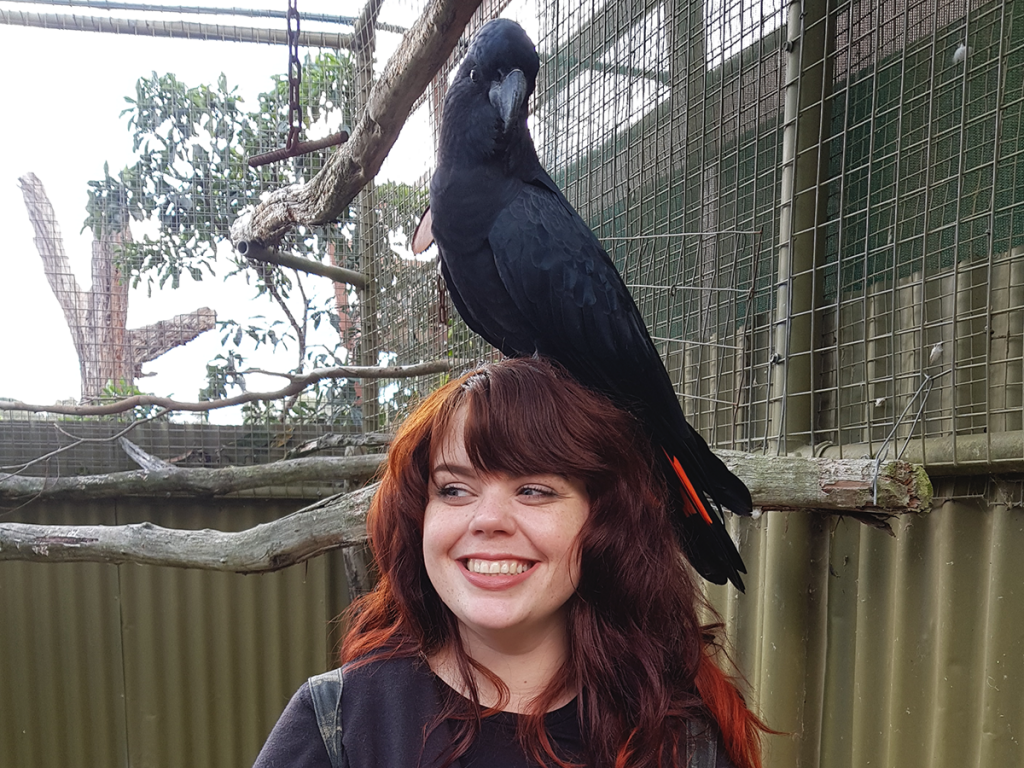 Paul Senior
Meanwhile, Paul regaled us with some highlights from his life story. I'm a firm believer that passion keeps people young, which certainly seemed to be the case with Paul. His energy and enthusiasm was astounding for a man of 90(!) years of age. Clearly not an ordinary man, after the stories he told us we were convinced he was some sort of genetic superhuman. For instance:
As a boy, he would ride his bike hundreds of miles through the country on a regular basis.
He had almost never been sick in his life.
After having general anaesthetic for a medical procedure, he woke up with no ill effects, had a cup of tea and walked out of the hospital. I forget when he said this was, but he was at least in his 50's at this point in time.
And obviously, built a massive wildlife park from nothing. Refer to previous comments about the waterfall.
Flexing his knowledge of botany, he gifted us with a sprig of bright red native flowers I can't quite remember the name of. But Emmy saved the seeds to one day sprout our own. Paul clearly delighted in sharing his knowledge and passion about birds and their native environments. Had we not run into him, the experience would not have been anywhere near as memorable.
Make it a Date
If you're keen to check out Bird World and really make it a date, there's plenty more to see and do in the area. We started our day with lunch at Meigas — probably one of our favourite restaurants ever. If you like tapas and Spanish food in general, you can't go past it. Later in the afternoon we paid a visit to some local nurseries and capped off our day with a browse through the Amazing Mill Markets. The Mill in Ballarat is one of three total, with another in both Geelong and Daylesford. These are probably the biggest and best vintage stores in Victoria, which we'll definitely be writing about in another article.
At the time of writing, Ballarat Bird World is currently closed due to COVID-19 but is due to re-open on Saturday 27th June, according to their Facebook page. If you're heading to Ballarat sometime soon, unless you're particularly fearful of birds, it's definitely worth a visit. Apparently, they also acquired an animatronic Triceratops at some point, so hey, even more reason to check it out.