To anyone who thinks that crystals are having a moment, you might be surprised to learn that they have been bewitching their owners for centuries. Whether you understand and wield the power of crystals, or just like the way they shimmer – trying your hand at DIY crystal jewellery is a great hobby for anyone. Here are some fantastic DIY crystal jewellery ideas for you to get started on, with wholesale crystal suppliers in Australia giving you total creative freedom at an affordable price.
DIY Crystal Bracelets
It's nice having these beautiful gems and crystals close to your pulse and worn in such a prominent position in the body. Crystal bracelets are easy to make and the variations you can put together are endless. All you need are the crystals themselves, some durable thread and a clasp if your bracelet requires one. If you have any gaps in your wardrobe or colours you don't have enough of – start off making a DIY crystal jewellery bracelet in your desired colour ways first!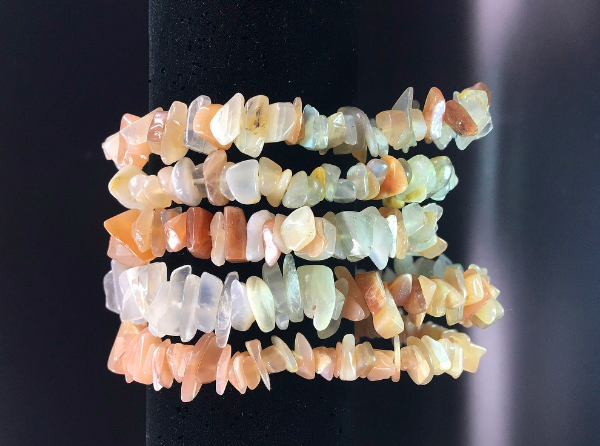 Inspiration: Moonshine Mixed Chip Bracelet
Upcycle Your Clothes
Ever find that some pieces in your wardrobe are just missing… something? Well before you bag them up to send to an op shop, see if they are worth salvaging with some crystal details. You could create a diamond-encrusted cuff on a jacket or shirt, replace boring buttons with crystals, or even cover up a hole or a stain with a crystal pattern detail. Obviously not every type of crystal is going to work for this upcycle craft idea as you want something that isn't too rough that it will catch fabric that brushes against it. You can choose to use a hot glue gun, but using thread might make the look more polished. Crushed crystal craft ideas for clothes are well documented on Pinterest so jump online to get some inspiration!
Device Detailing
The beauty of ordering from wholesale crustal suppliers in Australia is that you have an extensive selection of crystals to choose from. This means you can select some flat-based DIY crystal pendants that can be easily affixed to your phone case, tablet case or any device you think needs sparkly spruce up. Many crushed crystal craft ideas will show you how you can do this tastefully and in a way that will not have your crystals rubbing off your device after the first use. You may wish to choose a more affordable crystal for your DIY crustal mobile project as our devices are exposed to more wear than jewellery and various homewares.
DIY Crystal Chandelier Ceiling Fan
Well, it doesn't get more decadent than this, or easy for that matter! The hard part is choosing the colours, crystal designs and patterns you want to use on your ceiling fan so that it looks beautiful when the fan is on or still. Resist the urge to put too many crystals on, as you want your chandelier fan project to be a detail rather than a ceiling fan that looks like it is made entirely of rhinestones. Your home decor may change over the seasons or years, and so it might be wise to choose crystals colours that will look great for all themes and colour schemes.
DIY Crystal Lampshade
Crystals and other precious stones look their best in the light, with the shine making them bright and creating a sparkle that will bounce around the room. This is why many try their hand at crystal lampshade DIY – because it has such a beautiful impact. If you are creative, you can use your crystal craft supplies to create little patterns on the shade, like a flower, leaf or something simple and recognisable. You may choose to just stick your crystals on the edge of the lampshade to make it look as if they are dripping from the light and a hot glue gun will do the job very easily.
~
Here are just some of the many ways you can introduce some crushed crystal craft ideas into your home and onto your belongings. These ideas are always in style, regardless of how popular crystals are now. You may also wish to use these ideas to make some special gifts for loved ones.