Bayview Park Point Cook, also known by locals as the Pirate Ship Park is probably one of the best playgrounds in the western suburbs. Bayview Park is home to a gigantic 20-metre long slide! It was updated recently to increase safety measures. You may remember the slide being partially open and coloured blue. I do miss the blue colour. I think it looks much better than the current black and yellow. Maybe they'll upgrade it again. Nonetheless, it is still a very impressive slide.
In 2014 the park was victim to an arson attack. Who would do such a thing to such an amazing playground?  The pirate ship was completely destroyed in the fire but it has been rebuilt (almost) to its former glory.
Here is a view of the impressive 20-metre long slide.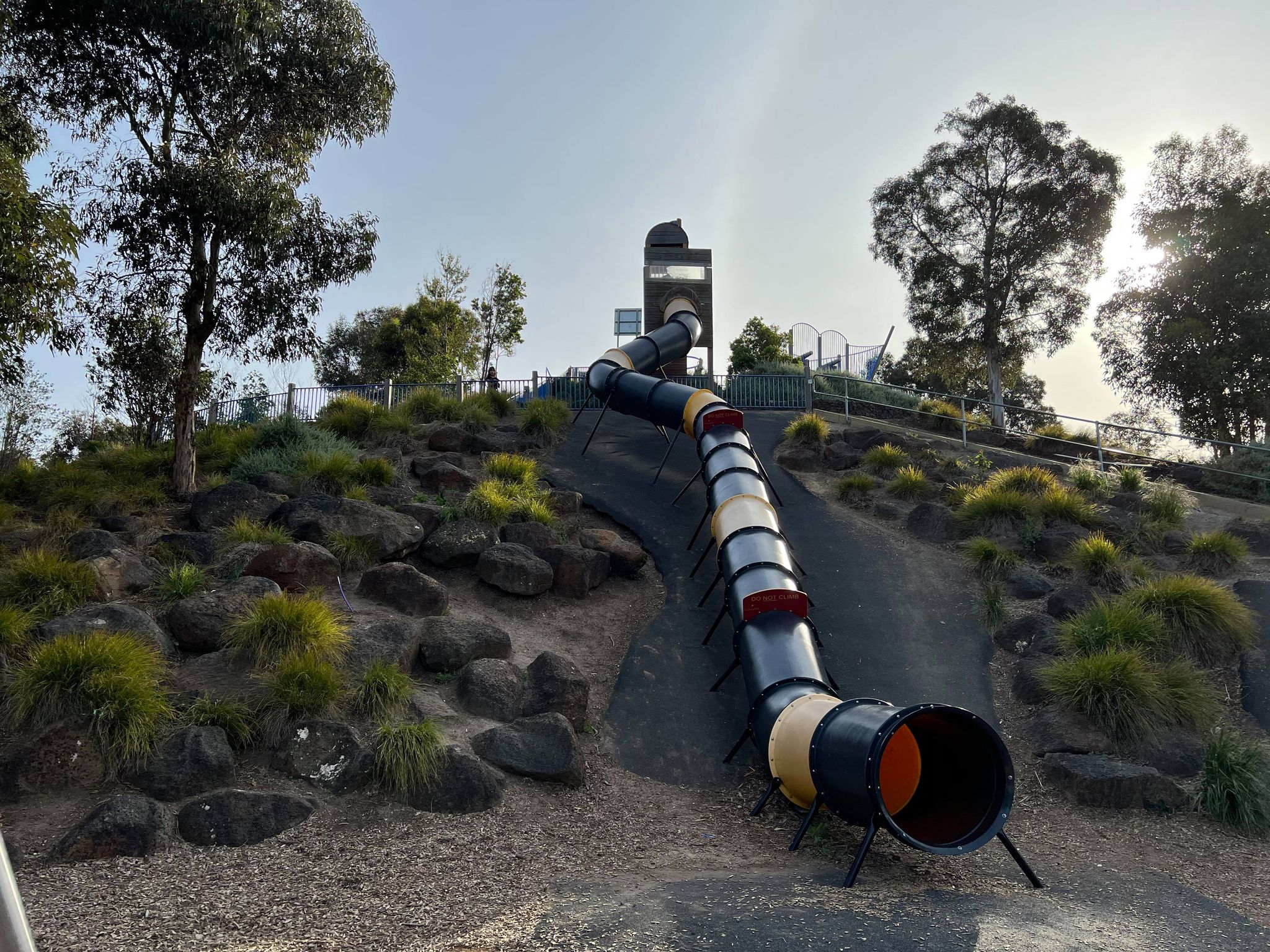 In the main pirate ship play structure you will find not 1 but 3 cannons which are great for imaginative play.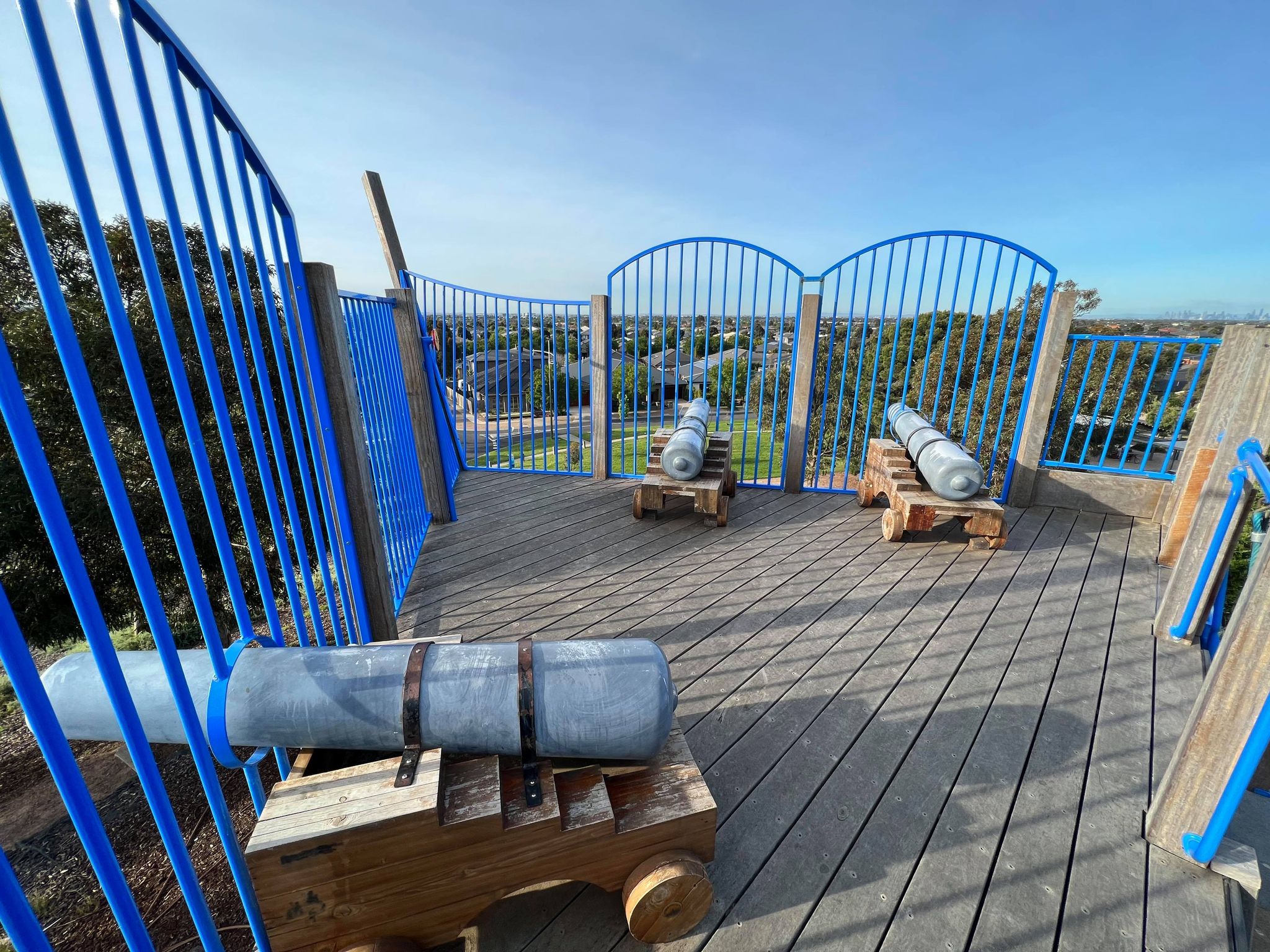 There are multiple small slides on the main pirate ship play area BUT you will need to walk uphill to get to them. So if you have younger kids they will need to walk uphill (hopefully not carried like mine). Still a lot of fun though.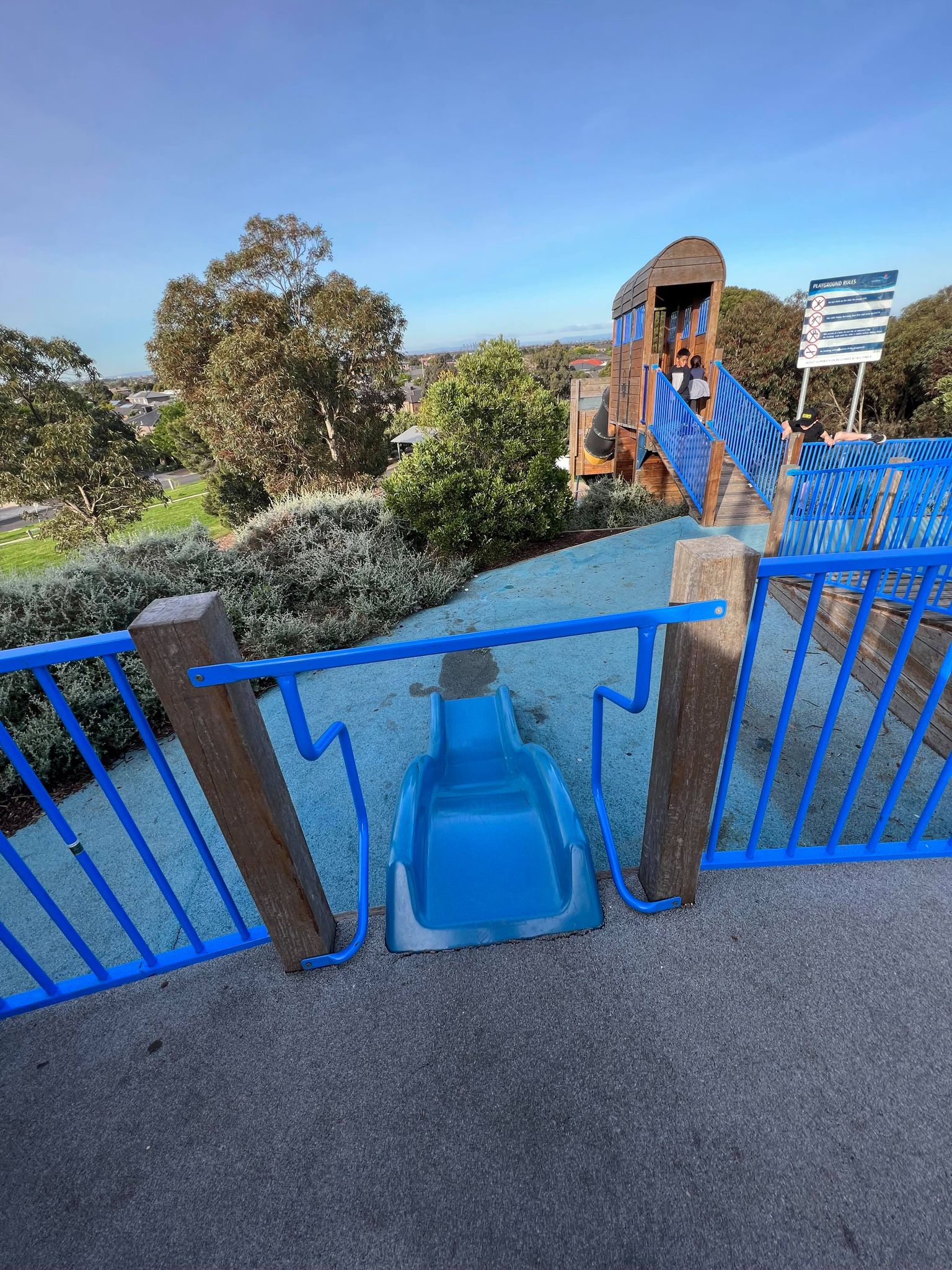 There are some more side by side toddler slides on the opposite side of the playground.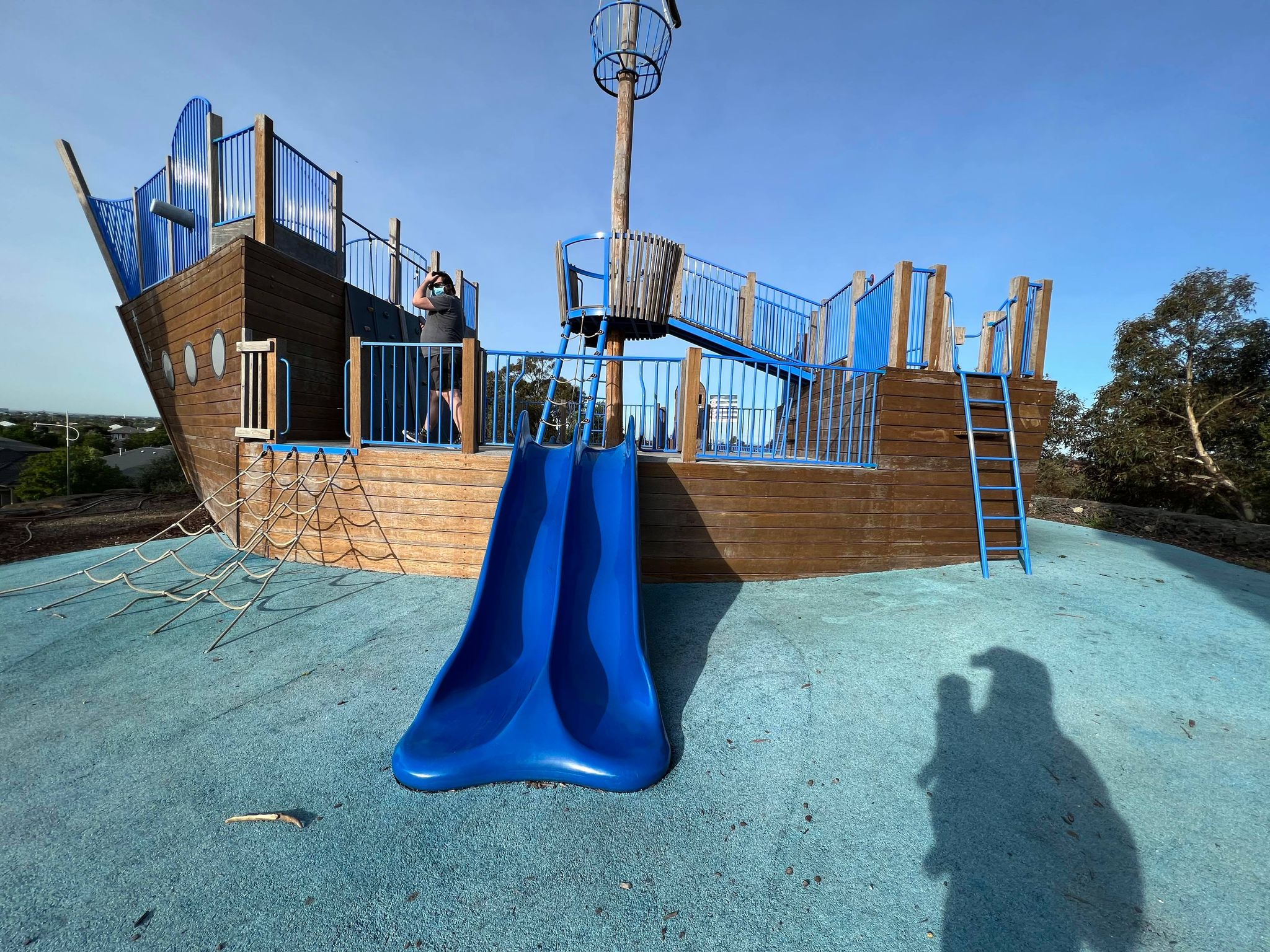 There is quite a large "fireman" style pole to slide and climb up.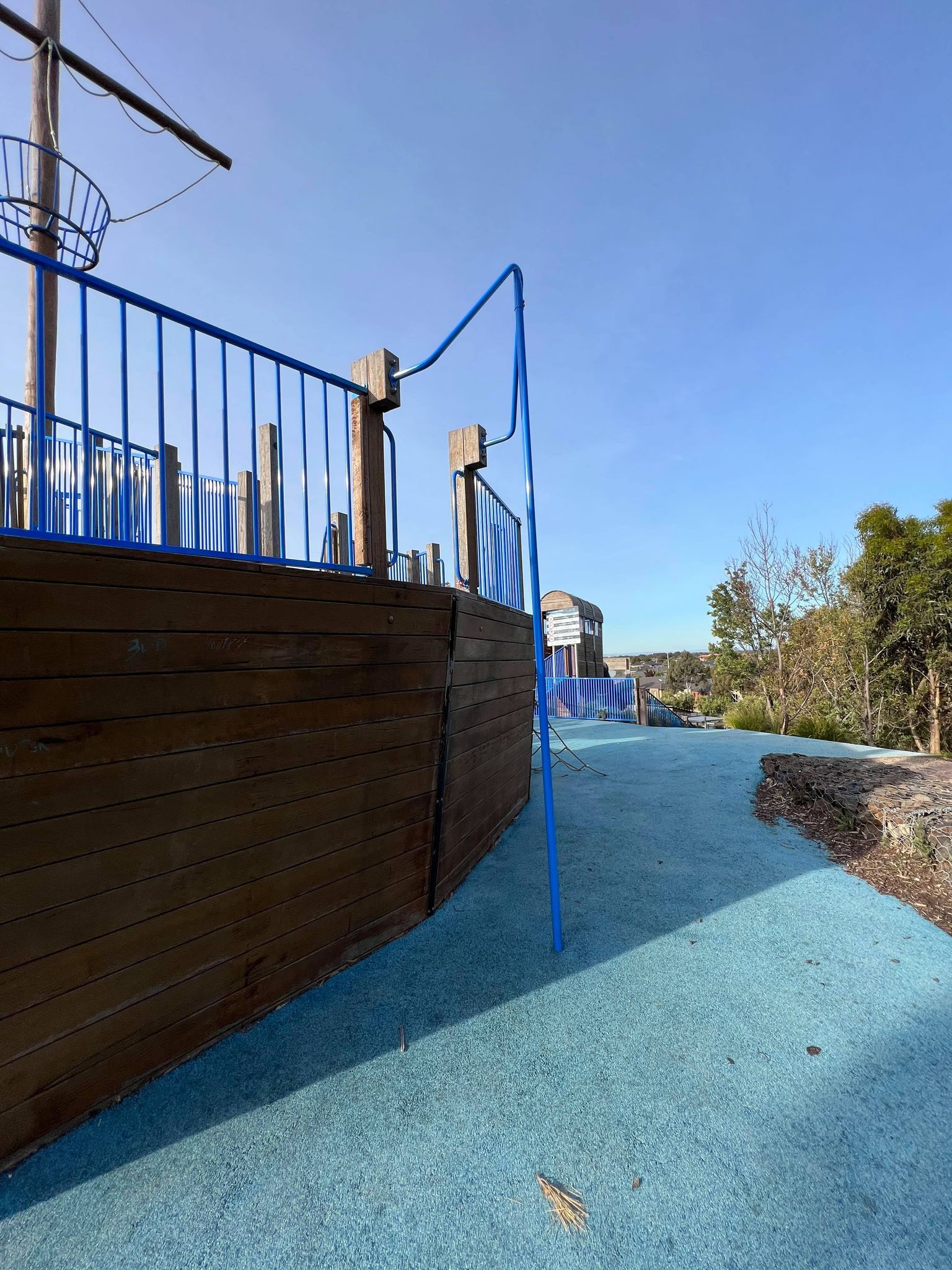 There is a crawl tunnel which is great for hiding and playing in. I always loved sitting in crawl tunnels as a kid.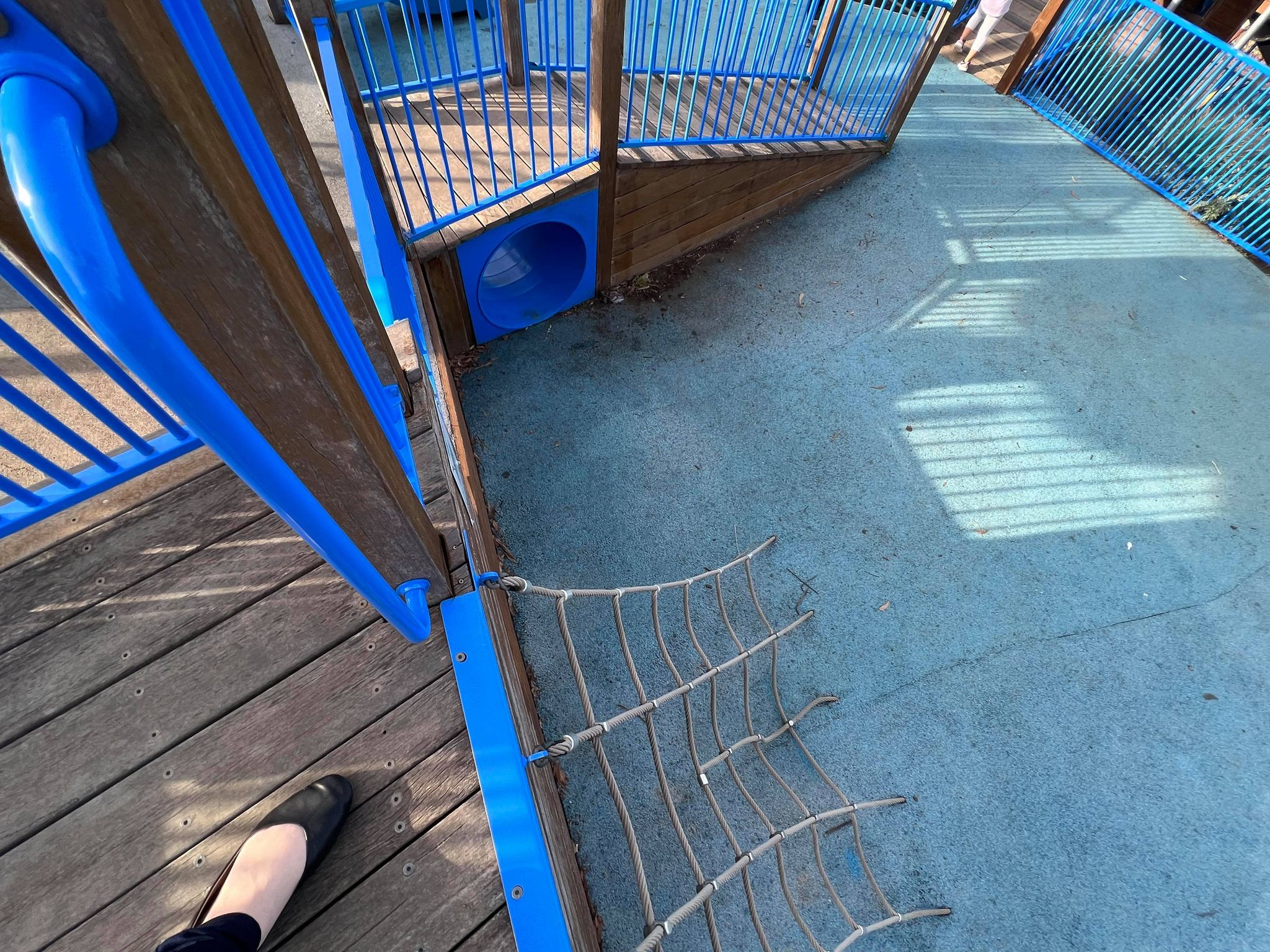 Here is a photo I took from the top of the mast. If you look closely you can see the Melbourne city skyline. Trust me it's much clearer in person. Just make sure you visit on a sunny day.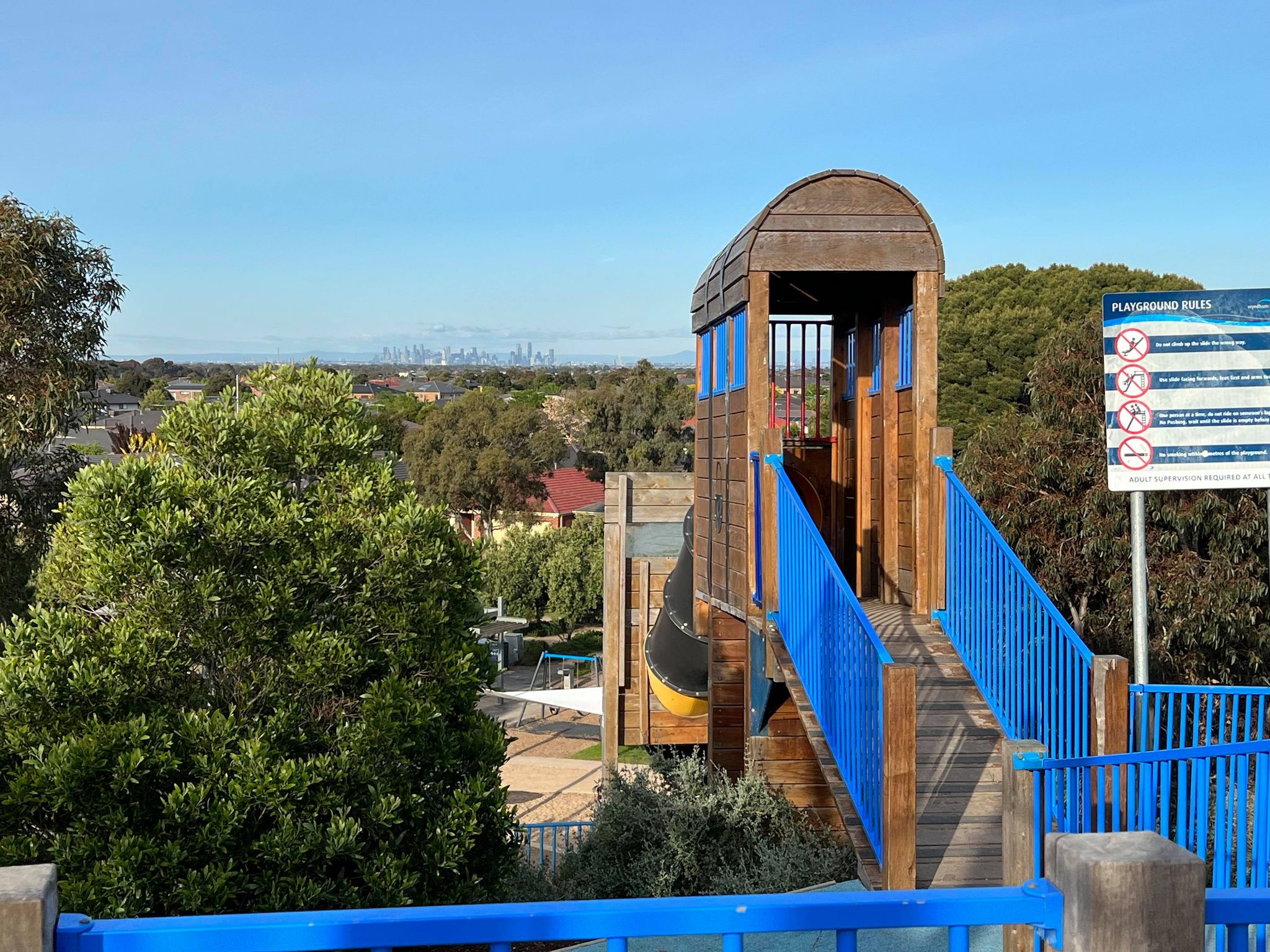 Here are the stairs I was talking about to get up to the main play structure. This might be hard for younger kids. But they will definitely burn off some energy going up and down to reach the slide at the top.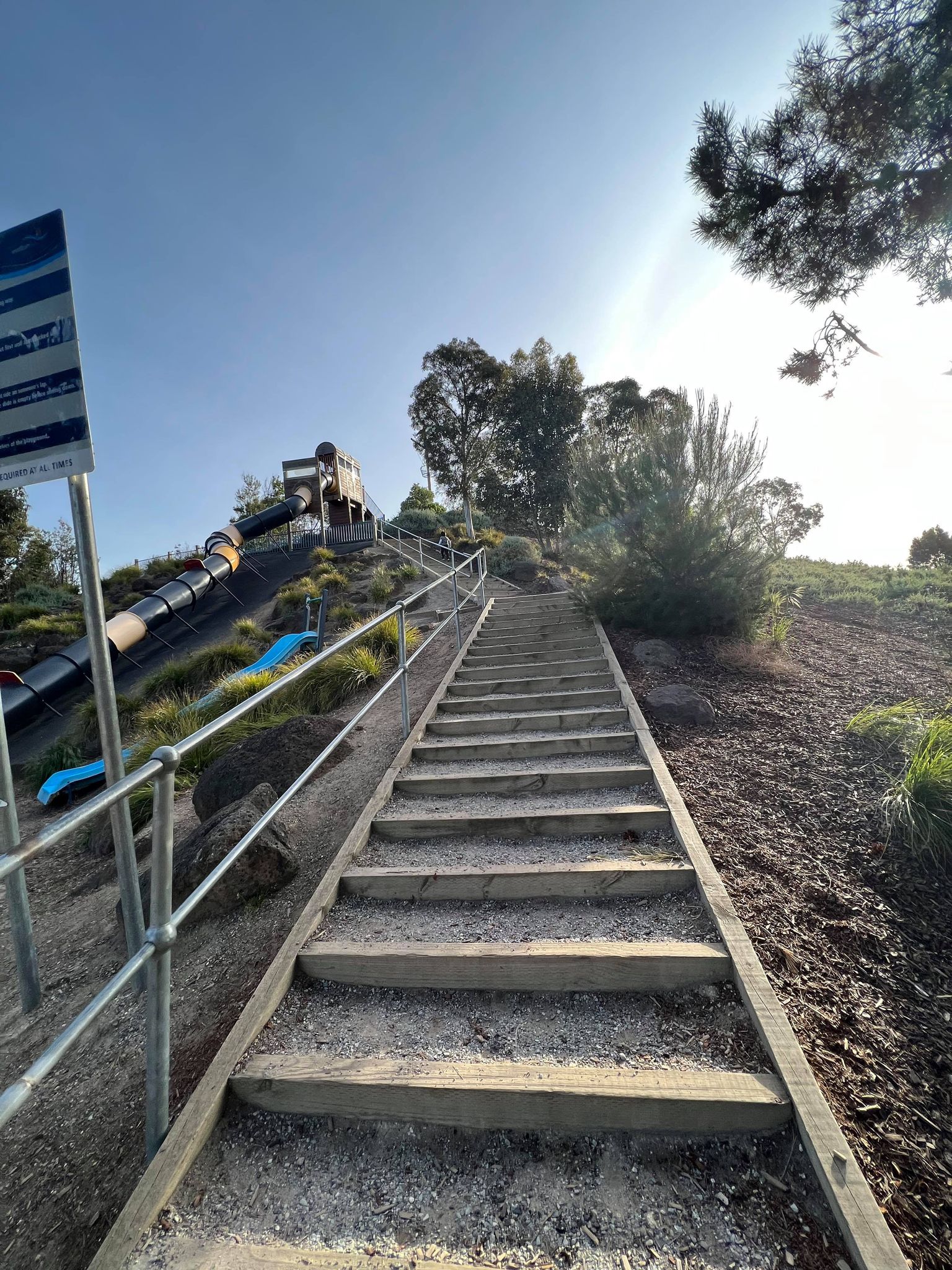 The park also has a swing set and a nest swing.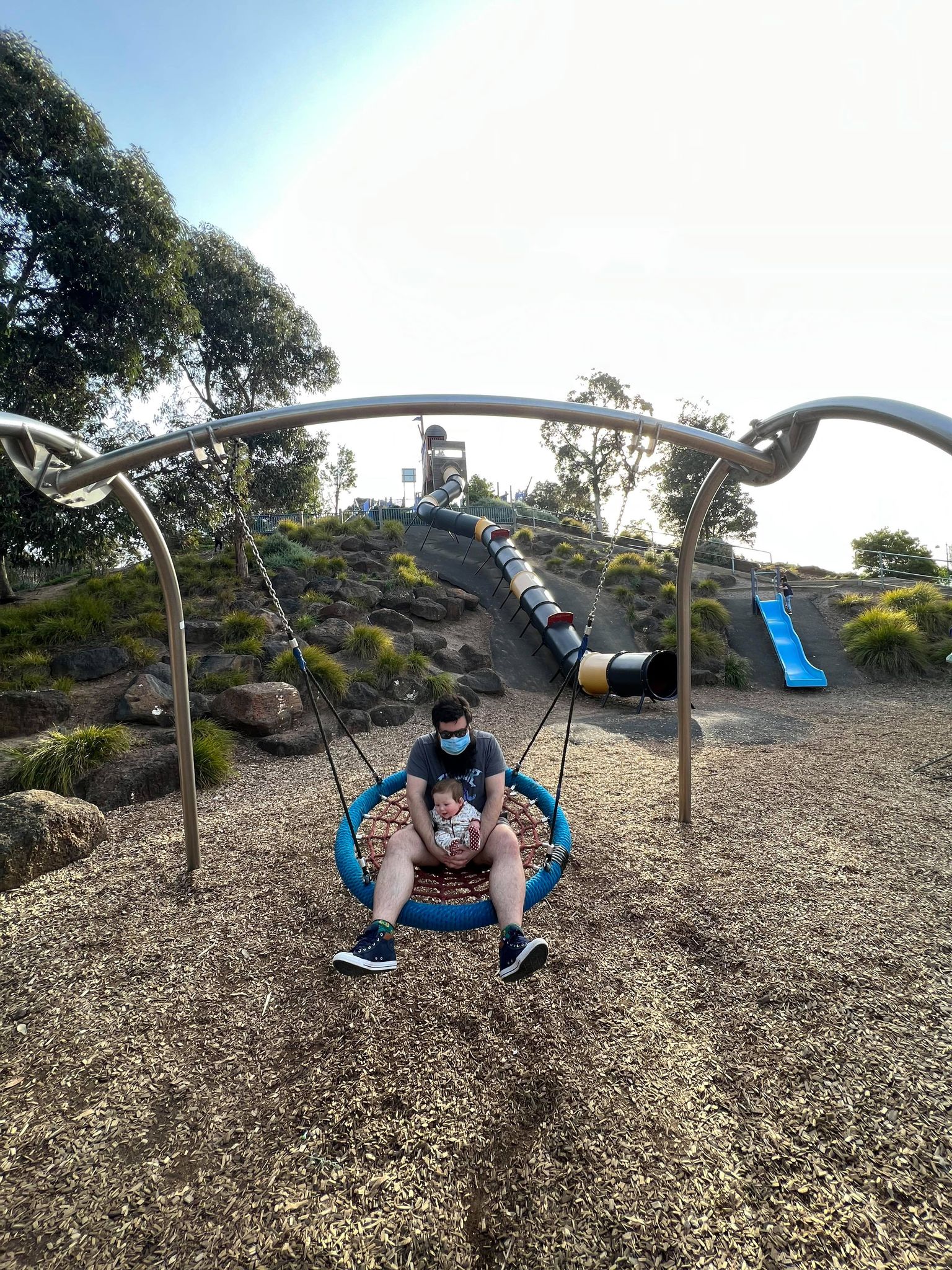 There are multiple rock climbing walls. (great for burning up energy)
There is a small slide near the main slide BUT it's a little awkward to get to especially for small kids. As long as they have adult supervision they should be fine though.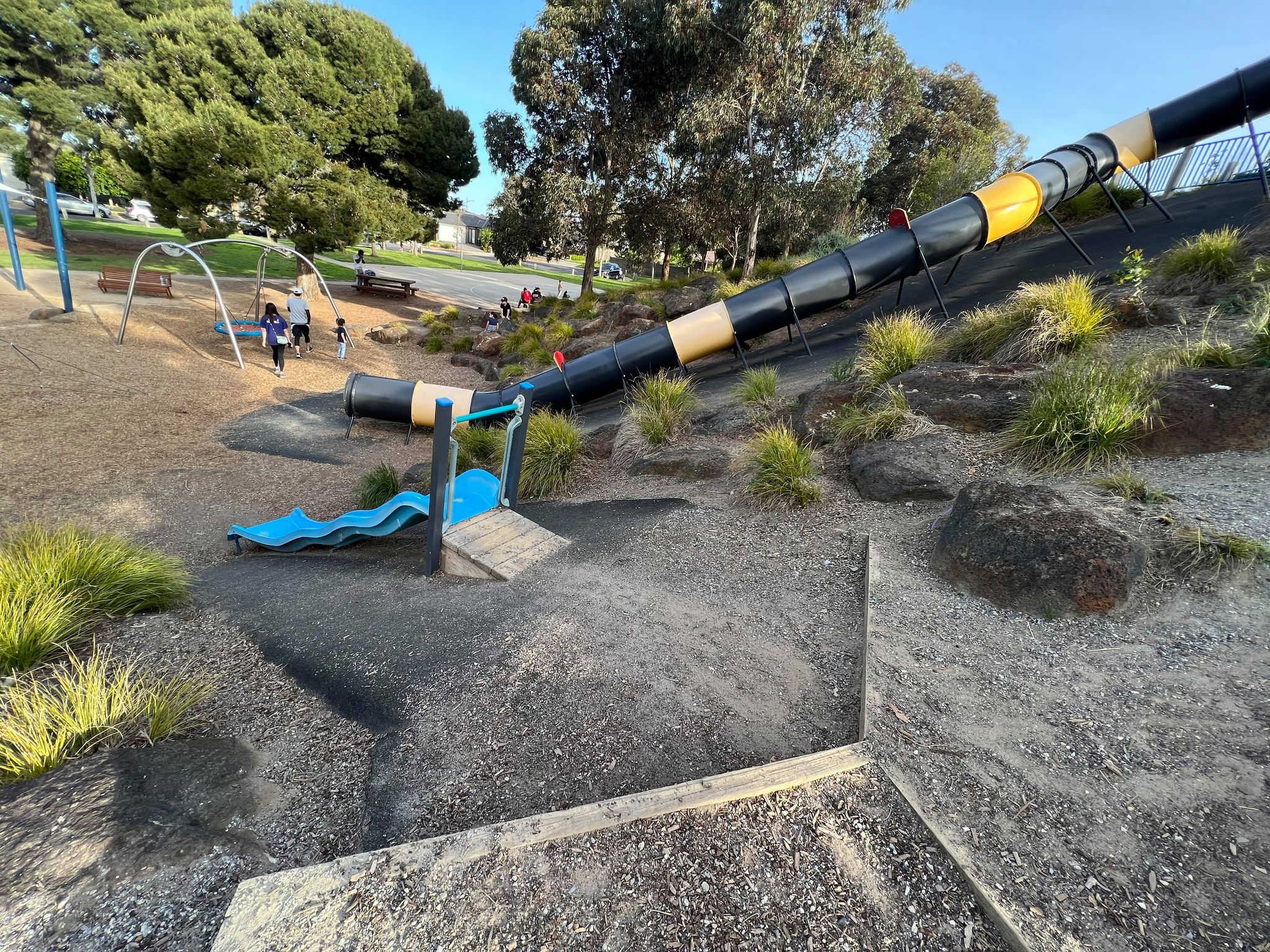 Pros 
Has an amazing slide
Views of the Melbourne skyline from the top of the playground
Sandpits
BBQ facilities
Picnic tables
Plenty of free parking nearby
Cons
No toilets
Not pram friendly
There are play areas for younger children but they'll need to be heavily supervised.