Gone are the days of having to go from store to store to find the perfect outfit.
There are now thousands of online clothing stores.  This means that you can find millions of outfits without even leaving your bed.
If you look in the right place there are many stores that have thousands of brands, huge varieties, affordable clothing and the latest styles. If you're looking for a site that will suit all of your fashion needs look no further than this list.
Here are the 7 best sites to buy cheap and affordable women's clothing in Australia.
The Iconic is one of the most versatile online clothing stores in Australia. The Iconic fits into everyone's budget. This online shopping site has over 1000 brands ranging from budget brands to high-end fashion Notable brands include Dorothy Perkins, Topshop, Adidas, Forever New, Gorman, Review, Kate Spade, Atmos & Here, Calvin Klein and many many more.  There is something for everyone on this site. This website does not specialise in just women's clothing. You can also find a massive variety of men's, teens and children's clothing also.
Shipping cost: Free over $50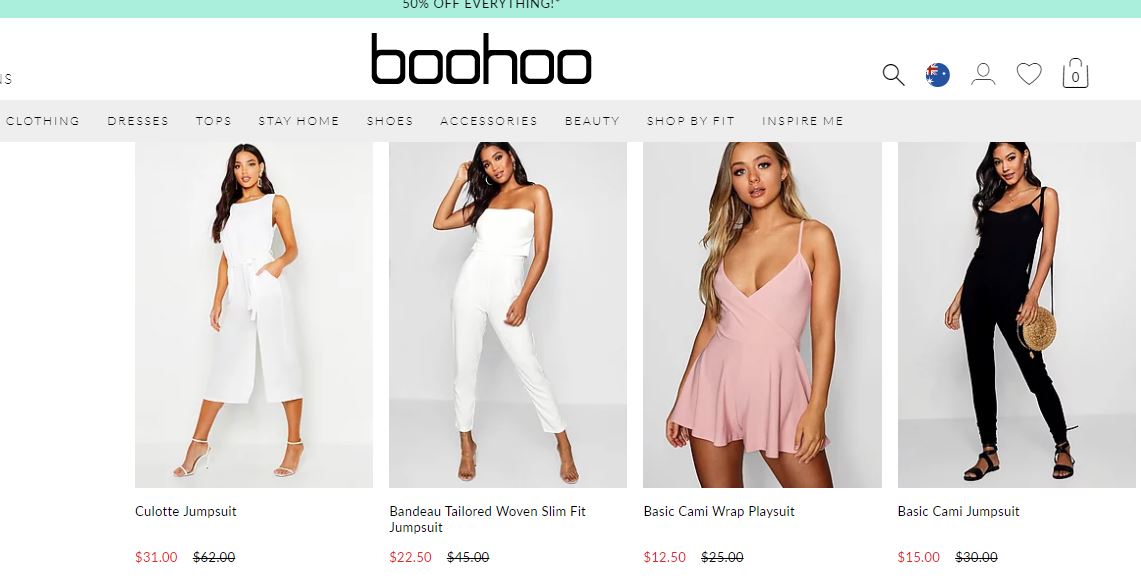 Boohoo has something for everyone. Boohoo's range features the latest trends and outfits for every occasion. Boohoo also caters to many different body types. Their clothing ranges from size 4 to size 28. whether you're looking for party outfits, wedding guest outfits, bridesmaids' dresses, loungewear or activewear Boohoo should have something for you. After all, they do have a huge variety.
Shipping cost: $14.99 for standard shipping and $21.99 for express shipping to Australia. They always have free shipping coupons available online though so keep an eye out for them!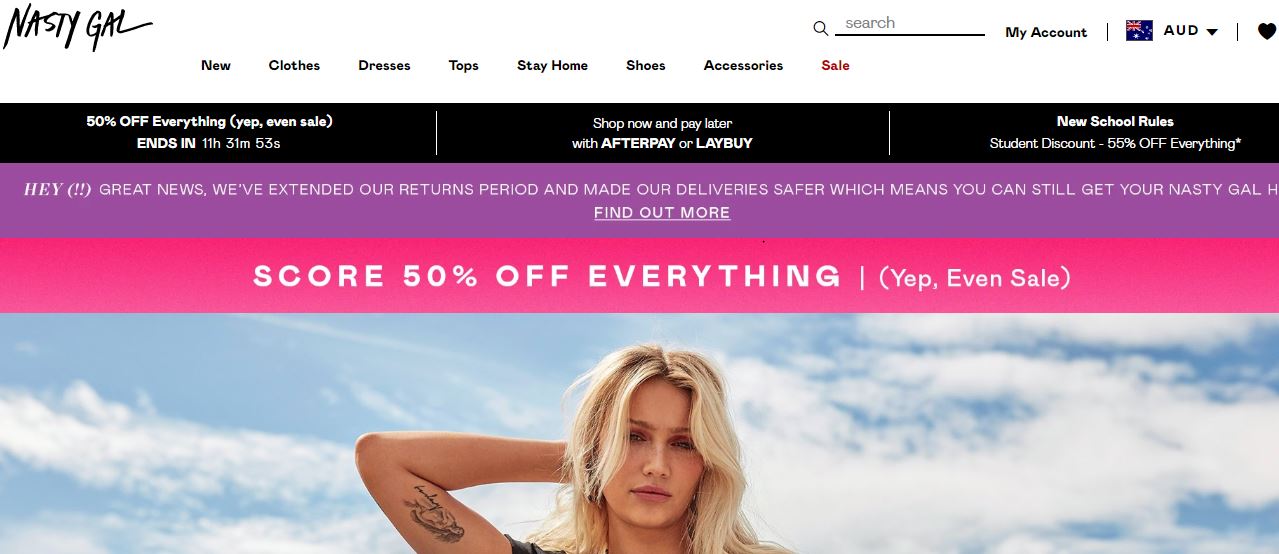 Nasty Gal started in a tiny San Francisco apartment and has grown into a clothing empire. The company was purchased by Boohoo in 2017. You will find similar clothing on both Boohoo and Nasty Gal. Nasty Gal clothing stock their only stocks their own label and has a huge variety of women's clothing and accessories.
Shipping Cost: $15.99 for standard shipping and $22.99 for express shipping. Look out for free shipping coupon codes as they go around frequently.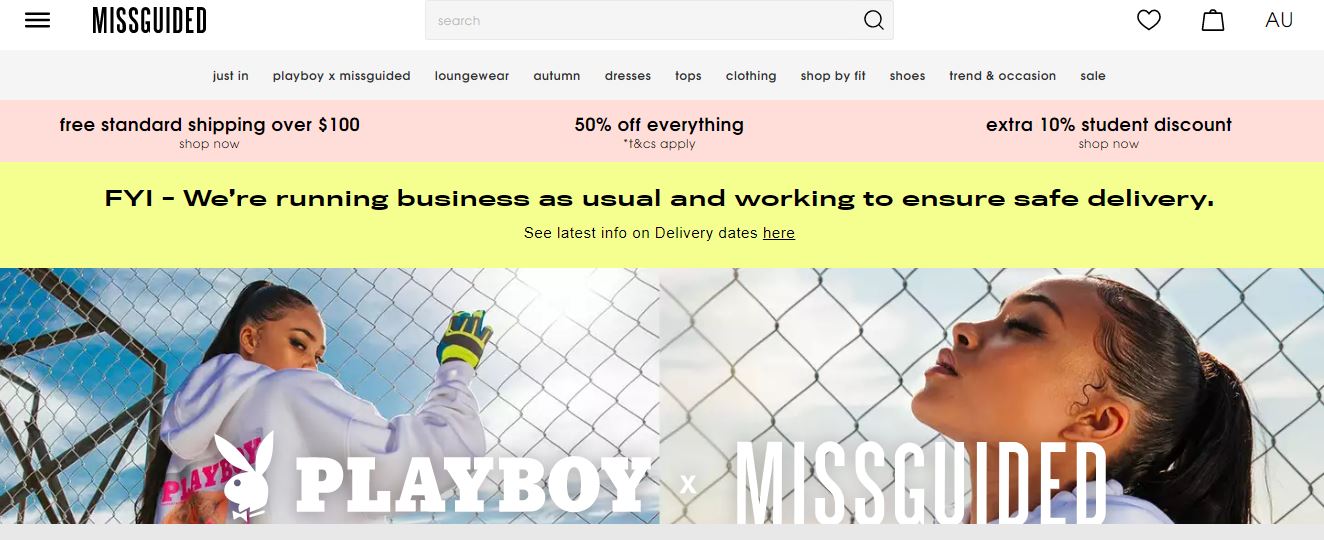 Missguided is a treasure trove of the latest styles and fashions. Missguided launches 150 new products every week so you know that you're purchasing the latest trends. Missguided has a huge variety of clothing and accessories. You will find, loungewear, party dresses, jumpsuits, lingerie, accessories and even PJs!
Shipping cost: 5 British pounds for shipping to Aus.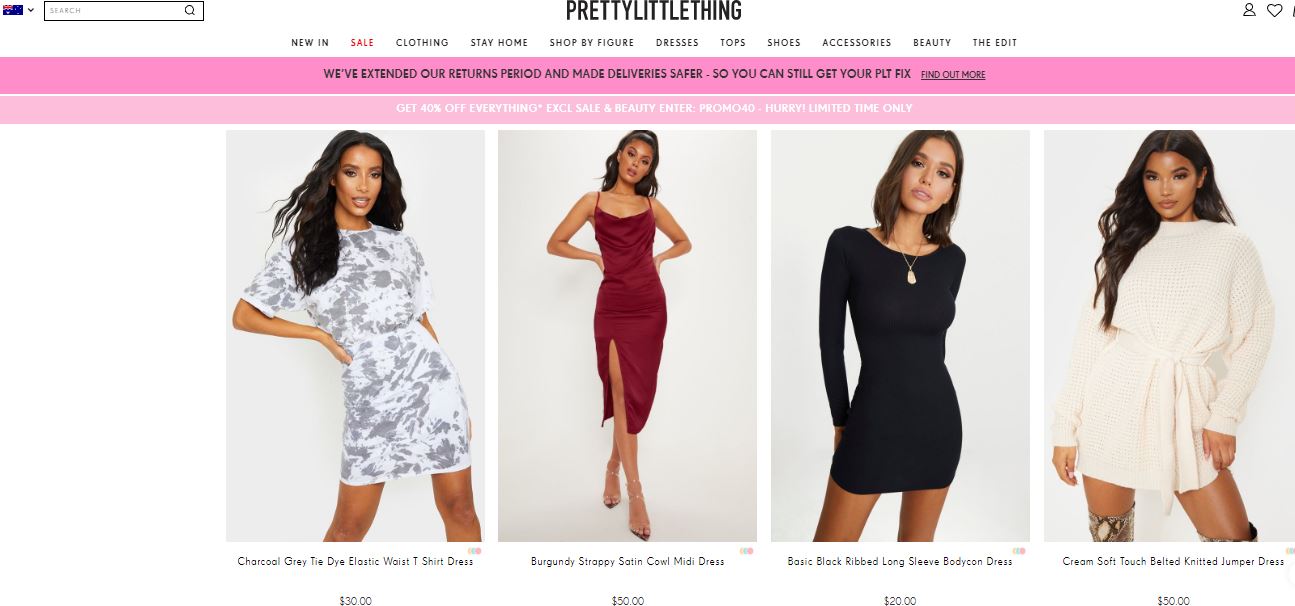 Pretty Little Thing is a UK-based online women's fashion store.  Pretty Little Thing has thousands upon thousands of affordable products. You can pretty much find your entire wardrobe on this site.  From Jumpsuits, formal dresses, party dresses, crop tops, underwear, swimsuits, skirts, activewear and even beauty products!
Shipping cost: Ranges between $15-$20 depending on whether you're in metro or regional Australia.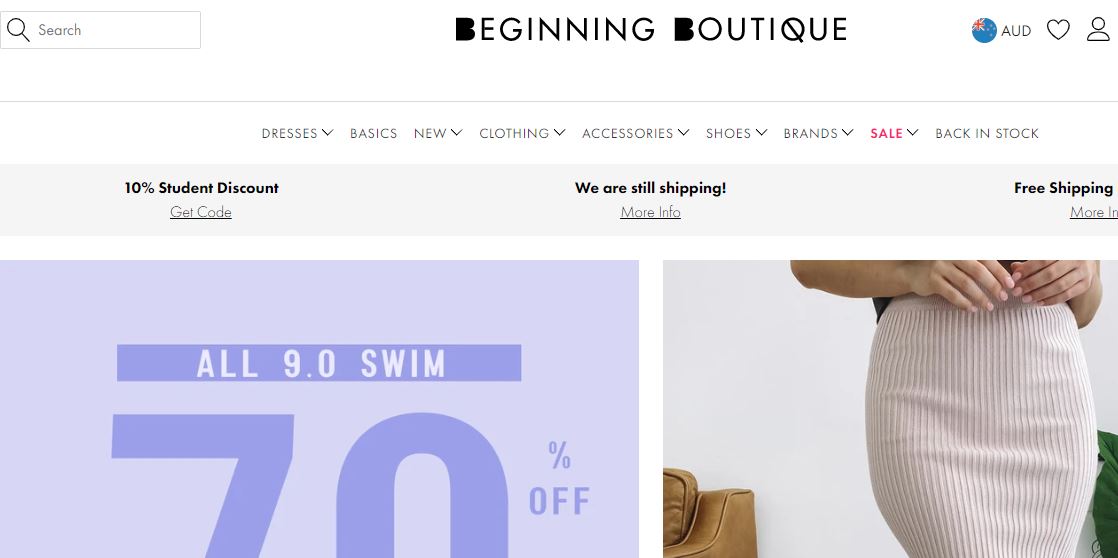 Beginning Boutique is another huge online fashion retailer. They offer express shipping worldwide and Afterpay! The company is based in Brisbane and has a huge variety of clothing. You will be able to find clothing for all occasions, all seasons and all body shapes on this site.
Shipping cost: Free shipping over $75
Asos is one of the best and biggest online clothing stores on the internet. Asos stocks a whopping 850 brands! Asos stocks its own brands as well as many other big-name brands. Not all of their clothing is in the budget range but you will find many budget brands on this site. There really is something for every budget, every body type and every style! However, the best thing about ASOS is the free returns. Meaning that if you buy something that doesn't look good in person or doesn't fit you will have no problem getting a refund!
Shipping Cost: Free when you spend over $120