Many people dream of their wedding day long before they get a proposal. And once that dream proposal comes true, planning for a wedding is the next big step. Wedding preparations come with many tasks to complete before being ready to say your I dos.
As a result, it's prudent to make a checklist that will remind you of everything you need to achieve to materialize your dream wedding. It's easy to lose yourself in the hustle and bustle of the wedding and end up failing to take care of everything. Don't worry, as you can read on and check off the following from your to-do list.
1. Determine Your Budget
The first step towards planning a wedding is finding out the cost to cover all the arrangements without breaking the bank. Budgeting may be the most challenging part of planning, as you may end up going overboard. 
As a result, create a budget that'll adequately cover the preparations by finding the wedding costs in your area. Additionally, research how much your wedding vendors and other utilities will cost and decide who pays for what. 
Remember to keep your saving goals in mind without falling into DIY traps and budget as you expect the unexpected.
2. Find Your Vendors
Getting the right vendors will either make or break your wedding ceremony and finding the right fit for your big day is vital. The first vendor is a wedding planner who comes with the perks of having access to the best wedding professionals.
However, you can opt to plan your wedding, and visiting the online vendors' marketplace might get you a publication that will be the right fit for your vision. The essential vendors include photographers, videographers, hair and makeup artists, cake bakers, florists, caterers, and entertainment pros.
And for that extra magical feel, reach out to limo hire Sydney to provide transportation for your wedding party. 
3. Choose A Venue
Getting the right venue is a step you can't skip when planning your wedding. However, you won't just wake up and find a venue waiting; instead, you'll have to pick one from an array of options available. 
If you decide to go with a wedding planner, getting their input on the venue that may fit in with your theme and vision will be vital. Get a spot that'll fit all your guests and remain within the assigned budget. 
4. Determine Your Wedding Party
Wedding parties vary from as low as four to fifteen people, with the average size being roughly five on each side depending on formality. Next, you'll have to choose who to ask by considering whether they meet your expectations. 
Your brothers or sisters make excellent wedding party attendees as they're more likely to be in your life five years later.
5. Make A Guest List And Pick Save The Date
Keeping the costs to a minimum is essential when making a guest list. However, chances of knowing many people will leave you in a pickle, and learning how to cut down your employees is vital. 
As a result, when settling on a guest list, divide equally between your partner and yourself. You should develop a kid policy by choosing the appropriate age to avoid having many underage kids. 
It'd also be a great time to send out save the dates, especially if you have a destination wedding.
6. Schedule An Engagement Photo Session
An engagement photo session will make lasting memories and get images for your wedding journey. You can use these images for your announcements, bridal suites, and wedding favours. You'll also have a chance to vet your makeup artist and photography skills. 
7. Create A Registry
Weddings have many showers and parties, bringing your family and friends together. These parties mostly require gift-giving, and your attendees may need gift ideas from your registry. 
As a result, complete your registry before save-the-dates and include things you genuinely love, such as heirlooms. However, avoid adding many expensive items that may be overwhelming for your family and friends. Try providing different price points without necessarily registering shoddily-made items.
8. Shop For Wedding Dresses, Suits, And Accessories
Start your research on different wedding dresses ten months from your wedding date and look for styles, colours, designs, and materials. Shopping for a wedding dress needs lots of research from social media, magazines, and bridal registries. 
Get to understand different elements that you love and flatter your body shape. You may not know what you want, and having consultations would be necessary for decision-making. Begin shopping in the beginning as bridal gowns are order made, or you may need to have some alterations made.  
Settling on the suitable wedding gown and accessories that match your theme is more accessible and staying within your budget should be a priority. If your partner also needs a new suit, it'd be the perfect time to look for a great designer.
9. Plan Your Menu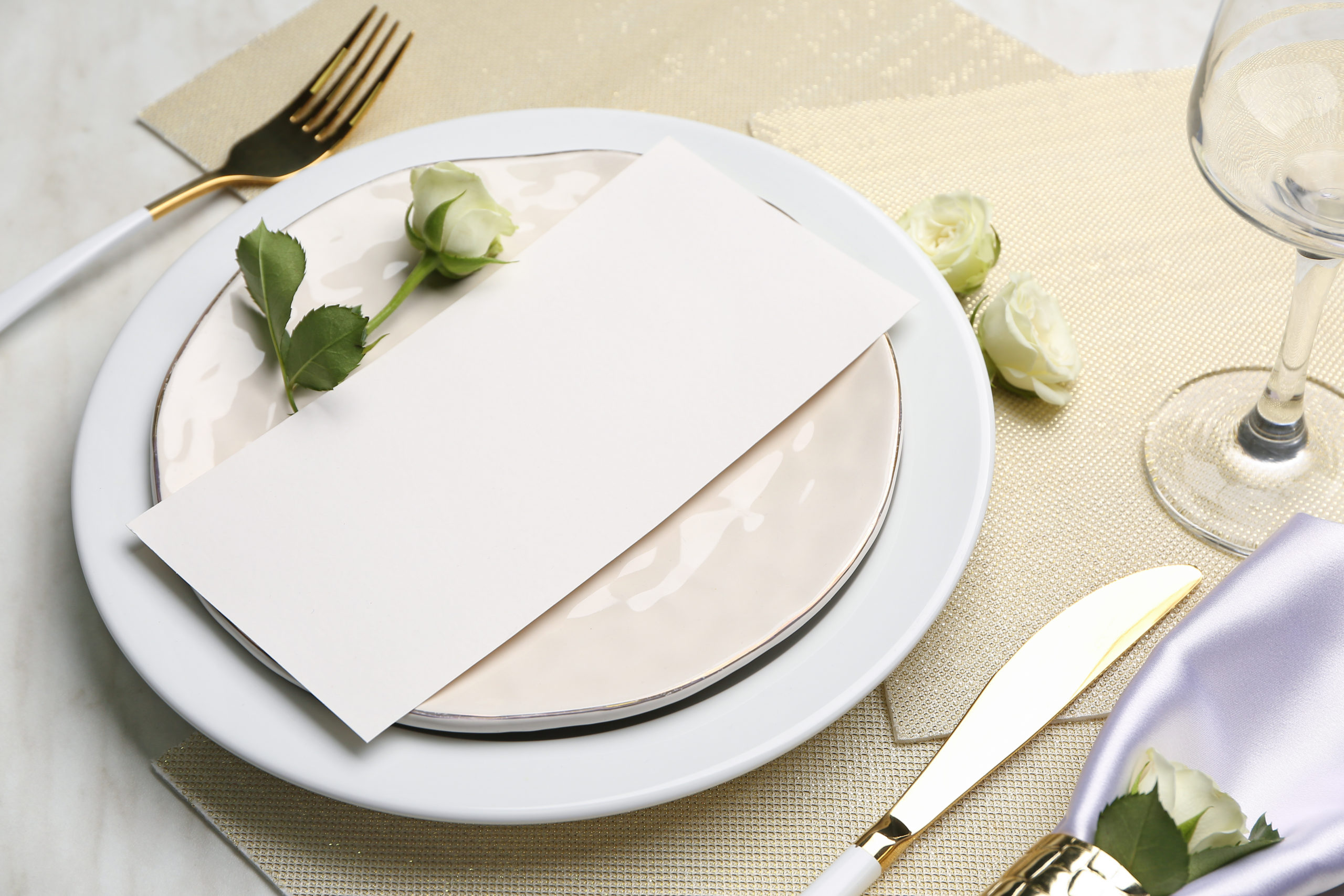 One of the most crucial details that most people will remember is the food served, making your menu a top priority. Think about the guest list and envision your timeline when planning your menu. Remember to pay attention to the season and be realistic about your budget.
10. Shop For Wedding Bands
Wedding bands are a symbol of your love and commitment to each other and should be able to compliment your engagement rings. 
Based on your budget, start at the local jewelry stores and try different styles, colours, cut, and carat sizes. If you decide to have your rings engraved, consider the additional costs.
11. Reserve An Officiant
Reserving an officiant will depend on where you hope to exchange your vows. If you choose a place of worship, then a priest, pastor, or rabbi will host your wedding ceremony at a fee. And the best time advised booking your wedding officiant is nine months before the wedding.
12. Ensure Everything Is Ready
Go through every part of the preparations for your final touches and ensure everything is ready. Have your sitting chart prepared to avoid confusion and send out invitations at this point. It'll also be a great time to ensure you have appropriate documents ready, especially a marriage license. Get your guests prepared by organizing a rehearsal dinner that provides everyone is on board.
Bottom Line
In conclusion, you have this in the bag if you create a checklist that fits you perfectly. And for that perfect dream wedding, consider making a wedding website and explore numerous options available. 
To make it easier, you may create wedding styles boards on Pinterest that'll act as your mood board. You can also establish a fitness routine and a skincare and beauty routine to get the camera ready.