Ballarat is located around an hour and 30 minutes from the Melbourne CBD. Making it a great place for a weekend escape.
The name Ballarat actually comes from two Indigenous words meaning "rest place", and the slower pace and hum of local activity has provided just that for those lucky enough to frequent the area. Like most destinations in Victoria, there is no wrong time to visit Ballarat, as each season presents its own palette and attractions. If Ballarat is high on your list of holiday spots, here is a round-up of some of the best tourist spots for any traveller.
Here are the best things to do in Ballarat:
Lake Wendouree 
A trip to Ballarat is not complete without visiting Lake Wendouree – especially if you are a keen fisher.
Despite the many fishers who throw their Avet fishing reels out on the water year-round, there is always space out on the water to catch something and feel like you have the whole lake to yourself. Victoria is not always synonymous with the best fishing spots, but if you know where to look – you can get your fishing fix year-round without having to leave the state. You won't be able to tell by looking at it, but Lake Wendouree is actually a man-made creation, which means it is beautifully maintained. You will also find many Ballarat locals walking around the lake for exercise, as it is a one hour loop and a great way to start the morning.
Sovereign Hill
If you want to journey back in time and have an experience unlike any other – Sovereign Hill will not disappoint. Sovereign Hill is an ode to the Victorian Gold Rush period, with architecture, roads, and even the community captured at this moment in time through unbelievable detail. Think petticoats and bonnets, as the entire community experience is dedicated to this era. It's not surprising that Victorian students will visit Sovereign Hill at some point in their schooling to get a sense of generations past and significant historical events, but it is a must-visit for leisure travellers too who wants to spend the day in the 1850s and see what life was like in the Ballarat Gold Rush.
Kryal Castle
If you want to get outdoors in Ballarat and see one of the only medieval castles on this side of the globe, schedule a visit to Kryal Castle. Positioned at the foothills of Mount Warrenheip, Kryal Castle is a sight to be seen, especially if you are partial to Game of Thrones and the medieval genre. Visitors can stay at the castle within the Castle Suites accommodation, or simply visit for a day trip. Unfortunately, the castle is only open on weekends and Victorian school holidays, so be sure they are open before you venture in. They also have regular events and partake in Ballarat festivals (like the Heritage Festival) so look and see how Kryal Castle put on a seasonal spin through armour. If you haven't heard of Kryal before, be sure to visit the website to see just how big it is – it is truly more like a medieval city than just a castle.
Visit Ballarat's All You Can Eat Pizza Hut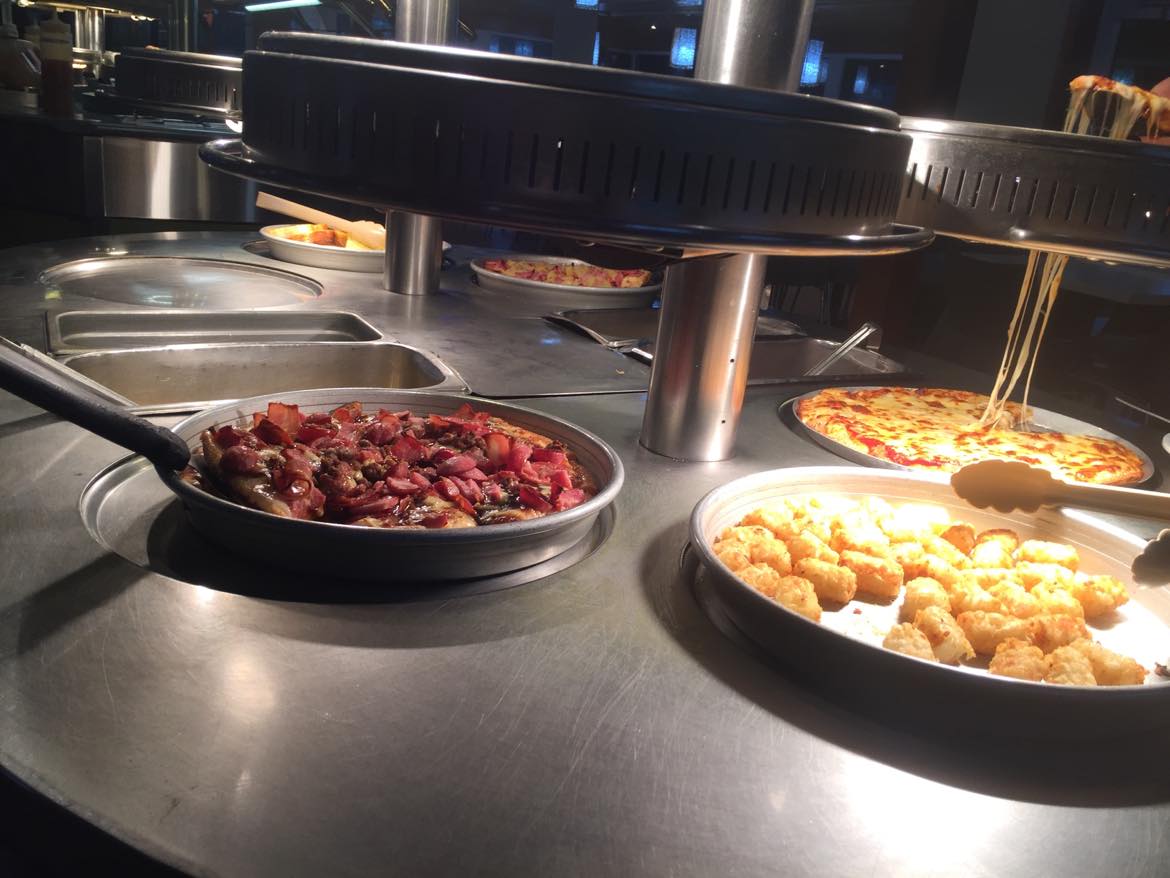 Show me someone who wouldn't jump at an all you can eat Pizza Hut, and I'll show you a liar. What's not to love? As one of the world's largest pizza chains, Ballarat's all you can eat Pizza Hut is actually one of the last few places that offer this dining format – and it understandably brings a crowd. If you are travelling with a group or family, this buffet-style option is going to be a great place to visit as everyone can manage their own plate and you won't have a long ordering process with the waiter. After a day traversing the streets and attractions of Ballarat – you might just need a bigger feed than normal. Simply go and grab your favourite Pizza Hut pizza, starters and desserts as you plan your next visit.
Art Gallery of Ballarat
It's not every day that you get to visit the oldest and largest regional art gallery in Australia, and this is a tourist spot you won't regret visiting. Despite the mix of contemporary and old art, what is special about this gallery is that it still champions local artists and presents a mix of established and up and coming artists. Like most art galleries, there is a rolling calendar of events at the Art Gallery of Ballarat – many of which appeal to all visitor types. If you have a keen interest in all things vintage – keep your eyes peeled for the Ballarat Heritage Festival, with one of the main events being a radio play wherein immaculately dressed characters read from a different script each festival. The untouched art gallery facade and classic pieces really set the scene for a celebration that feels centuries before the modern era.
Mill Markets
The Mill Markets have three locations; Ballarat, Geelong and Daylesford. The Mill Markets are open every day of the year (except Christmas) with the indoor market offering antiques, crafts and collectables to interest kids and adults alike.
Be sure to assign enough time to get through the entire market in Ballarat as there are several stalls inside, with each stall owner showcasing their own niche. You can also stay for a coffee or a meal at the onsite cafe, and take in the farm-vibe area that the market sits on. Remember, just because you have visited the Geelong and Daylesford Mill Markets – does not mean that Ballarat will be the same experience. Each market has its own unique offering and individual collectors inside.
Graze around town
Sometimes the best memories come from stumbling into a fantastic bar or finding a great restaurant by accident. How else do you fall in love with a regional than through your stomach? Ballarat packs a real punch when it comes to their culinary scene, and most of it can be accessed by bike on the main strips in town. Mr Jones and Underbar deserve a call out, as upscale dining options where bold flavours are celebrated through surprising pairings and Insta-worthy presentation. Who said Melbourne should enjoy all the dining fanfare? You should also do your best to sample the wide wine offering found in Ballarat, with more and more wine bars opening up to keep up with demand and the young blood injecting new ideas in Ballarat.
Ballarat's neighbouring attractions
If you are staying in Ballarat for a while, you might be tempted to venture to the many attractions that can be found nearby. The drive from Melbourne is littered with well and lesser-known tourist spots, and might even be a great way to stretch the legs if you have flown into Melbourne for your Ballarat escape. Grampians National Park is not far away and is a great option for a quick day trip. Here you will see more kangaroos than people, and an incredible landscape with the towering sandstone mountains cradling the untouched area. If you don't plan on traversing the mountains in Grampians National Park or any of the trails, you are not alone. Many people holiday in Halls Gap for the atmosphere and relaxed accommodation which is made up of cabins, camping and caravan sites.
~
We hope you have enough inspiration to plan an action-packed trip to Ballarat! Whatever your interests may be, you will be well catered to in this diverse and stunning region.