The only positive thing to come out of our Corona Virus lockdown is the amazing gift to humanity which is Netflix's Tiger King documentary.
What an incredible ride this was. And with anything culturally significant, then came the memes. Here's a nice big collection of Tiger King memes that have been keeping us entertained whilst in lockdown.
P.S if you like these memes you'll also like these additional 50 Tiger King memes. Read it next.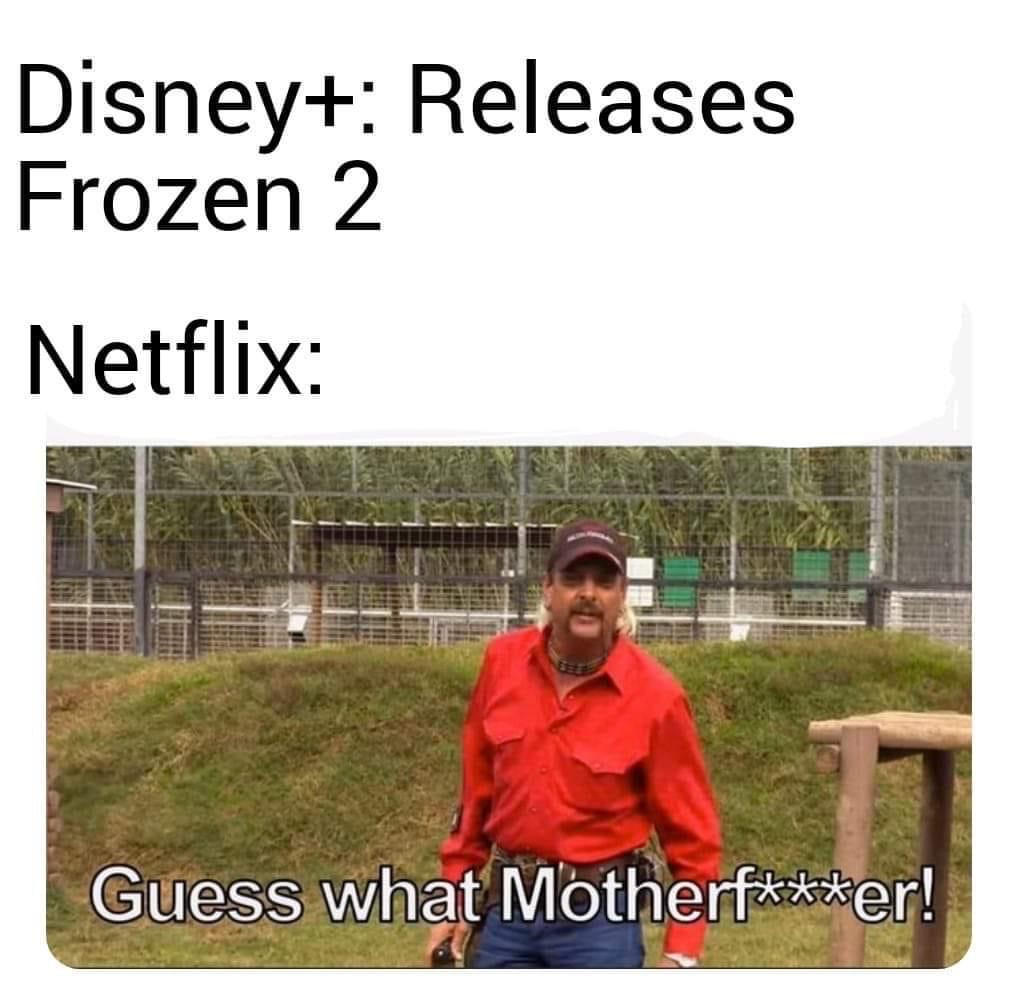 Yes, Disney+ did release Frozen 2 early in many parts of the world, there is no denying that releasing this documentary wasn't a fantastic rebuttal from the competing streaming service.

We all know Jeffrey Epstein didn't kill himself and we all definitely know that maybe Carole Baskin killed her husband, maybe. Probably. Oh boy.

Any fans of the band Poison or have watched VH1's Rock of Love reality dating show with Bret Michaels would find it difficult not to notice that Joe Exotic looks like the version of Bret Michaels you would receive if you ordered from Wish.com or Ali Express.

There is seriously just so much going on here.

With all the social distancing and incredibly confusing rules here in Australia about how long you can go to the hairdresser for, it's no surprise people are being tempted to cut or dye their hair at home… Then needing to Facetime their hairdresser for help.

I still can't believe Joe Exotic has married more straight males than I have.

Gonna tell my kids that it was really Joe Exotic who mashed up "Sweet Home Alabama" and "Werewolves of London" into "All Summer Long", not Kid Rock.

100% would love to see Post Malone marry Joe Exotic.

The number of memes involving Carole Baskin and threatening your husband is certainly concerning.

I can assure I was screaming at the TV "Why is Allen being interviewed in a bathtub!". We were glad he kept his shorts on though. Can't deny that.

We know Carole Baskin sees herself as a Mother Teresa figure for big cats and exotic animals, but all we can see her as is someone who maybe, probably killed her rich husband. Seriously, her lack of sympathy for the guy is suspicious as hell.

Everyone is stupid but me.

I never thought much about big cat owners or even really knew this was a thing, but holy heck. Some of these people really did make me want to join their cults. Yes, Joe Exotic, Carole Baskin and Doc Bhagavan Antle are basically cult leaders and despite everything, I kind of love all of them in a very confusing way.

Tiger King is certainly no confidence boost for single people out there. Carole snagged a multimillionaire husband, Antle had 5 wives at a time and Joe got 2 straight men to marry him. Why does everyone want to marry tiger owners?! What is going on here?!

This meme from Mean Girls really sums it up when your town or city is getting publicity for all the wrong reasons. Sorry Oklahoma.

I can't help but think that John Finlay's missing teeth were my favourite part of Tiger King. I'm so glad he finally got those fixed up.

If Tiger King couldn't make me think more that this is like Eastbound and Down, it was this scene with James Garretson on a jet ski.

If NWA was white people, "Fuck the Police" would definitely be translated to "Um, I'm a Libertarian, so technically, fuck the feds."  Thanks for being you, Josh Dial, Joe's Campaign Manager.

The Tiger King has so much insane old footage that truly, despite the deaths, murders and heartache the people in this show have experienced, the part that made me saddest is knowing how much absolutely batshit insane footage was destroyed forever in that gator shack. How many more episodes could that footage have fueled? I'm sorry but I need more Tiger King in my life.

If The Tiger King has taught me one thing, no one can remain straight if there's a bag of meth involved. Seriously kids, don't do meth.

My customer service voice – "Hey all you cool cats and kittens…" My real life voice "Guess what motherfucker!". I don't think there's anyone who has ever worked in customer service who doesn't feel this one.

Literally everything bad in the world is definitely Carole Baskin's fault.

Saying "that bitch Carole Baskins" has become the perfect alibi for literally everything.

Absolutely amazed at how chill Kelci Saffery was with losing her hand.

These wedding photos scare me.

I love memes about Joe Exotic's eyebrow ring.

I love Charlie Day and It's Always Sunny in Philadelphia. It's all 100% Carole Baskin. This is literally Joe every episode.

Calling James Garretson a "walking Chucky doll" was certainly funny.

I knew Doc Antle looked familiar from somewhere. He is definitely Mugatu from Zoolander.

Carole Baskin as Cersei Lannister
Joe Exotic as John Snow
Legendary Saff will make a great Jamie Lannister with her missing hand. Don't know how she will feel about hooking up with Carole though.
Jeff Lowe as Ramsay Bolton
Erik Cowie as Sandor Clegane AKA The Hound
James Garretson as Lord Varys

"I'm never going to financially recover from this" is definitely one of the best lines from this show that can be used in so many contexts.

That eyebrow ring is definitely a character in its own right.

I want to buy a bottle of Mountain Dew just to see if I can make Joe Exotic appear.

There are so many freaking weird things going on that this picture of Howard Baskin seems pretty chill.

So you see, that's where the trouble began. That smile. That damned meth teeth smile. Sorry John Finlay, you look so much better now with your veneers.

This one is absolutely horrible. My heart really goes out to Travis Maldonado and his family. But I still can't over the fact that this was captured on security cameras. I also feel terrible for Joshua Dial for having to witness this.

Joe Exotic standing in front of a Tornado seemed weird when I first saw it, but now it just seems normal somehow.

Any Walking Dead fans would find it impossible not to compare Joe Exotic to King Ezekiel.  The fact that they have a throne and a tiger is about where the similarities end, however.
I seriously need to know what Donald Trump thinks about Joe Exotic.

Hearing Carole Baskin talk about using sardine oil to make a tiger eat someone is the most uncomfortable thing I've ever heard in my life.

If you wanna be my lover you gotta have tigers and meth. 100%.

I just love seeing James Garretson on a Jetski. Why?!?!

I will not forgive Joe for talking about Travis' balls at his funeral.

Smuggling cocaine inside a living snake could be its own documentary.

This picture just keeps on delivering.

The best part is that Joe Exotic has since said that if they made a movie about his life, he'd want either Brad Pitt or Joe Dirt to play him. Not David Spade the actor who played Joe Dirt, but Joe Dirt himself. Amazing that he can see the resemblance.

Carole, feeding people to tigers to hide the body really doesn't seem that unlikely. Seriously.

Checkmate atheists.

Seriously, Carole Baskin talking about how big cats shouldn't be in cages whilst owning big cats in cages really did my head in.

I never liked country music, but Joe Exotic's diss tracks were straight fire.

We couldn't help but feel proud for Joe getting 19% of the votes in his election.

There was something about Erik Cowie saying "I don't fucking care" that was just super relatable in life.

I still can't believe he said that at a funeral.

Joe's eyebrow ring is just barely hanging on.

Shaq really needs to be more careful who he hangs out with.

A graph of how we all felt watching Tiger King.

Kelci Saffery was great, but why was she filmed in front of a pile of rubbish?

I really hope Joe didn't burn down the shed.

I'm actually confused how Joe even got Josh Dial to be his campaign manager, but OK. Should have stayed at Walmart.

They are all exploiting animals OK!

I want to see the fan art of this.

100% would play this game.

Agreed.

Yes Joe, we know.

Did anyone else find the amount of animal print clothes in this show to be disturbing?

Me when some of these memes are very similar.

Travis' memorial was both terrible but kind of adorable at the same time.

Look, his music was kinda good OK?

That's actually pretty good.

Carole Baskin killed Mufasa

At this point, I'm starting to believe any conspiracy involving her.

Who did you get?

Posting this because I love Bernie Sanders.

If you've made it this far but haven't watched the show yet, what are you doing?!

I'm actually regretting not buying Animal Crossing for Nintendo Switch for quarantine now.

This meme was inevitable.

This part was really awkward TBH.

I'm snacking so much right now, throw away the key.

"I saw a tiger" and "Here kitty kitty" etc. To be honest, it sounds like he doesn't actually sing his own songs for his music videos or play his own music and I'm kinda upset to learn this.

Yes, this is reasonable.

I'm starting to wonder if this guy burnt down the shed full of footage.

Of course someone managed to bring Mike Tyson "now kith" memes into this.

I'd drive this.

This is kind of rude.

Yes, we know.

Tiger King is definitely the best distraction from Covid-19 right now.

The spelling of these memes aren't all great OK.

Seriously, don't play with guns.

This must makes me want to get into modern country music.

Don't Fuck With Cats is definite worth a watch if you enjoyed Tiger King.

Yeah I actually yelled at the TV because of his preacher costume at the funeral.

"Fuck you Carrot Basket"

When everyone is working from home or you've been stood down, you can't help but admire Joe Exotic's work ethic.

Carole Baskin reporting Joe Exotic's tiger shows was the ultimate Karen move.


I knew the staff at GW Zoo were eating old Walmart meat but I missed the part about the pizzaria…

I guess that deep down, we all want 20 tigers.

Seriously, thank you for this Netflix.

Say what you want about Carole Baskin, but Joe did not need to blame literally every problem ever on her.

But seriously Carole, could you have at least pretended to be sad?

Ok not really.

I'm like 90% convinced OK.

This line was so incredibly suspicious.

Honestly, yeah.

I would love to hear what Siegfried & Roy & Kid Rock all have to say about this.

I actually loved this trio.

I don't know much about the Dallas Cowboys but OK.

Carole, seriously why were you so chill about your husband Don disappearing?

No Saff, losing your hand isn't totally cool OK?

This is like my boyfriend. He was never a cat person and he just convinced me to get a second cat.

Joe exotic to the rescue.

Everything is Carole Baskins fault.

This is probably my favorite Tiger King Meme ever.

"It's about this gay, gun wielding redneck with two husbands and a tiger zoo in his backyard"  This show cannot be explained. You just have to watch it for yourself.

I mean Saff was sitting on a pile of garbage and there was a man being interviewed while he was in the bath so this does not surprise me.

I really hope we're allowed to leave the house by then
Did you like these Tiger King memes?
Here are 50 more Tiger King memes to get you through quarantine.