The ketogenic diet, best known as the Keto diet, is a dietary program high in fat and low in carbs for better digestion and faster fat burning. It consists of food that is rich in fat, adequate in protein, and low in carbohydrates; fat burns faster than carbs, and protein builds muscles so it can burn and flatten fats faster. Hence, it avoids carbs as it is slower to digest and protein does not necessarily assist in burning them.
Many Australians nowadays are considering having a Ketogenic Diet. Cutting on carbs that are easier to digest, like sugar, soda, pastries, and white bread, is the first notion that comes to mind. These typical carbohydrates digest food so easily, that it is absorbed by the body faster and causes us to gain weight in an instant. Thus, Australians are now looking for anything with fewer carb ingredients, making sure they are making the most and doing what is right to achieve efficiency with their diet.
However, if you love chocolate so much and can not control your cravings, you might be in big trouble. As chocolate can have a high carb and sugar content. You don't need to miss out on chocolate just because you're on a Keto diet. Here are the best keto-friendly chocolate options at Woollies.

Price: $4.00
By the name itself, this keto-friendly chocolate only contains under 9% carbs and is also high in protein with its probiotic rich-ingredient. It's also gluten-free and great for those who are sensitive or just want to skip gluten, and additionally has a high collagen content that improves the muscles and skin too. For those who love caramel, this product can be your go-to snack as well.

Price: $3.50
Well Naturally is a brand that mostly sells chocolates with low sugar and carb content. If you love snacking on chocolate-covered almond chocolate, this product might just be the perfect snack for you. It also contains stevia which is a natural sweetener and a good alternative to sugar; thus a good choice for you. You'll be amazed how good it is with only 2.2g of carbs, 7.8g of fat, and 2g of protein in one serving. 

Price: $3.50
Looking for a chocolate bar that has a kick of mint in it? This chocolate bar will be your holy grail. The contrasting taste of dark chocolate and mint is just perfect for most people, as they can have both worlds all at once. Amazingly, it only has 0.5g of carbs, 0.8g of protein, but with 5.1g of fat. It also has 2.9g dietary fiber, which on the other hand fights carbs to trim those excess fats in one serving.

Price: $5.00
Lindt is a chocolate brand that can be seen in almost every grocery store in Australia. While some people may not know it, this chocolate is perfect for those who are doing a keto diet. It has a total of 9.2g of fat, 2.5g of protein, and 2.2g of sugar per serving. It has refined chocolate of intense flavor, but it's not for people who are more into the sweetness rather than solely the taste of cocoa; it has bitterness in it, but that's what makes it premium above all.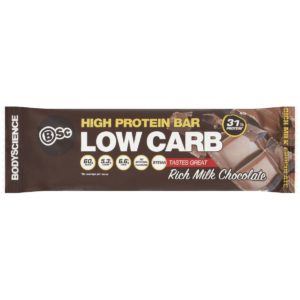 Price: $4.00
A bar of protein-rich chocolate with a decadent fudge inside, this chocolate bar is one of a surprise. This snack from Body Science is 18g of protein, 6g of fat, and just 5.3g of carbs. This protein bar will suit your cravings while hitting your body goals easier and more sustainably. This is also guilt-free so you'll always enjoy snacking without worrying about how to trim your fats off. Now, who says all chocolate can cause you extra pounds?

Price: $8.50
Perhaps you may want chocolates in a stick —- then what's the best you could get than popsicles, right? You may snack with the best keto popsicle in Woolworths without even worrying about artificial colors and flavors; it's 100% healthy and keto-friendly! This treat is 99% less sugar with only 0.9g, 13.6g of fat, and 5.3g of protein . There's no added sugar to this and even certified Australian produce. Keto popsicles you say?

Price: $3.50
Want something chocolatey that's also fruity? This chocolate-raspberry treat wants you to dig in and add more (kidding, it must be in moderation). The delicious snack only contains  0.7g of carbs, 0.9g of protein, and 5.5g of fat. It is surprisingly decadent that it's guilt-free and also cheap if you compare it to other keto snacks. It also uses stevia so sweeteners are moderated to the tiniest amount.
If you're planning on getting snacks (generally) for your keto diet, it's important to note to check the nutritional facts of every packaging. Keto snacks must always have higher grams of fat, adequate-protein, and super fewer carbohydrates. In sum, it must optimize your macros for your nutritional needs so you'll have that amazing keto diet. 
Additional notes:
Before going on a keto diet, you need to know your macros first. It's best to have someone assess your weight, so you will have a concise macros intake each day. If you would wish to do it on an experimental process, one key takeaway is that it may not be suitable for you; diets can be subjective, and it is thus essential to partake in a plan that will work for your body.