Choosing a bassinet is hard. It's more than just choosing the best looking bassinet. You also need to ensure it is safe and is the best possible place for your newborn to sleep.  There are no official safety standards for bassinets in Australia so it is important that you know what to look out for so your baby sleeps as safely as possible. You also need to be cautious about old bassinets passed on from family members. Old bassinets might not be suitable for safe sleep. It is always best to do your own research and find the best and safest bassinet for your baby. Don't be afraid to say no to unsafe hand-me-downs that aren't safe. We've put together this guide to help you choose the best bassinet. With that said. Here are the 15 best bassinets available in Australia in 2022.
Safety Features Your Bassinet Should Have 
Bassinets in Australia do not have to meet any safety standards so you need to be careful about what bassinet you buy and be very cautious when using old bassinets passed down by family members. When choosing a bassinet in Australia here are the safety features you should look out for:
It must breathable. Bassinet with thick unbreathable sides are a SIDS risk
The mattress must be firm and under 75mm Mattresses that are too soft can pose as a suffocation risk
The mattress must fit the bassinet perfectly. If there are any gaps the baby can suffocate
A sturdy base that won't fall over
The bassinet should be at least 300mm higher than the mattress so the baby won't fall out.
Do not add extra bedding like pillows or bumpers or toys to the bassinet. Baby should sleep on a firm mattress without pillows and the only bedding that should have is a swaddle and once they can roll they will need arms out sleep sack.I also suggest researching TOG ratings to ensure the baby is always dressed appropriately for bed.
Summary Of The Best Bassinets in Australia 
Graco Sense2Snooze Bassinet with Cry Detection
Childcare Alora Bedside Sleeper
Tasman Essentials Eco Rascali Bassinet
Love 'N' Care Moonlight Co-Sleeper
 4Moms Mamaroo Sleep Bassinet White
HALO Sleep BassiNest Swivel Sleeper 
4Baby Snuggle CuddleBabyhood Travel Bassinet

The Snoo is a game-changer. It was created by paediatrician Dr Harvey Karp. The author of The Happiest Baby On The Block.  The only con is that it is a little pricey but you can rent The Snoo for $50 a week. So you can try it and see if you like it. The Snoo detects when your baby starts to fuss and will begin rocking them back to sleep! The Snoo claims that it can add an extra 1-2 hours of sleep per night which is life-changing for new parents. The Snoo also has app connectivity and plays white noise so your baby will feel like they're back in the womb. The Snoo comes with 3 swaddles that helps prevent your baby from rolling into an unsafe sleep position so you won't need to worry about your baby being unsafe.
Features
Breathable mesh for airflow
5 different sounds
Rocks baby back to sleep when they cry
Microphones that can distinguish baby cries from room noise
Suitable from birth to 6 months
App-connectivity
Comes with a mattress, mattress cover, 3 swaddles and an organic cotton sheet.

The Bloom mini-crib is great for those with small bedrooms and limited space. The crib folds away when not in use and has lockable wheels so you can transport it from room to room. You will get more use out of this than a standard bassinet because it can be used until your baby is about 12 months old!
Features
Comes with a mattress, mattress protector and sheets
Can be used as a bassinet for newborns and as a mini-crib for babies up to 12 months.
Fits through most doorways and can be easily moved from room to room
Open slats for airflow
Best Travel Bassinet

This bassinet allows you to rock your baby back to sleep. Which is sometimes all baby needs to go back to sleep. Being able to rock your baby back to sleep without having to pick them up and get out of bed will be life-changing. The wheels also allow you to move the bassinet around your home so you can keep your little one nearby while they sleep.
Features
Suitable from Birth to 6 months
Has lockable wheels for transportation around the home
The bassinet is able to be rocked from side to side to help baby fall asleep
Best Snoo Bassinets Alternative in Australia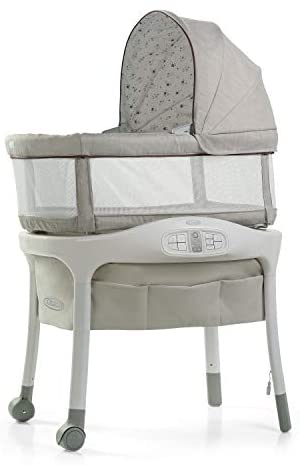 Some say that this bassinet is a cheaper alternative to the pricey Snoo. The bassinet has cry detection to help your baby fall back asleep. When the baby begins to fuss the bassinet is able to vibrate, rock and soothe the baby back to sleep. The bassinet has wheels and can play white noise, lullabies or nature sounds.
Features
Vibrates and rocks baby back to sleep
Comes with a mattress
Plays white noise and lullabies
Has cry detection technology
The canopy protects the baby from light while sleeping
Mesh Sides for airflow
Storage pocket for nappies, wipes, clothes and whatever else you need in the middle of the night.

The Mamaroo bassinet is probably the closest alternative you will get to the Snoo and for roughly half the price. The Mamaroo bassinet mimics how a parent rocks a baby back to sleep. Which means more sleep for you and baby.  The bassinet can even mimic the same motions as a car ride and has 4 white noise options that can all be controlled by an app on your phone.
Features
Great Snoo Alternative
Firm Mattress and breathable mesh for safe sleep
Rocks baby back to sleep
Plays white Noise
Features can be controlled from your phone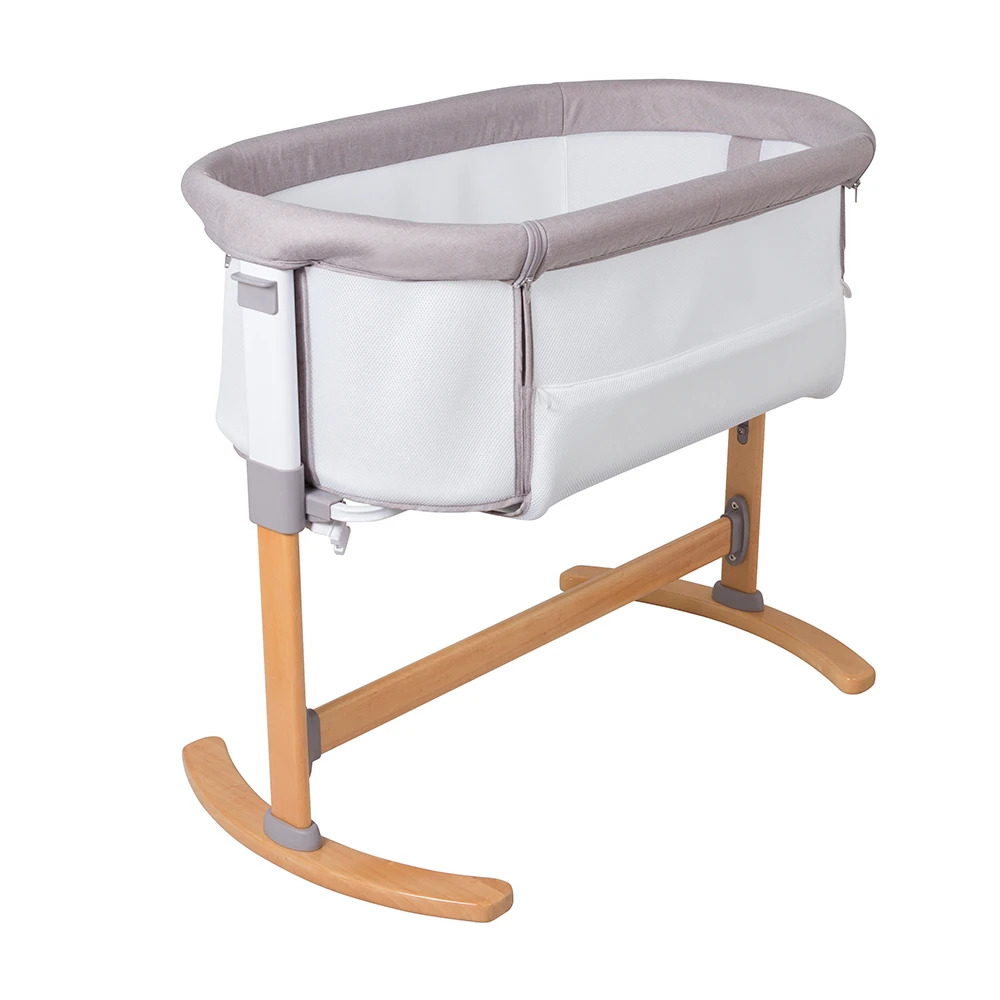 The Childcare Alora is a co-sleeper bassinet and allows you to keep your baby close. The Bassinet has 5 adjustable height levels and suits most bed heights. The side is able to roll down and the bassinet is able to connect to the parent's bed easily for safe co-sleeping.
Features
Comes with a mattress
Breathable sides for safe sleep
Suitable from birth to 9kg
Side rolls down and bassinet can connect to parents bed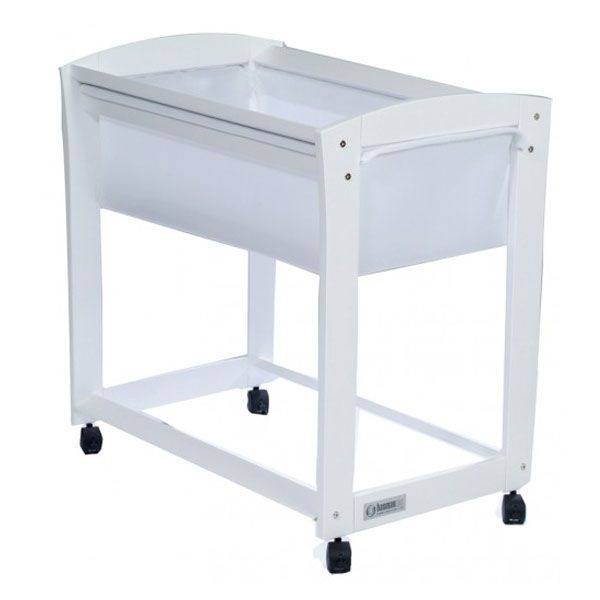 This no-frills bassinet has been chosen for its high-quality materials, safety and portability. It's a bassinet that will stay in your family for years and you know that it will allow baby to sleep safely so that you can relax.
Features
Small and has lockable wheels for portability
Made with high-quality timber and will last years
Comes with a mattress
Best Affordable Bassinet 

This bassinet is one of the most affordable options on this list. For under $200 you can get this reliable and high-quality bassinet with all the right safety features for safe sleep. It is super-slim and portable and can be moved easily around your home.
Features
Affordable. This bassinet is under $200
Suitable from birth to 6 months
Breathable mesh for safe sleep and a reduces SIDS risk
Made from high-quality and non-toxic materials

The Boori tidy bassinet is a sleek simple bassinet made with high-quality materials and great safety features. It's simple design means that it will suit most homes and decor styles. The basket at the bottom is great for storing middle of the night essentials like bottles, nappies, a breast pump and whatever else you need or use. This bassinet received 100% on CHOICE meaning that it rated highly for safety and functionality.
Features
Meets CHOICE's Strict Safety Standards and received a 100% rating
Wheels for portability
Can be used as a changing table or toy box once the baby outgrows the bassinet
Suitable from newborn to 15kg OR when baby can sit up unassisted
Comes with a mattress and removable cover

This bassinet is more than just beautiful. It is also highly functional, space-saving and in the long run cost-efficient. It can be used from birth through to childhood. In the smallest setting, it can be used as a bassinet then once the baby grows it can convert to a cot, followed by a toddler bed. Meaning you only need to buy one bed for your baby in those first few years. It can even be used as a playpen or a table and chairs. WOAH!
Features
Can convert from a bassinet to a cot, then a toddler bed
If the bed is no longer needed it can be used as a playpen or even a table and chairs
It comes with a mattress suitable for use in the crib and in the bassinet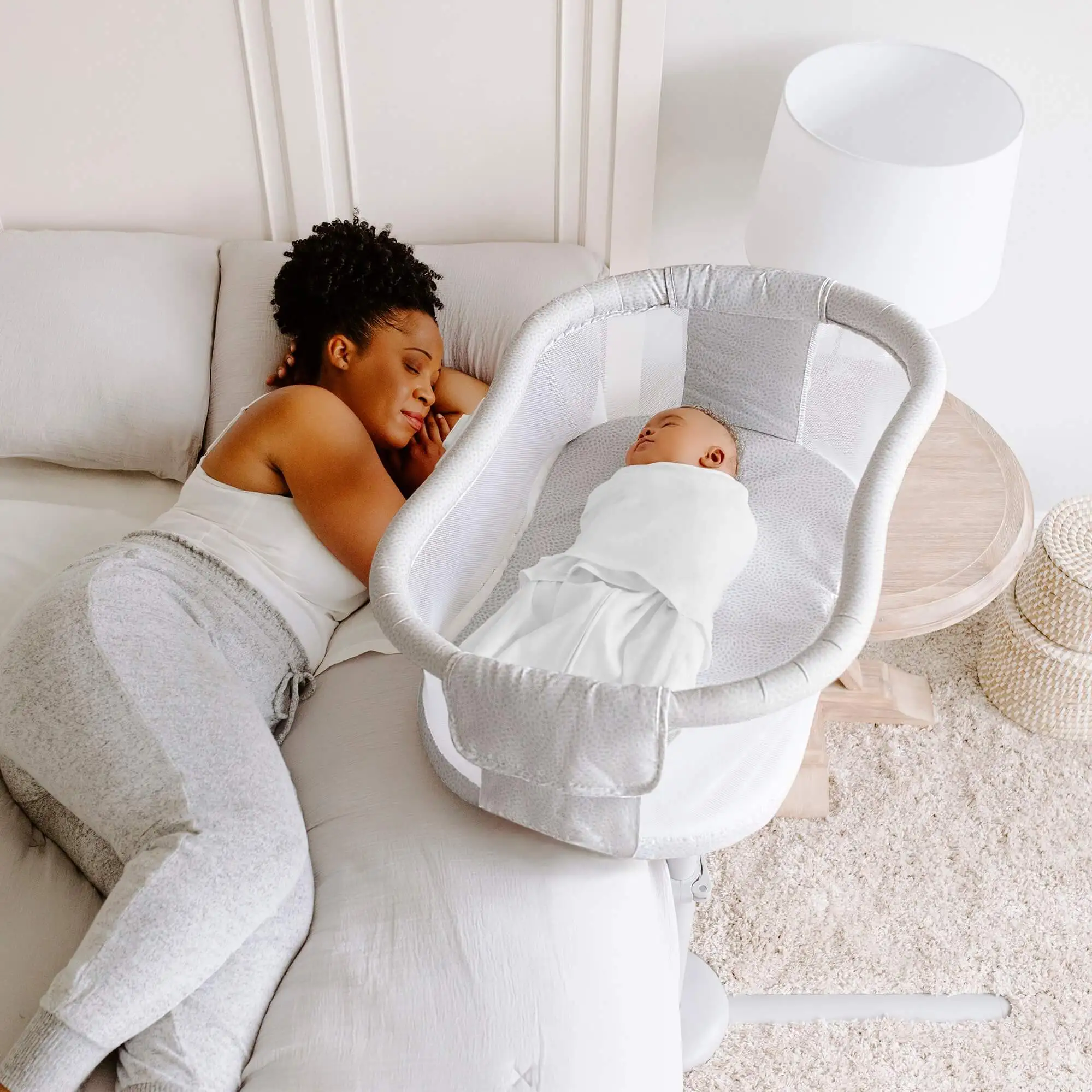 This bassinet allows you to have your baby close. The bassinet can swivel and rest right on your bed so if you're recovering from a  c-section or a rough birth you won't have to move around too much to get to your baby. The bassinet is able to rotate 360 degrees so you can tend to them easily. The bassinet also has built-in night lights (if needed), vibration for soothing your baby and white noise.
Features
Has a white noise feature
Vibrates to soothe baby
The bassinet can turn 360 degrees
Is great for safe co-sleeping
Mesh for breathability and to prevent overheating.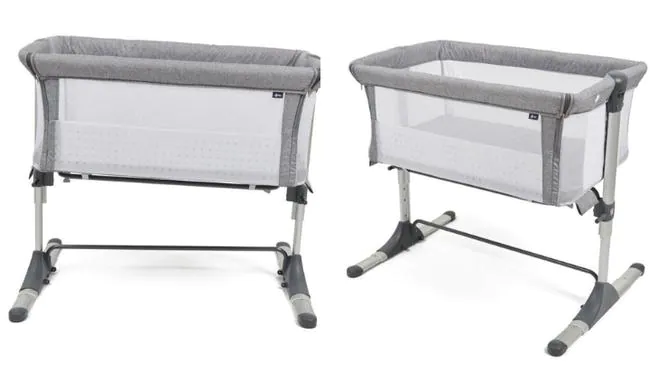 The 4Baby Snuggle Cuddle is another affordable safe co-sleeper. It's height-adjustable and can connect to most beds. It has mesh for safety so it is highly recommended.
Features
Safe breathable mesh
Has a co-sleeping option
Suitable from birth to 5 months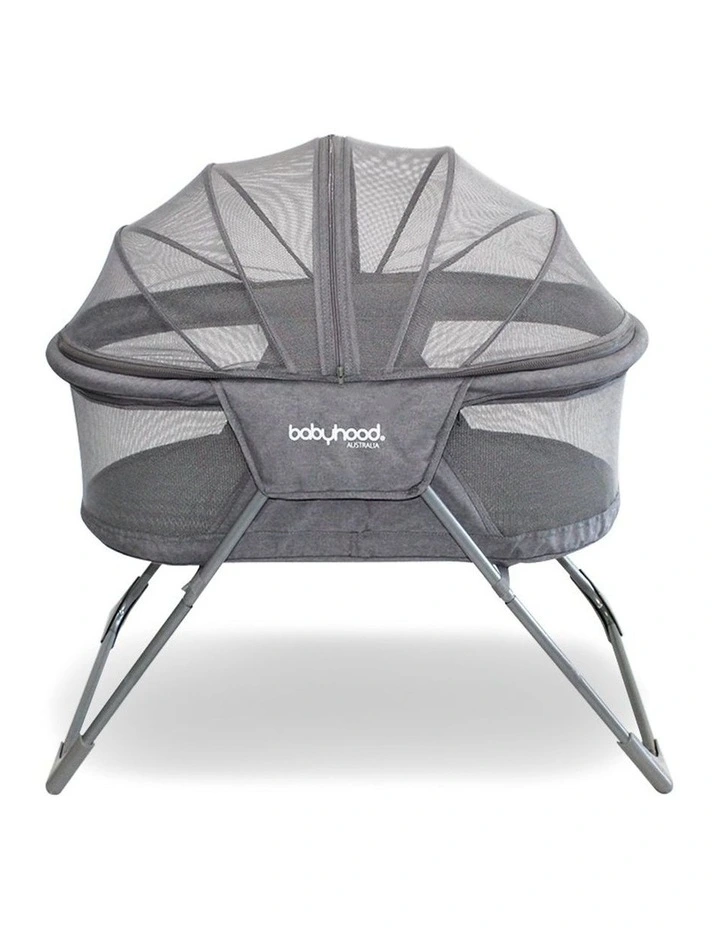 The Babyhood travel bassinet is another great travel bassinet under $200. Have the convenience of a full-sized bassinet on the go with this foldable bassinet. It comes with a storage bag and net to protect your baby from mosquitos and insects. It comes with a mattress. This bassinet will make going away with a new baby easy.
Features
Suitable for travel
Mesh for safe sleep
Comes with a mattress
Comes with a carry bag
Has a mesh net to keep baby safe from bugs and mosquitos
15. Tasman Eco Venice -Voted Number 1 Bassinet by Choice

This bassinet was voted as the number 1 bassinet by Choice. So you know it can be trusted. Choice has strict safety standards and this bassinet received a 100% rating. And it is under $250. What more could you want.
Features
Received a 100% safety rating by Choice
Voted the number one bassinet on choice
Can be purchased for under $250
Made from high-quality materials