In 2022 a new Korean barbeque opened up in the Coles car park on Synnot street Werribee in the space where Video Ezy used to be many years ago. We had been dying to check it out for months and upon establishing that it was kid-friendly and had highchairs (children 0-3 eat free!), we made a booking and did not regret it.
BBQ Buffet Korean Barbeque Werribee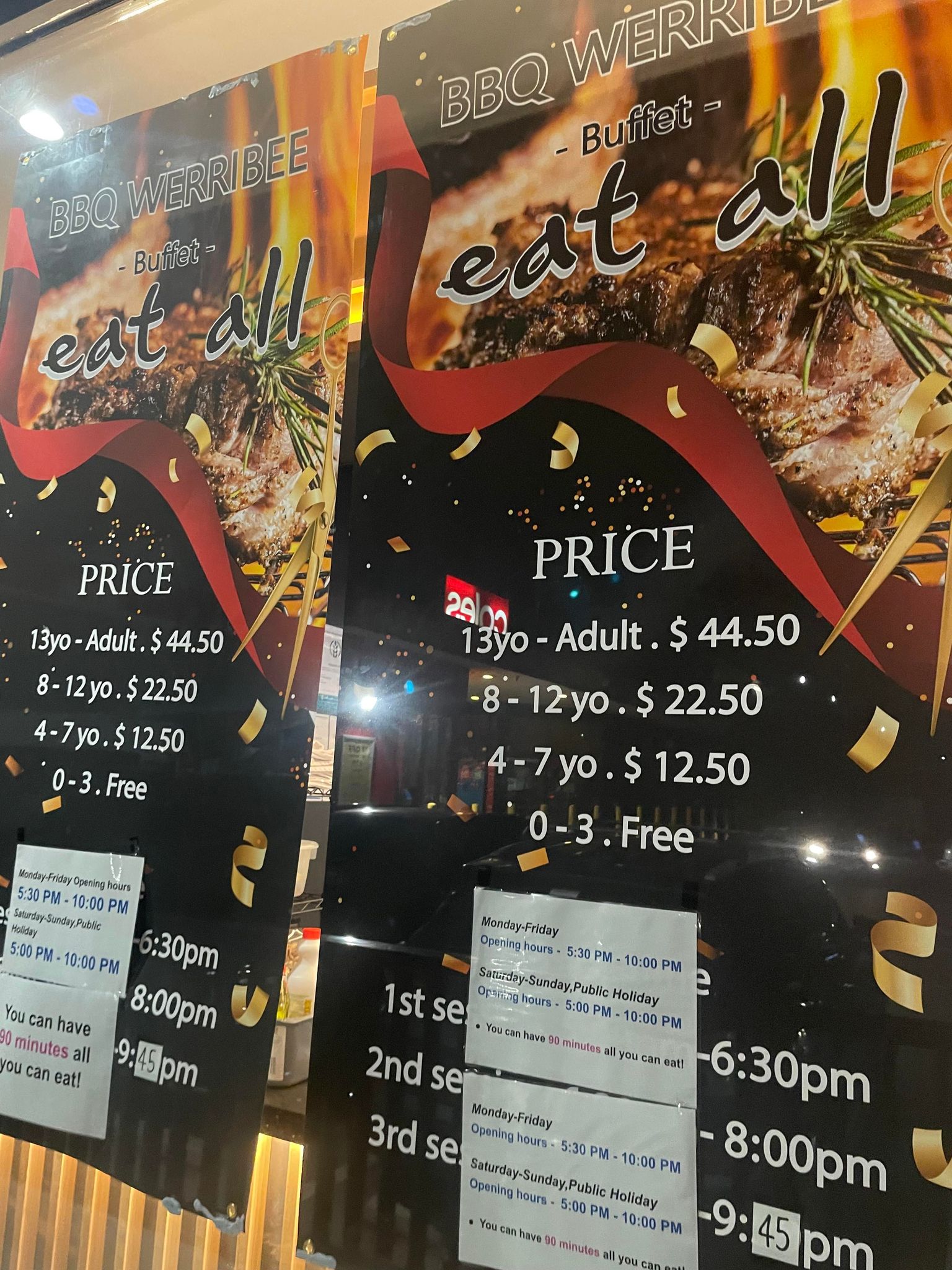 For $44.50 per adult, you get 90 minutes to eat as much as you like and cook as much Korean BBQ as you can. Just be warned, you are encouraged to be very mindful of the quantities you take, as there is a $10 fee if you waste more than 100g of food, which kept us a bit paranoid about food wastage, which was a good thing I guess.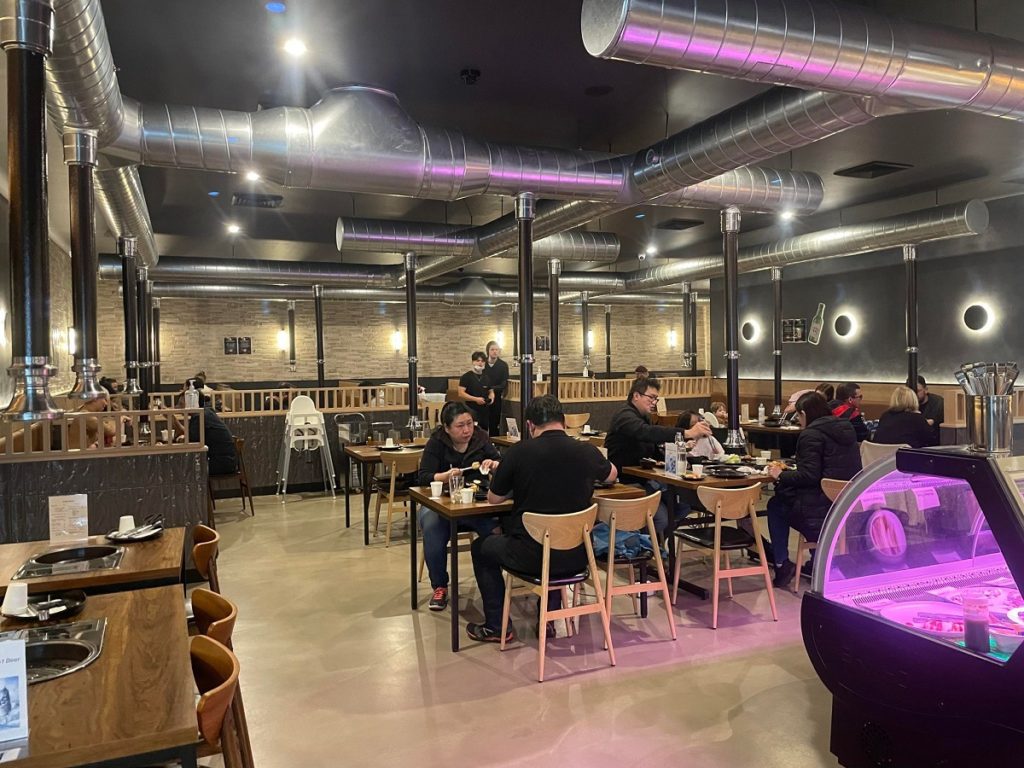 The first thing you notice when you arrive is that there is all this overhead tubing and a black pole that comes down above each table. This is a system of exhaust fans that suck away all the smoke and the smell of the food.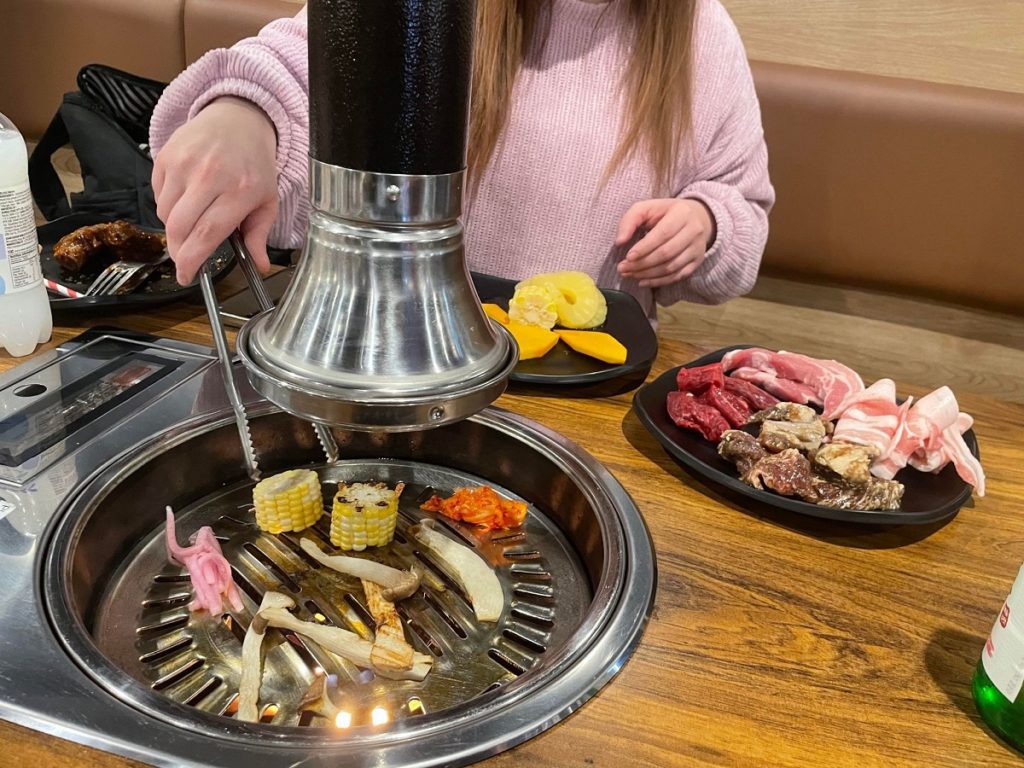 The centre of your table has a little barbeque built into the centre of it, tiny little pellets power it and the staff fill up when you arrive. We suspect that the table can hold 90 minutes' worth of pellets to control how much time you have there.
BBQ Buffet Menu
Korean BBQ Meat Varieties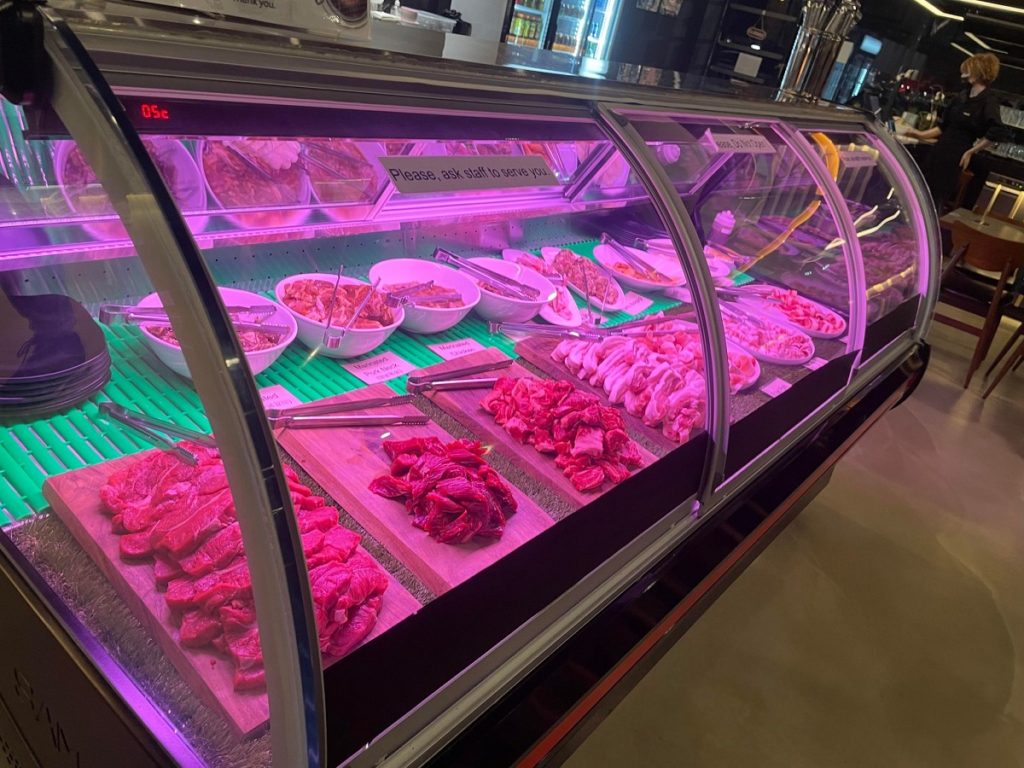 The collection of cold meats for cooking includes various cuts of steak including oyster blade and wagyu. Pork belly and our favourite were the thinly cut strips of lamb, beef and pork belly which just about melt when you cook them. There was also some seafood such as prawns but we aren't seafood fans so we didn't end up trying them. There is a staff member who will serve this for you, I think this is due to hygiene and to ensure you don't take more than a sensible amount.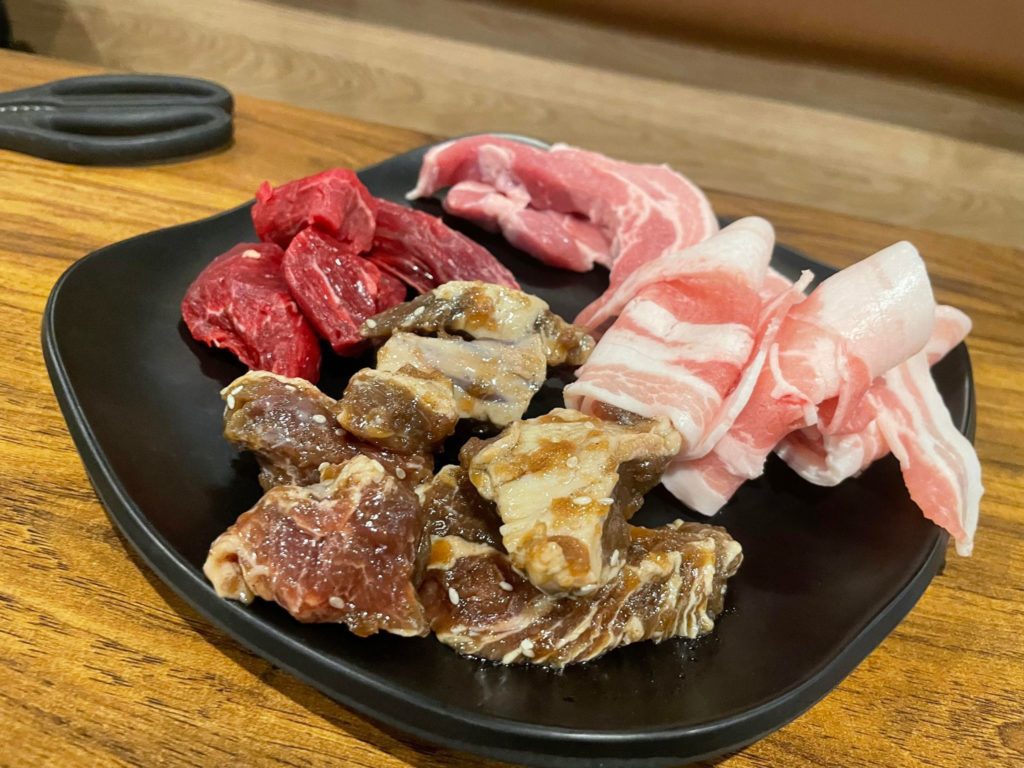 Some of the meats are also marinated. But if you chose some of the un-marinated meats there are sauces that you use to give your meal some extra flavour.
Good Food for Fussy Eaters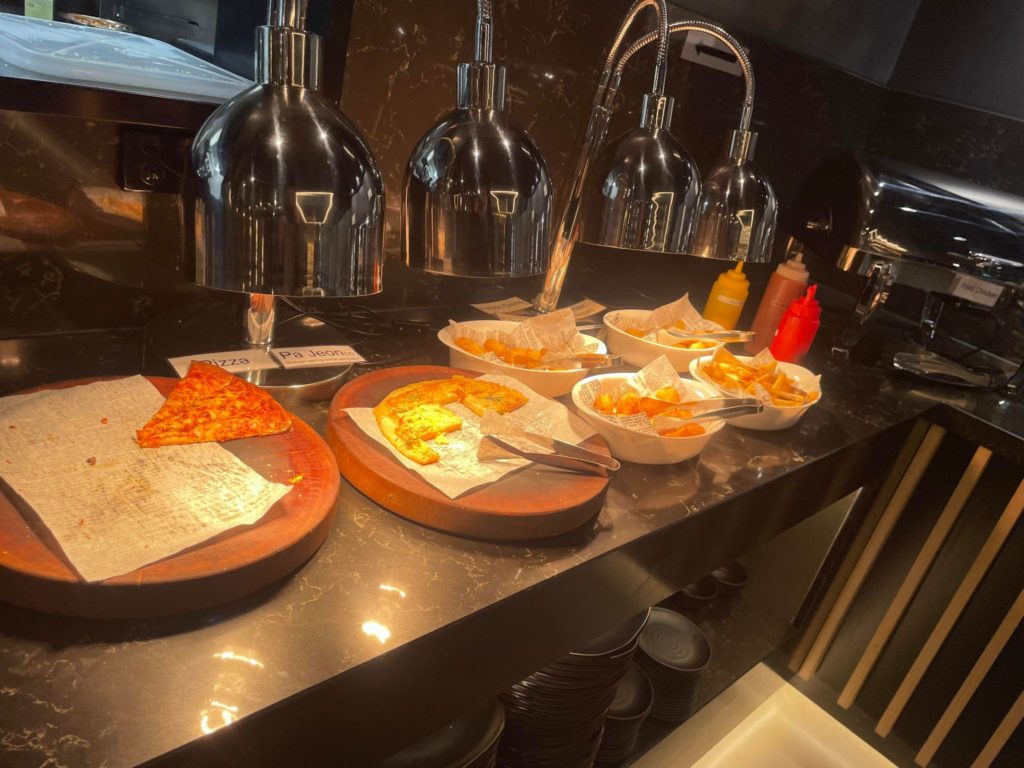 There is a small section of hot, mostly western foods including vegetarian pizza, pa jeon (onion pancake), potato gems, samosas, chicken nuggets etc. This is great for kids who want to eat something familiar.
All You Can Eat Korean Fried Chicken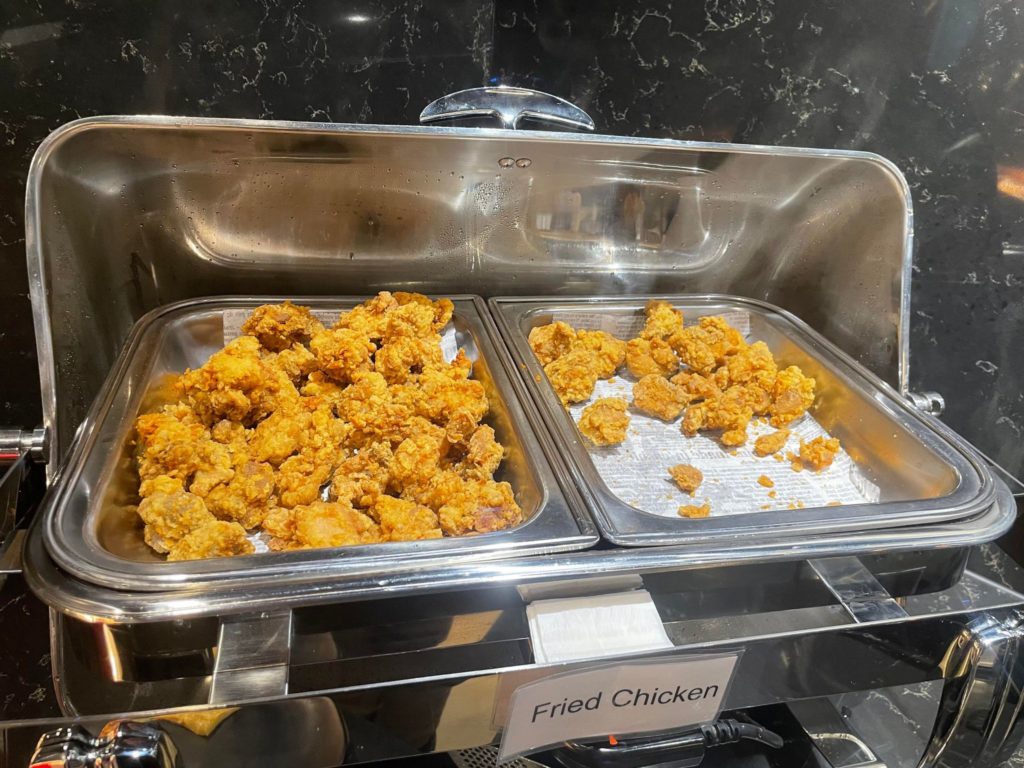 The plain fried chicken was great. Definitely a must-try. You can add your own sauces to these.
Spicy Korean Fried Chicken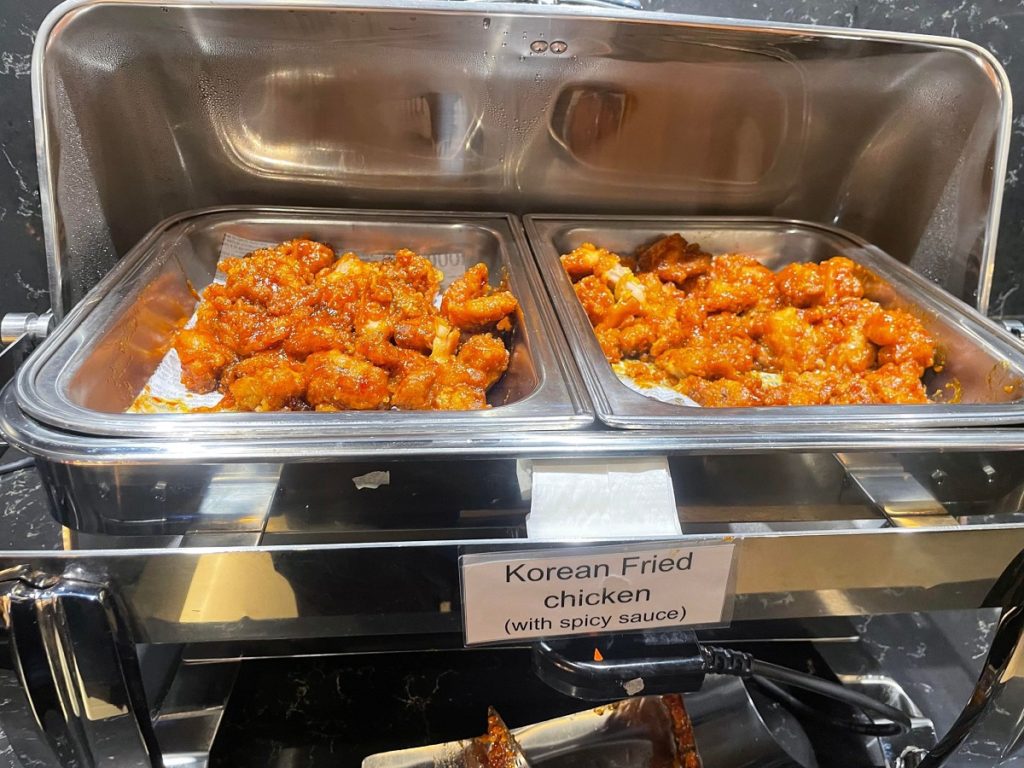 This wasn't really that spicy, but I'm sure you could add some other sauces to make it hotter if you wanted to. This was very mild to me. I highly recommend this even if you don't like spicy food.
Pork Ribs and Ttok Bok Kki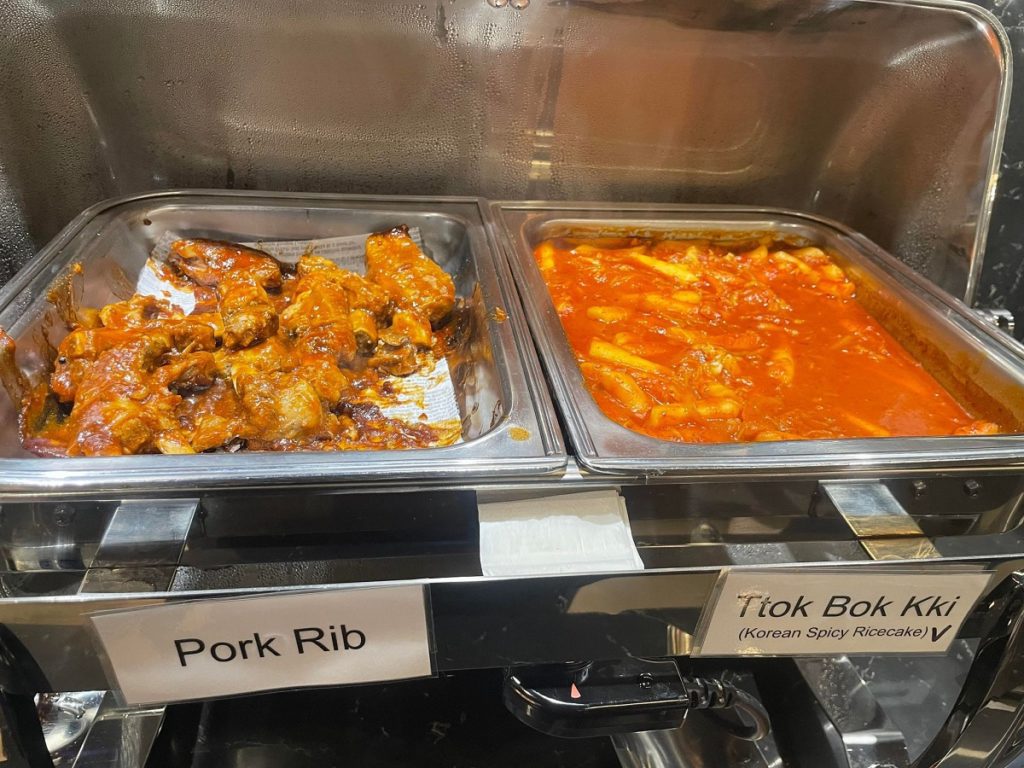 I tried the pork rib and I don't know if I was unlucky or not, but it wasn't the best. The meat was chewy and it was mostly bone.
Takoyaki and Crab Claws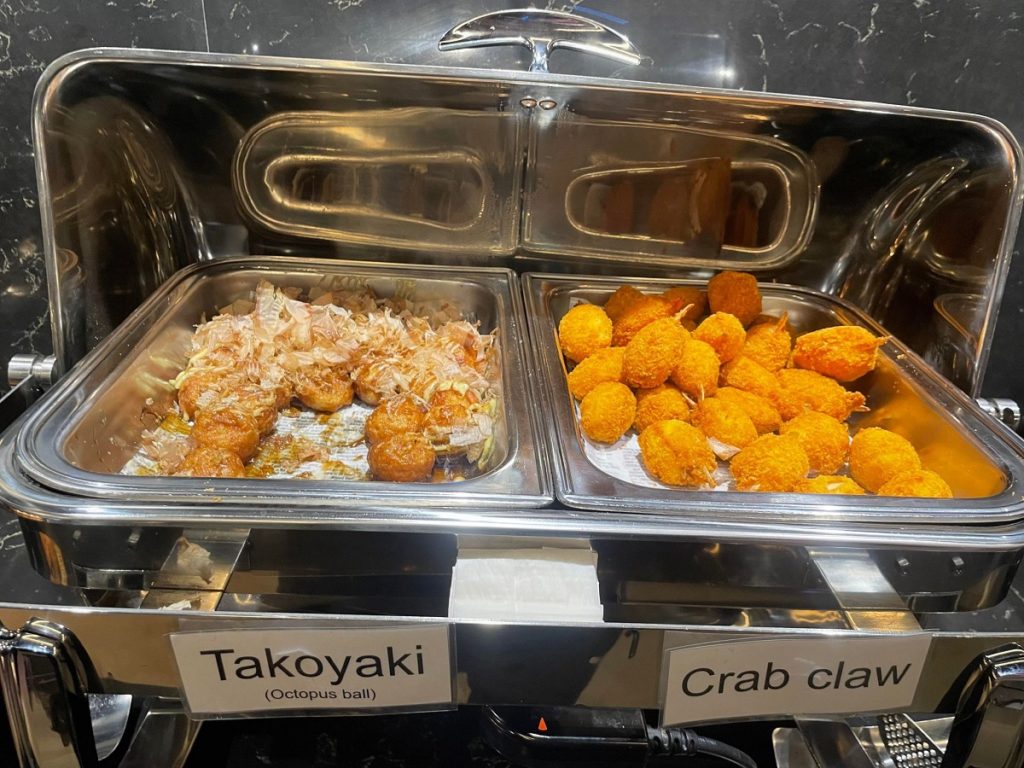 We didn't try these but they seemed popular.
Rice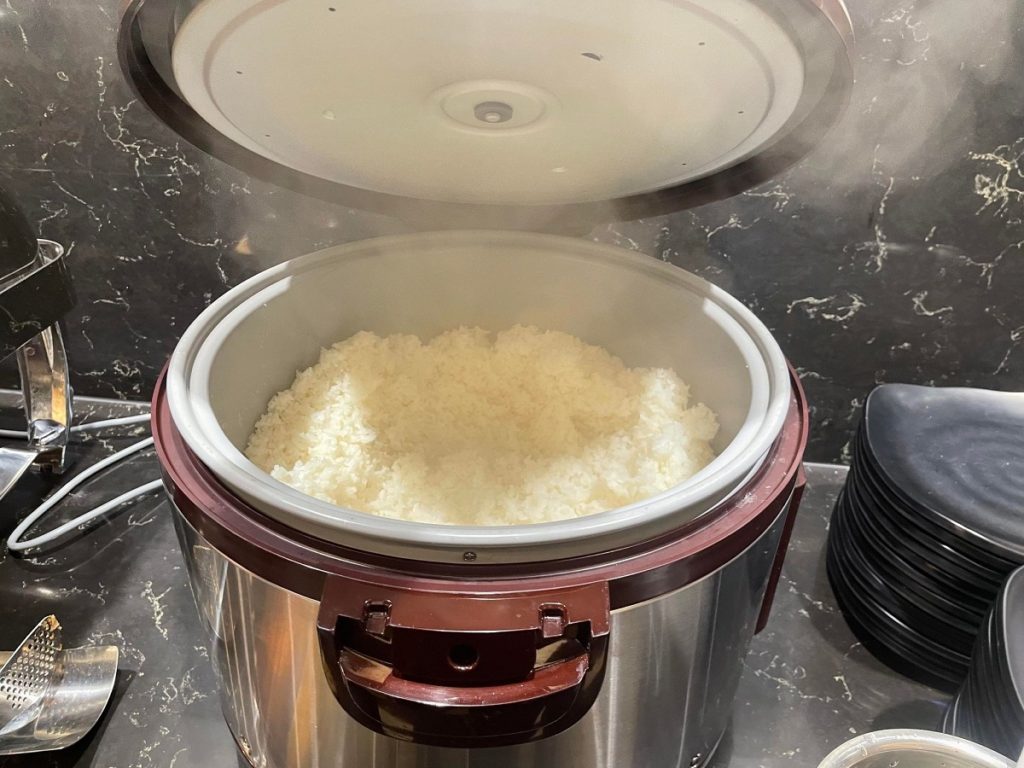 Everyone knows you don't fill up on carbs at the buffet!
Kimchi and Korean Miso Soup
We didn't try the soups but probably should have!
BBQ Buffet's Salad Bar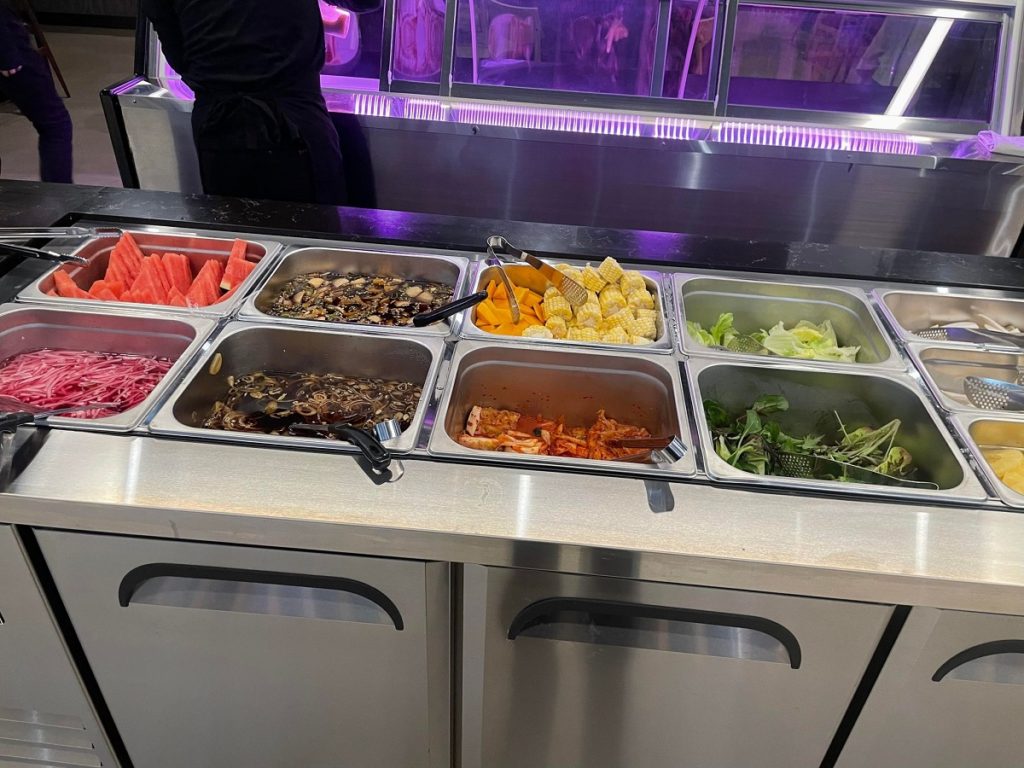 Here is a combination of fruit and vegetables including corn, sweet potato, lettuce, mushrooms, pineapple, watermelon etc. Some of these are good to cook on the BBQ and some you can just eat on the side.
Korean BBQ Tips and Tricks
Use two plates, one for eating from and another for storing the raw meats so you don't give yourself food poisoning.
If you have a full table of people, maybe leave the raw meat collecting to just 1 or 2 people or you will have too many plates on your table and won't be able to move. You won't have much space on the grill to divide up real estate for your own food anyway, so just cook it all together.
Cook your meat properly. It's not like hot pot. It takes a fair bit longer to cook but it's worth it.
General Korean BBQ etiquette is to cut meat into bite-size portions and to wrap it in lettuce and top it with whatever toppings and sauces you like. That way you can easily eat it with chopsticks.
The grill plates do not use oil for cooking but don't worry that they are getting black and dirty, the staff will come and swap them every half hour or so. This makes it easier for them to clean it. It's best to select meat with a lot of fat on it. This will act as your oil.
Food is constantly being replaced, you do not need to fill up your plate to its maximum capacity every time you go up to get something. It will likely go cold by the time you get to eat it all, as the cooking process will slow you down. That being said, if your food does start to get cold, you can always throw it on the hot plate for a bit to warm it back up.
Book ahead. We went on a Friday night and at its busiest all but one table was full. As more people find out about this place, bookings will probably become essential.
As there is a mix of already cooked food such as pizza, Korean fried chicken, ribs etc, it is good to grab a bit of that on a plate so you have something to peck at whilst your meat cooks.
Use the scissors provided to make the cuts of meat smaller so that they cook faster.
Kid-Friendly Korean BBQ Werribee
Make sure you bring your kids. No need to leave them at home. It's cheap for kids to eat here. Kids under 3 are free, and kids aged 4-7 are only $12.50. If you have a toddler or baby like us they have highchairs available.So no need to bring in your pram.  But keep in mind that you will be charged $10 per 100grams of food not eaten so make sure they don't leave too much food uneaten.
Our 17-Month-Old Charlie is usually a picky eater but he devoured the nuggets, potato gems, watermelon and corn, He even liked some of the meat.  We were worried about him not eating everything. He actually left about half of his food untouched but we weren't charged luckily. But I wouldn't risk it and recommend you don't waste food just in case.