Things To Do in The Mornington Peninsula
The Mornington Peninsula isn't just your average region in Victoria. It is known for its abundance of beautiful beaches, nature, wildlife, wineries and world-class tourist attractions. Mornington is located just over an hour from Melbourne and is a popular day trip and holiday location for many Victorians. 
The Mornington Peninsula stretches over 40km of coastline and encompasses 10% of Victoria's coastline. 
There are so many things to do in The Mornington Peninsula you probably don't know where to begin. Here are the best things to do in The Mornington Peninsula. 
Things To Do in The Mornington Peninsula.
Peninsula Hot Springs
140 Springs Ln, Fingal VIC 3939, Australia
Open: 8 am to 11 pm, daily
The Peninsula Hot Springs are home to natural geothermal mineral waters with overlooking views of the beautiful Mornington Peninsula. The hot springs are home to a day spa, a restaurant and toddler pools. There are various bathing options at the Peninsula Hot Springs. You can do a private bathing section, a moonlit bathing section or bath in the communal pools. 
You may check for their prices through their website to also keep you updated on the promos that they offer.
Ashcombe Maze and Lavender Gardens
15 Red Hill-Shoreham Road, Shoreham VIC 3916, Australia
Open: 10 am to 5 pm, Wednesdays to Sundays only
At Ashcombe Maze, you will be fascinated by the landscaped gardens featuring a hedge maze, Lavender Labyrinth. Afterwards, you can relax at an airy cafe. The Ashcombe Maze and Lavender Gardens provide you with the right amount of relaxation for families and friends. It also has an extensive rose maze and a cafe where you can slurp on Lavender scones, ice creams, and nibble on bread to top off your experience. 
Arthurs Seat Eagle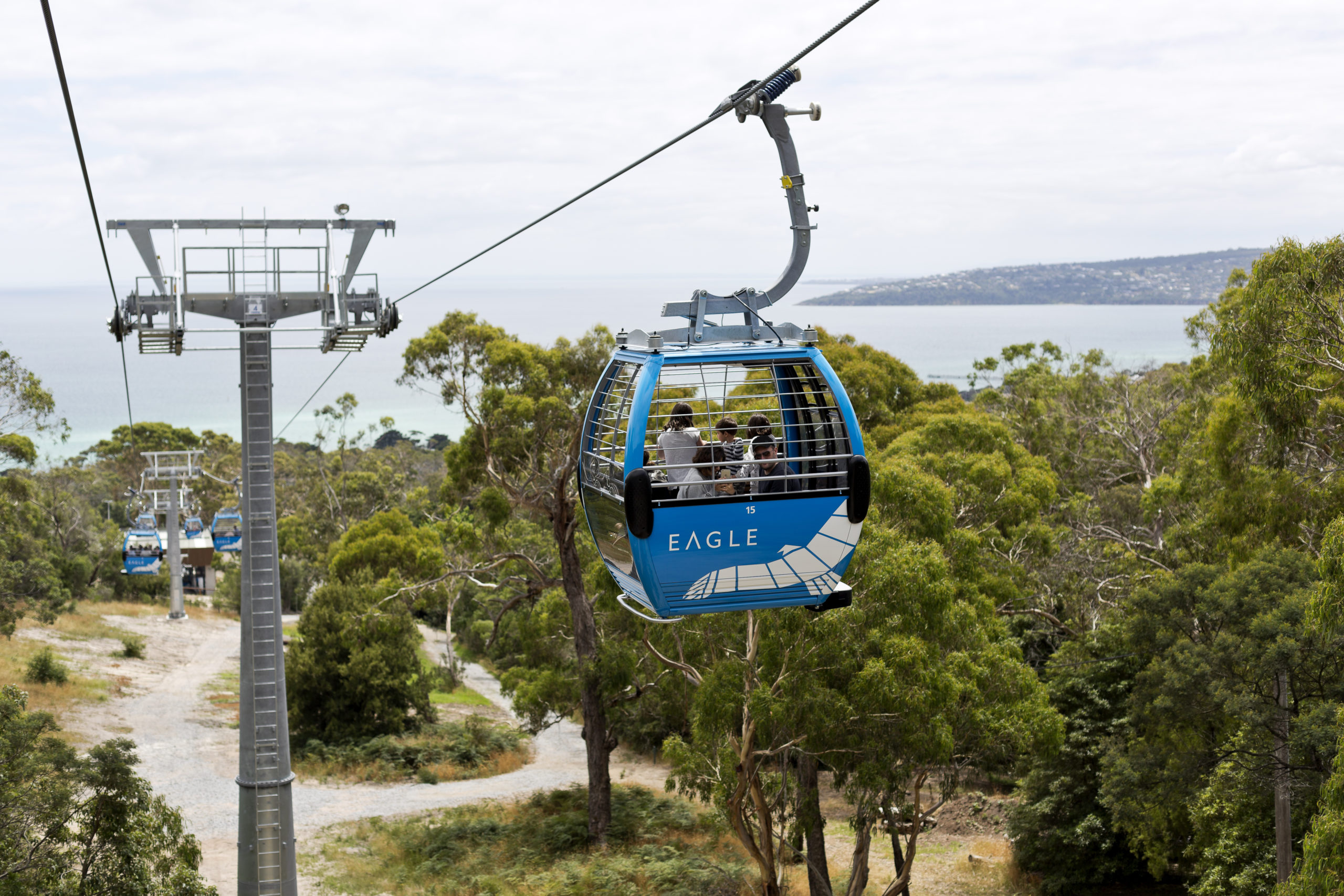 1085 Arthurs Seat Road, Arthurs VIC 3936, Australia
Open: 10 am to 5 pm, daily
Soar like an eagle and be mesmerized by the overlooking views of The Mornington Peninsula in aerial gondolas with the Arthurs Seat Eagle. You'll be able to see the whole peninsula at the highest point. Be amazed by the views of the Mornington peninsula. Phillip bay and the Melbourne City skyline and beyond. 
Return tickets are available at $24 for adults and $15 for children ages 4-16. You may also want only one way tickets, for just $17.50 for adults and $11 for children. 
Millionaire's Walk
3498A Point Nepean Road, Sorrento VIC 3943, Australia
Open: 24 hours, daily
Millionaire's Walk is a 1.6-kilometre walking track around some of the most exclusive properties on the Mornington Peninsula. From the walk, you will also see breathtaking views of Port Phillip to the Bellarine Peninsula, Melbourne, and Mount Dandenong. The walk sometimes feels like you're trespassing as you sometimes have to walk through peoples yards to complete the walk. It will give you an insight into how the elites spend summertime while you walk past their mansions. 
Bathing Boxes
Open: 24 hours, daily
You've probably seen photos of these famous colourful wooden beach boxes at some point. The Mornington Peninsula bathing boxes are located along the coast of Port Phillip Bay, the Bathing Boxes showcases a colourful array of small wooden boxes. They really add o the beauty of the beaches of the Mornington Peninsula. While viewing the boxes you can enjoy swims and lazy walks accompanied by the calming sound of waves. It has become an iconic sight and one could not help but take pictures of how beautiful the boxes are. 
Sunny Ridge Strawberry Farm
244 Shands Road, Main Ridge VIC 3928, Australia
Open: 11 am to 4 pm, Fridays to Sundays only
The Sunny Ridge Strawberry Farm is nestled around the hinterland of the Mornington Peninsula where you can pick some of the freshest strawberries in Victoria. They also have delectable desserts in their cafe where you can enjoy their strawberry fondue and warm chocolate highly recommended to pair them with. You may also browse through their souvenir shop for strawberry wines, liquors, and ciders locally made just for you to bring home. 
Admission prices are $6 on weekdays and $8 on the weekends. Care to bring a bag full of the sweetest strawberries in town?
Boneo Discovery Park
695 Limestone Road, Fingal VIC 3939, Australia
Open: 10 am to 4 pm, Fridays to Mondays only
The Mornington Peninsula also offers a variety of wetlands where you can bask in the indigenous flora and fauna. The Boneo Discovery Park is known for its sand sculptures, mini-golf, and games garden. For the kids there are also trampolines, mini trains, and a vintage carousel. For an activity, the whole family can enjoy you can work your legs out with a pedal boat along King Lake. 
The Gardens and the mini-golf are priced at $18 per adult and $15 for seniors and children. 3-year-olds can get in for free. If you're on for quick relaxation, you can have a stroll along with their gardens for $12 only. 
Where to eat In the Mornington Peninsula
Rare Hare Wine and Food Store
166 Balnarring Road, Merricks North VIC 3926, Australia
Open: 12 noon to 9 pm, Fridays and Saturdays; 12 noon to 5 pm on other days
A special place for those who love wine and great food. The Rare Hare Wine and Food Store offers a wide variety of liquor and food for all. Classic tasting experience gives you a tang of their select range of current release wines. Premium Tasting Experience for a taste of all estate wines, and Wine Immersion for a surprising all-types-of-wine experience. 
Barn & Co. 
238 Myers Road, Balnarring VIC 3926, Australia
Open: 11:30 am to 4:00 pm, Thursdays and Sundays; 11:30 to 9:00 pm, Fridays and Saturdays
If you happen to love wineries then the Barn &Co.'s got you covered. They offer Italian, Spanish, and American foods cuisines accompanied by the tastiest wines of the Peninsula. You may also have events in the area if you prefer a cellar-rusty interior feel. 
The dining experience is also very affordable, with a menu priced under $40 per serving. They also have vegan and gluten-free options available. 
Doot Doot Doot
166 Balnarring Road, Merricks North VIC 3926, Australia
Open: 6 pm to 10 pm, daily
Characterized by its luxurious fine dining, Doot Doot Doot plays homage to the cuisines on their menu. Their chefs are masters in playing authentic food from contemporary to country tastes. The dining area is also known for the food beyond the unexpected, seemingly changing your taste buds to crave even more for something way better than the familiar.
The out-of-the-ordinary dining experience starts at $125 per person, and they only serve dinner. 
Captains of Rye
2285 Point Nepean Road, Rye VIC 3941, Australia 
Open: 8 am to 2 pm, Thursdays to Tuesdays
Enjoy the offbeat decor in this bright, laid-back cafe. They serve hearty food like steak, Smoked Salmon Poke Bowls, and Eggs Benny, and the best burgers you can never resist. Captains of Rye have service with a Peninsula Culture style, and it sure is a good stop after you stroll around Rye Beach. 
What are your favourite things to do in The Mornington Peninsula?