Atlas Dining is a fine dining restaurant in South Yarra, Melbourne run by the young chef Charlie Carrington. What makes this restaurant unique is that it offers a single 5-course set menu only. The menu changes every 4 months to represents a different culture that Carrington experienced on his travels around the world.
My partner and I received a $200 voucher for this restaurant as a gift earlier in the year and were holding off for a menu that looked good to us. All of the menu items include a lot of fish and seafood which we don't eat. Fortunately, they are more than happy to substitute out items for alternatives to suit most diets.
This was the USA menu, which is very southern-inspired. This menu is now over, so if it looks good to you, you have unfortunately missed out. The price was $75 per person.
KINGFISH, CAJUN SPICE MIX, PEACHES
CORNBREAD, MUSSELS AND PRAWNS, GRITZ
SMOKED & FRIED CHICKEN, 'MAC AND CHEESE'
ATLAS BARBECUE – SHER WAGYU SMOKED BRISKET
STRAWBERRY, COOKIE AND CREAM
with each course, we had a drink pairing which gave a sample of a different beer or spirit to accompany each course.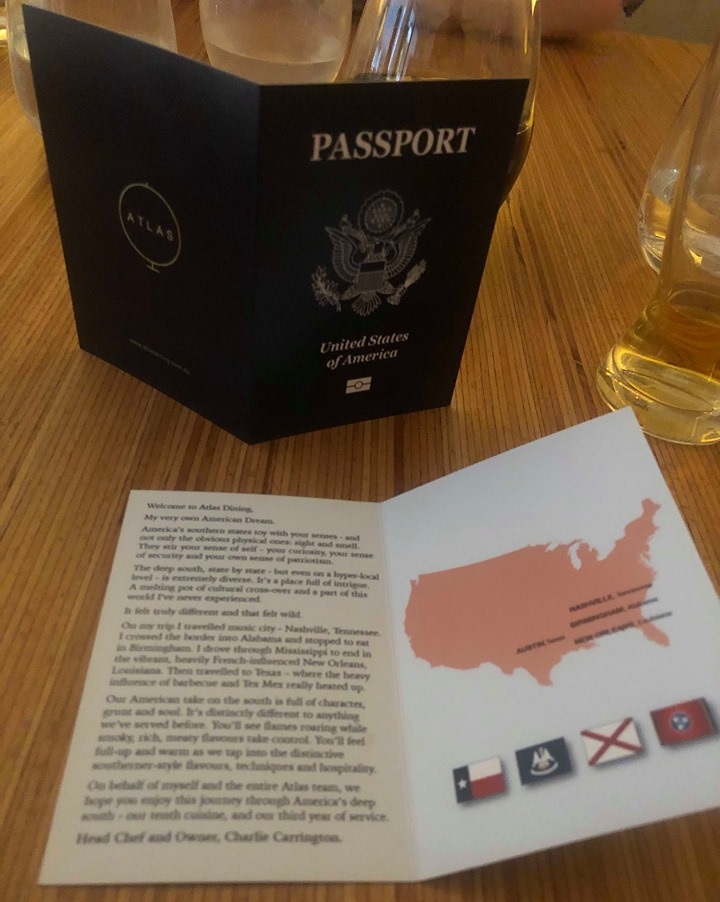 As this restaurant offers a set menu, they instead give you a little cardboard passport which tells you more about Carrington's travels and inspirations for this meal.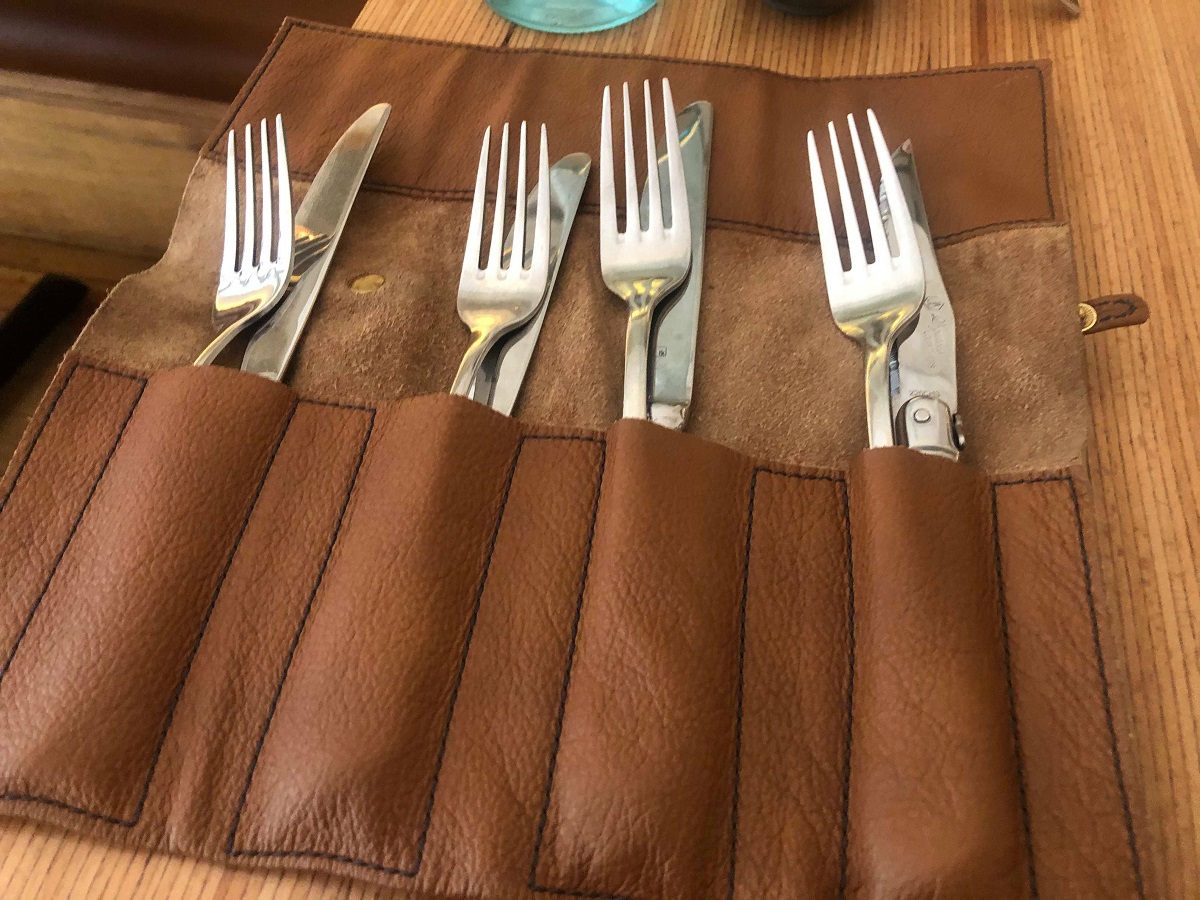 You also get given your cutlery in a leather sleeve. You use these from left to right for each meal.
Customer service
The customer service at Atlas Dining was 10/10. All of the staff were very knowledgeable and accommodating. They brought each course out quickly and explained each dish and each drink expertly. Overall the staff made it a great experience.
Overall thoughts on Atlas dining
People are going to hate me for this but I am not particularly into "wanky" food. As long as the flavours work well together I am usually happy. I don't really see the point in serving overpriced food with lots of flavours just for the aesthetic of it all. I do not want extravagant food I just want good food and good portions.
Having this in mind I was nervous to try Atlas Dining. I did expect a lot of over-the-top dishes with flavours I would have to pretend to enjoy. I'm sure a lot of people are with me on this but I sure an equal amount of people are rolling their eyes at me.
Overall I liked most of the food but I just wish it was a bit more simplified. Think of it this way. Do you think an American would be happy with this menu? Do you think they would think their cuisine has been given an accurate depiction? When I think of American food I think of large portions, simple cuisine and great flavours. This was all I wanted. I explain myself more below. Read on to find out what I thought.
First course: KINGFISH, CAJUN SPICE MIX, PEACHES
This was one of the dishes we had substituted due to our aversion to seafood. It consisted of avocado in a lime dressing with jam, peaches and mint leaves. This was okay but I feel like it would have been better with the fish. I can't really criticise this as we were the ones who asked for the dish to be changed. If you like seafood this would have been a great dish. I just really do not enjoy too many flavours with my avocado.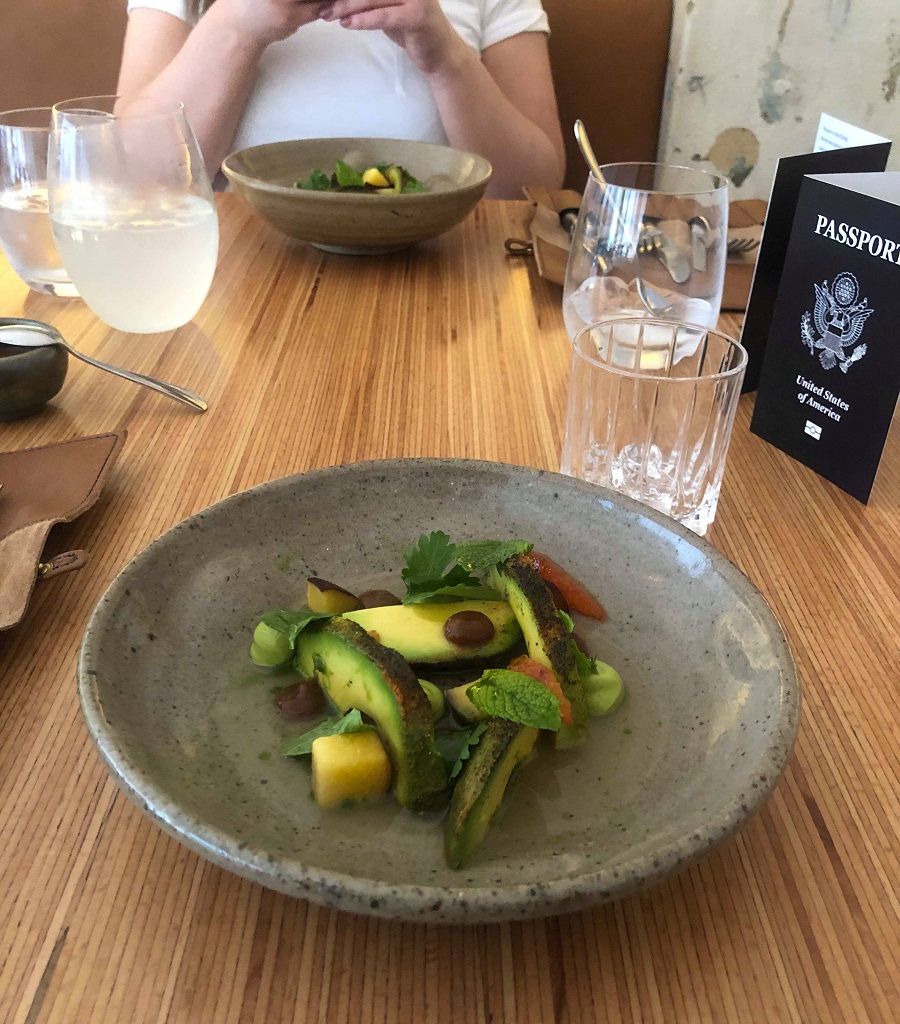 Second course: CORNBREAD, MUSSELS AND PRAWNS, GRITZ
For this dish, we had the muscles and prawns replaced with a cut of meat similar to prosciutto. This dish had some good flavours and did not have as many conflicting flavours as the first dish. This was my first time having both cornbread and Gritz so I'm not exactly sure how they should taste but to me, it was quite nice.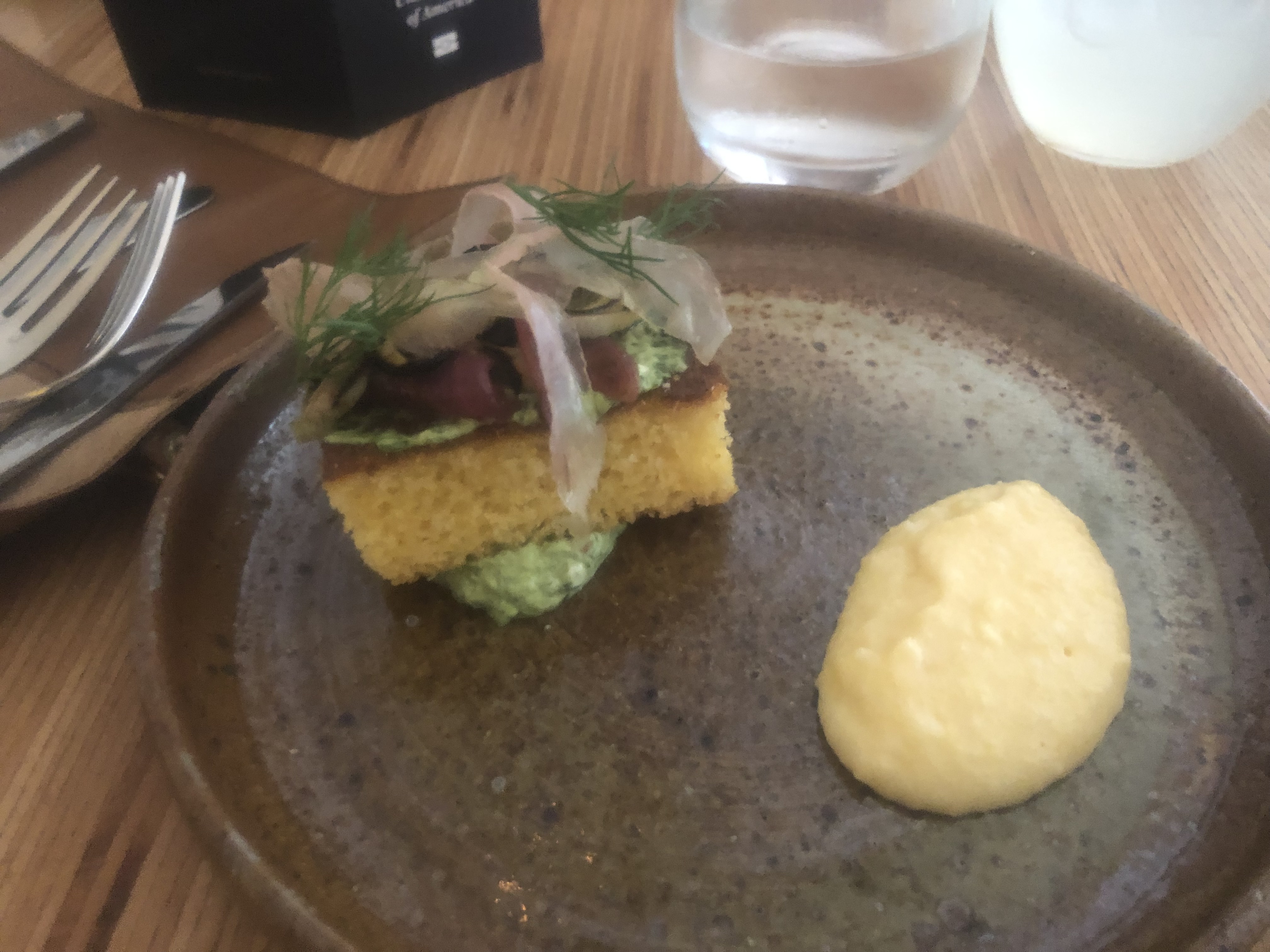 Third course: SMOKED & FRIED CHICKEN, 'MAC AND CHEESE'
This was the dish I was anticipating the most. How can mac and cheese with fried chicken go wrong? The chicken was smoked and fried and the chicken was juicy and tender.
I was excited for the mac and cheese until the server informed me that the mac and cheese sauce was made with blue cheese. I sure a lot of people like blue cheese but I do not. Again I can't criticise this as it is my fault that I don't like blue cheese and not the restaurants. If there was no blue cheese this dish would have been 10/10. I really just wanted a dish that didn't have some disappointing aspect and this point. ( Please don't hate me)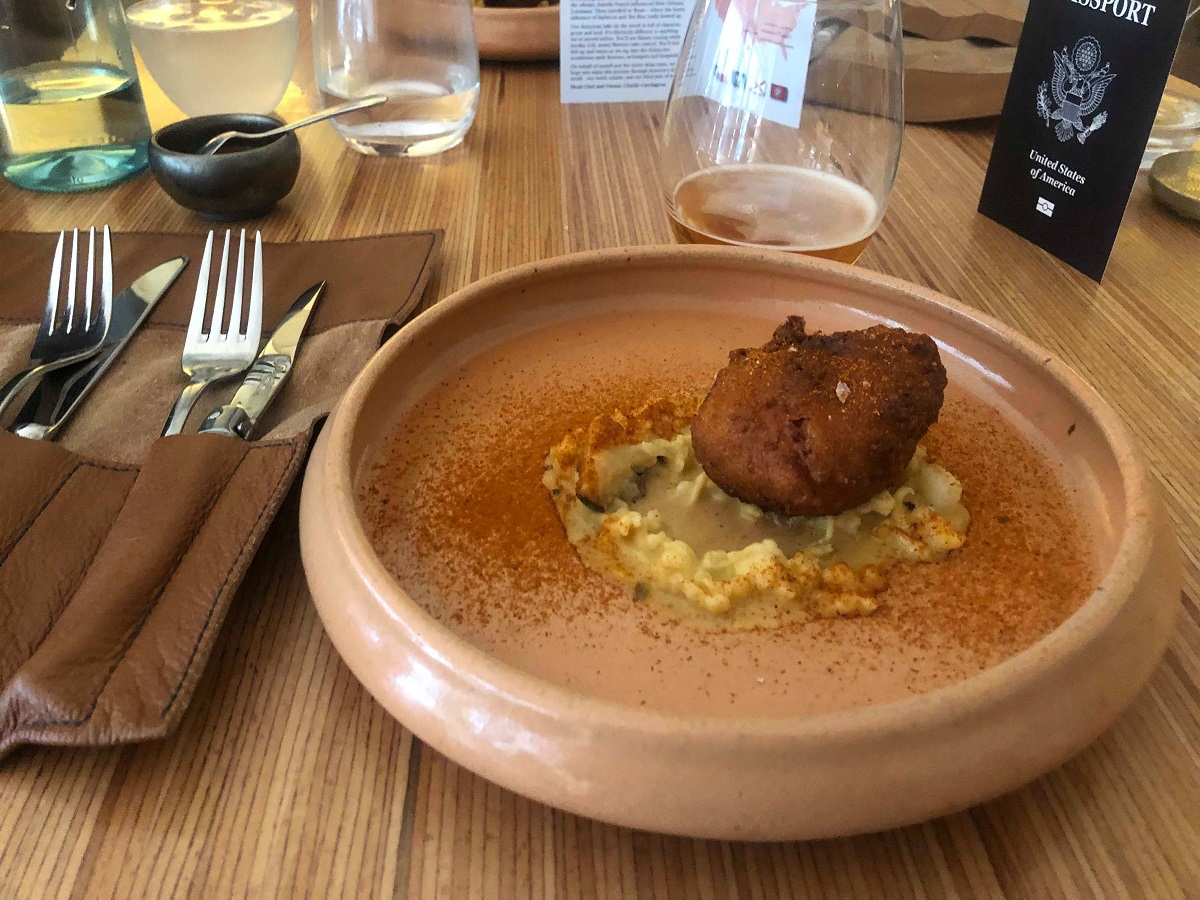 Fourth course: ATLAS BARBECUE – SHER WAGYU SMOKED BRISKET
This dish was fantastic and generous. This course would have sufficed for a small main.  The brisket was served with some of the best fried potatoes I have ever eaten. The meat was juicy and tender. 9.5 out of 10. If there was more sauce it would have been a 10/10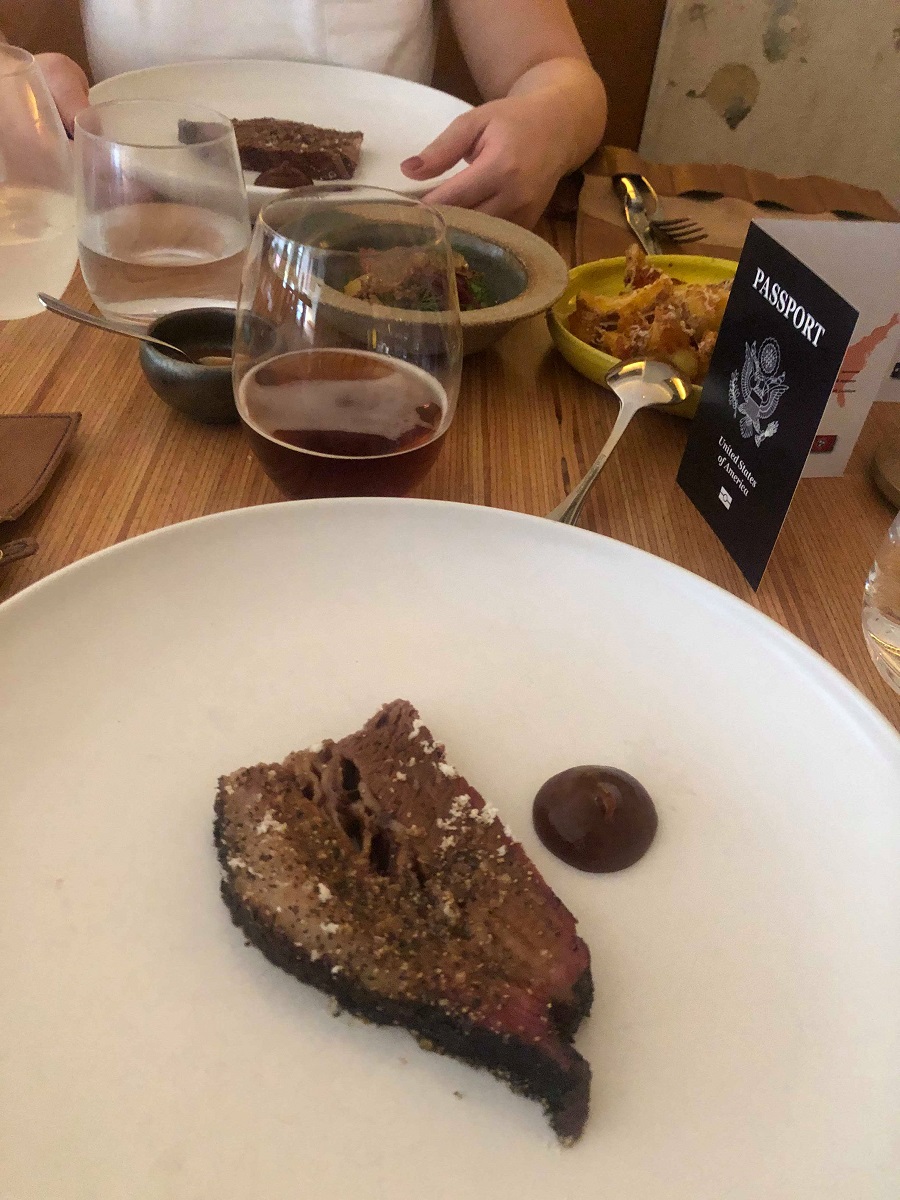 The smoked brisket which was served with a shared plate of salad and fried potatoes.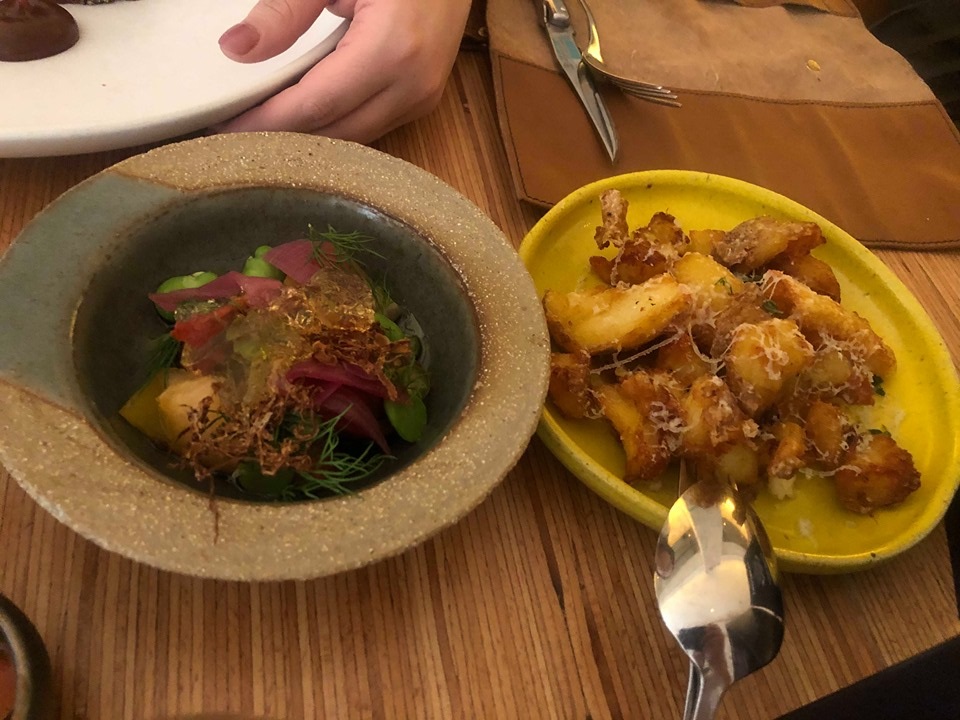 A close-up of the sides.
Fifth and final course: STRAWBERRY, COOKIE AND CREAM
Yes!  How could this go wrong? Ice cream, strawberries and a chocolate chip cookie. When the waiter handed us our dish she informed us that the strawberries were pickled and I sighed. Why would they do that to strawberries? Leave strawberries alone.  I probably sound like such a nag but I can't help it. I'm so sorry Atlas . This dish was nice but I wish the strawberries were sweet and not vinegary!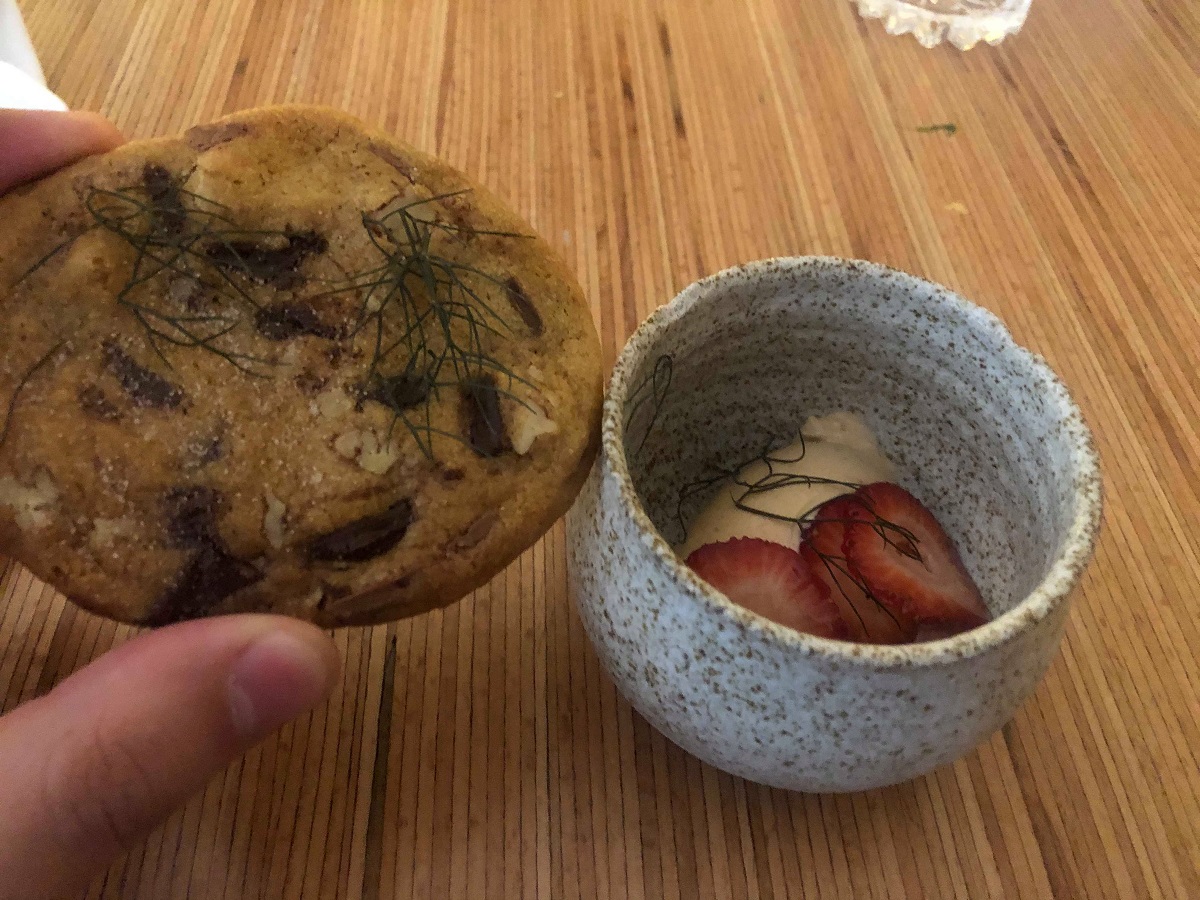 The cookie and strawberries.