It's summer so that means it's time for refreshing dishes and fresh flavours. Summer is the time for salads. Unfortunately, salads tend to be boring. This is not the case with Vietnamese noodle salad. This dish is full of flavours and the best part is that it takes under 30 mins to make. This dish is a great way to get a few servings of veggies in and will satisfy you greatly.
What is a Vietnamese noodle salad?
Vietnamese noodle salad or Bún Chay is a dish typically made with rice vermicelli noodles and is usually topped with picked carrots as well as julienned cucumbers, fresh mint, fresh coriander, lettuce and is then usually garnished with fish sauce, chopped peanuts and chopped chilli's.
There are many variations of Vietnamese noodle salad. The dish can be made with several different sauces and proteins. The good thing is, is that you can make it vegan pretty easily. Just replace your protein with some form of vegetarian protein and omit the fish sauce.  For this version, I will be using honey soy chicken.
Preparing the chicken and marinade.
Because this is the lazy girl's version of a Vietnamese noodle salad I am using store-bought honey soy sauce to marinate my chicken in. I let the chicken marinate for 15 minutes and then I transfer into a wok until it is fully cooked. I then set it aside and start preparing my salad toppings.
The noodles
The best thing about vermicelli noodles is that they do not need to be boiled.  To prepare the noodles simply boil your kettle and let the noodles sit in boiling water for a few minutes.
Time for the toppings
Time for the best part! The toppings.  The toppings really bring this dish together. for the toppings, you would usually use pickled julienned carrots. But this is the lazy girl's version so I just grated some carrots since I don't like pickled foods anyway.  But if you want to use pickled carrots that is entirely up to you.
To make it fresh you need to add some lettuce and cucumber.  Also to add a Vietnamese flavour make sure you add some fresh coriander (cilantro) and mint leaves. Do not leave these out. They really make the dish pop. Unless you have a serious aversion to coriander. To make it spicy and crunchy top with some chopped chillis and peanuts!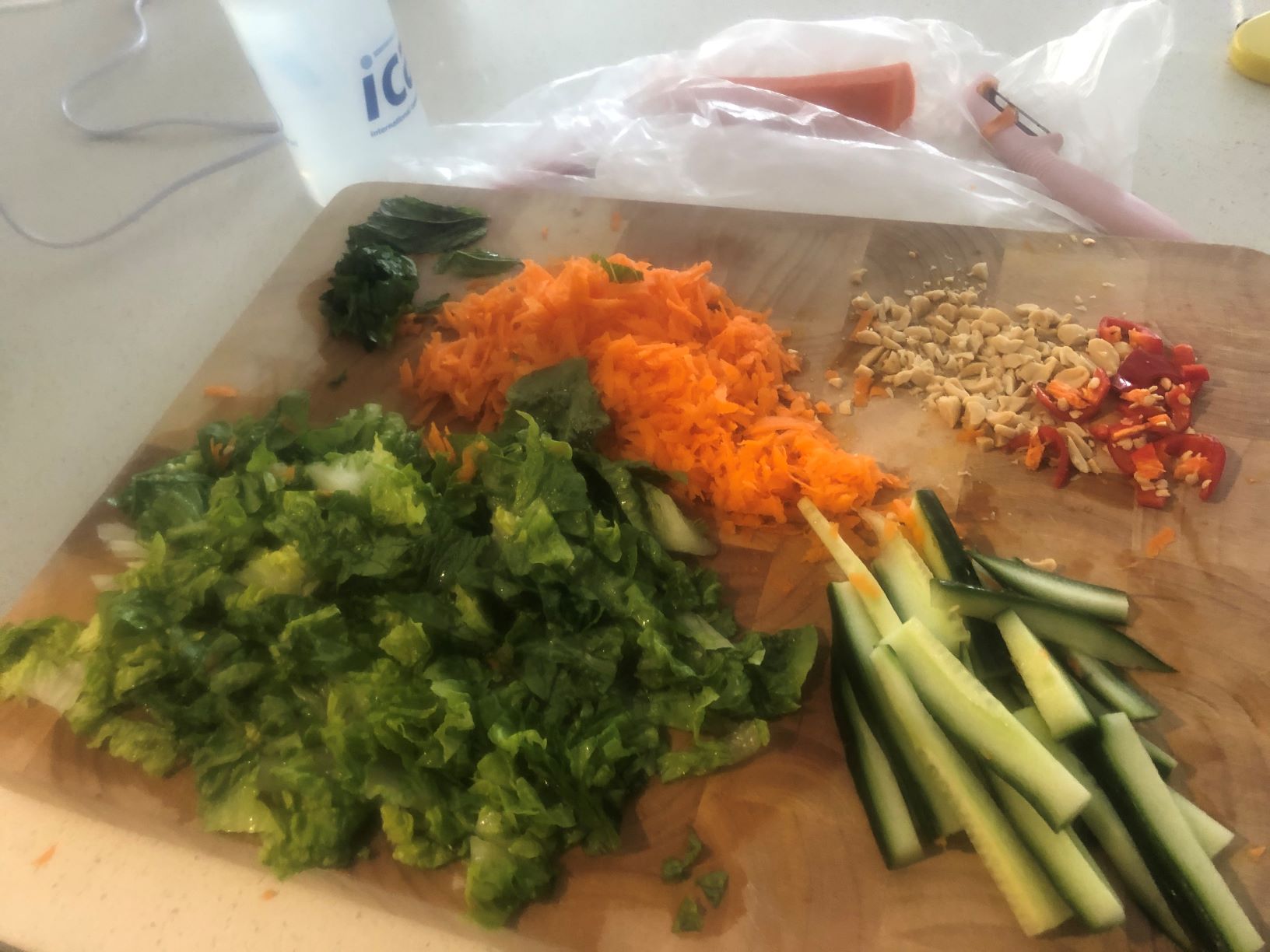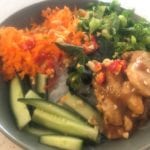 Ingredients
One handfull of mint leaves

One handful of coriander (cilantro)

2 cups of lettuce of your choice

1 diced chilli

1 grated carrot

10 peanuts finely chopped

Half a julienned cucumber

4 tbs hoisin or fish sauce- ( 1 tbs per serving)

1 packet of rice noodles ( approximately 250 grams)

500 grams Chicken breast sliced into stir-fry size pieces

1 tsp of minced garlic

1 tbs of sesame oil

Store-bought honey soy marinade
Instructions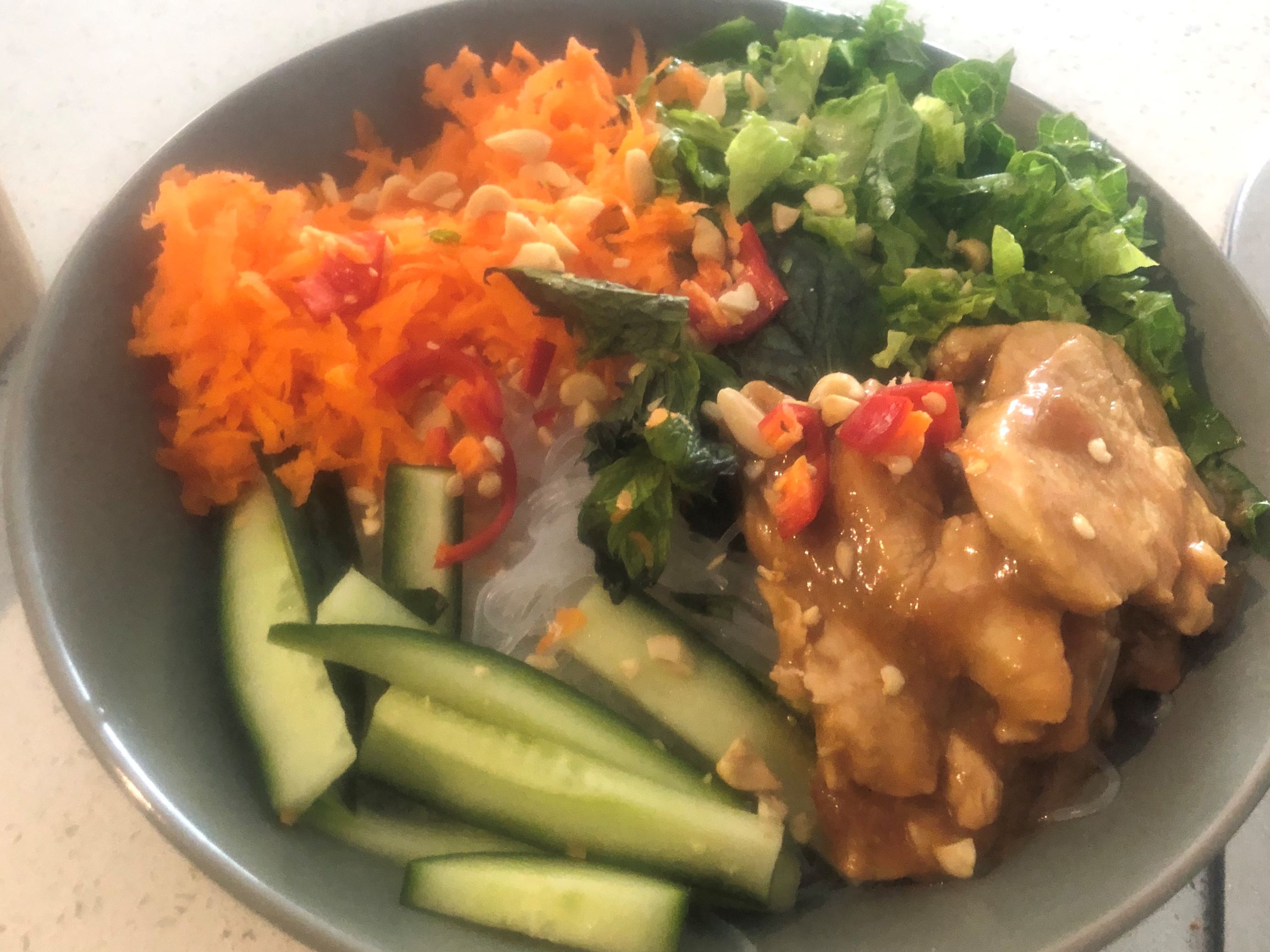 Vietnamese Noodle Salad
Method
Marinate your chicken with some store-bought honey and soy marinade for 15 minutes. This is a lazy girl's Vietnamese noodle salad so you won't find homemade marinades here.
Place your chicken in a pre-heated wok with 1 tbsp of sesame oil and 1 tsp of minced garlic. Cook until the chicken is cooked through. Do not overcook as this will make your chicken rubbery.
Leave your chicken aside to cool. While it is cooling turn on your kettle. Once boiled place your noodles in a bowl with boiling water and cook your noodles until they a soft. Once done cut your noodles spontaneously with scissors so that they are not too long.
Its time for the toppings. For the toppings, we will be grating the carrots instead of using pickled carrots. Remember- This is a lazy Vietnamese noodle salad, not an authentic one. If you like you can go ahead and use pickled carrots. Chop all of your toppings according to the above-mentioned ingredients list.
It is time to start assembling your Vietnamese noodle salad. Drain your noodles and place at the bottom of each serving bowl. Add your toppings in whichever way you like. It will all be mixed together so it doesn't need it to be perfect.
Top with chopped peanuts and chillies. Dress your salad with fish sauce or hoisin sauce. You can use whatever you prefer.