Melbourne is well known for its beautiful and interesting laneways, often full of awesome street art or hidden shops and cafes, bars and lounges. These are great for tourists and locals alike and Melbourne's selection of laneways and arcades are surely better than those in Sydney, Brisbane, Adelaide, Perth or anywhere else in Australia.
Whether you want a nice laneway coffee spot to lounge around at or to do a cool, grungey photoshoot for your Instagram, here is a list of those hidden secret places you must check out and why:
Hosier Lane
AC/DC Lane
Degrave Street
Tattersalls Lane
Cathedral Arcade
Meyers Place
Block Arcade
Centre Place
Royal Arcade
Hosier Lane
Hosier Lane in the Melbourne CBD is certainly one of the most famous laneways in Australia. It is full of the best graffiti and street art and is always fun to visit and take photos at as a lot of it is always changing. Just be careful when walking there as the cobblestones are a bit wonky.
Anyone visiting the National Gallery of Victoria definitely needs to check the contrast in street art after their visit. Simply walk up St Kilda Road towards the Melbourne CBD, turn right down Flinders Street. It's roughly opposite IceBar Melbourne and The Ian Potter Centre which are next to ACMI (Australian Centre of the Moving Image) at Fed Square.
If you're into flex-ware clothing, you should also check out Culture Kings who recently moved into the street, selling streetwear clothing, sneakers, caps and they usually have live DJs performing in the store for some reason.
AC/DC Lane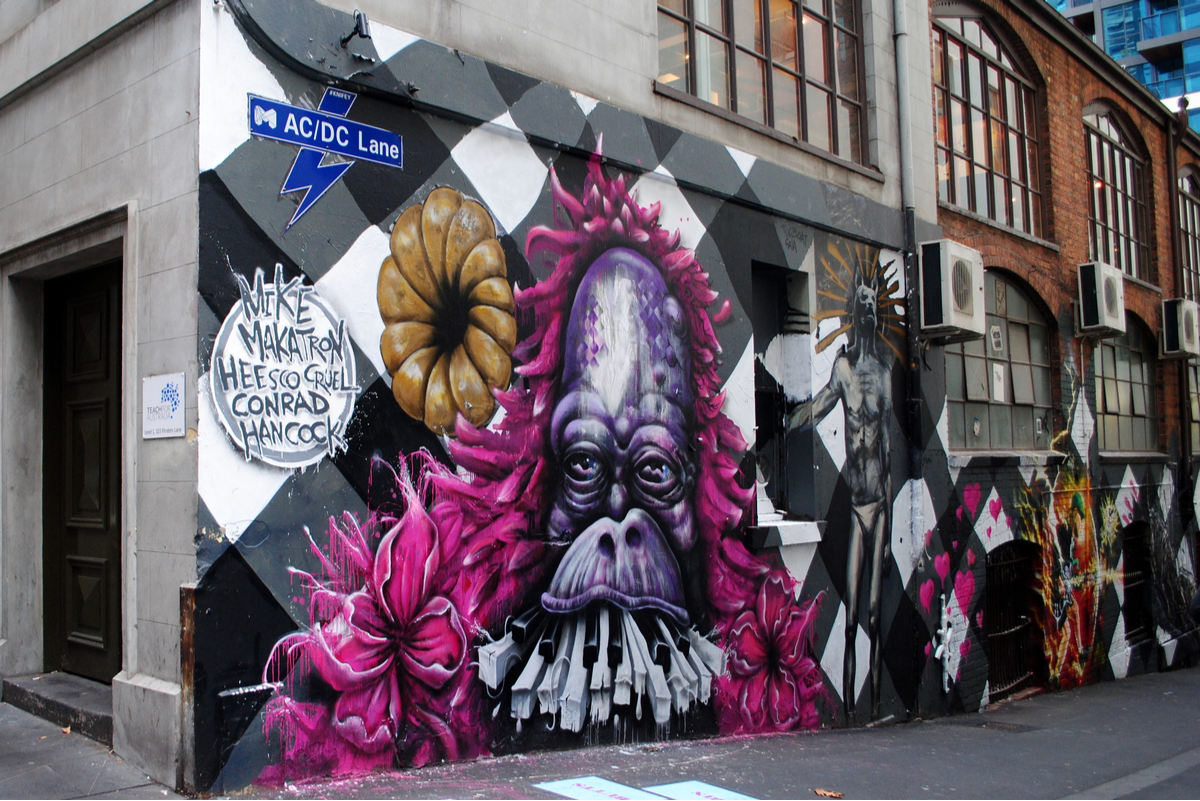 Another famous laneway is AC/DC Lane, which as you might imagine is named after the Australian rock band AC/DC who filmed their 1975 music video "It's a Long Way to the Top" nearby on Swanston Street. This name was changed to honour the classic rockers in 2004.
Degraves Street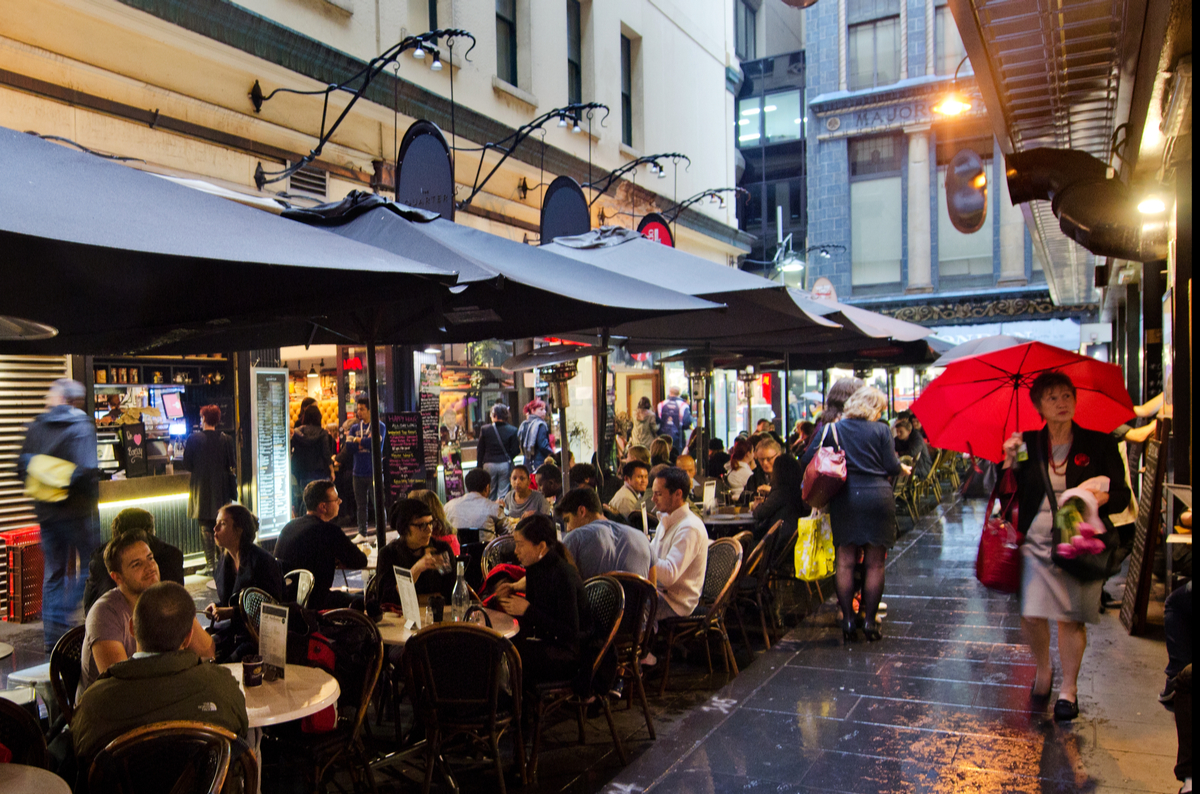 The perfect place for a coffee or glass of red wine with a workmate or a date, Degraves Street in Melbourne's CBD is far less grunge than the other laneways mentioned so far. This is the closest thing to experiencing France without leaving the country! As well as the cafes and restaurants, there's a few little specialty stores as well. Degraves Street is located between Flinders Street and Flinders Lane, right near Flinders Street Station!
More great laneways and arcades to check out include:
Tattersalls Lane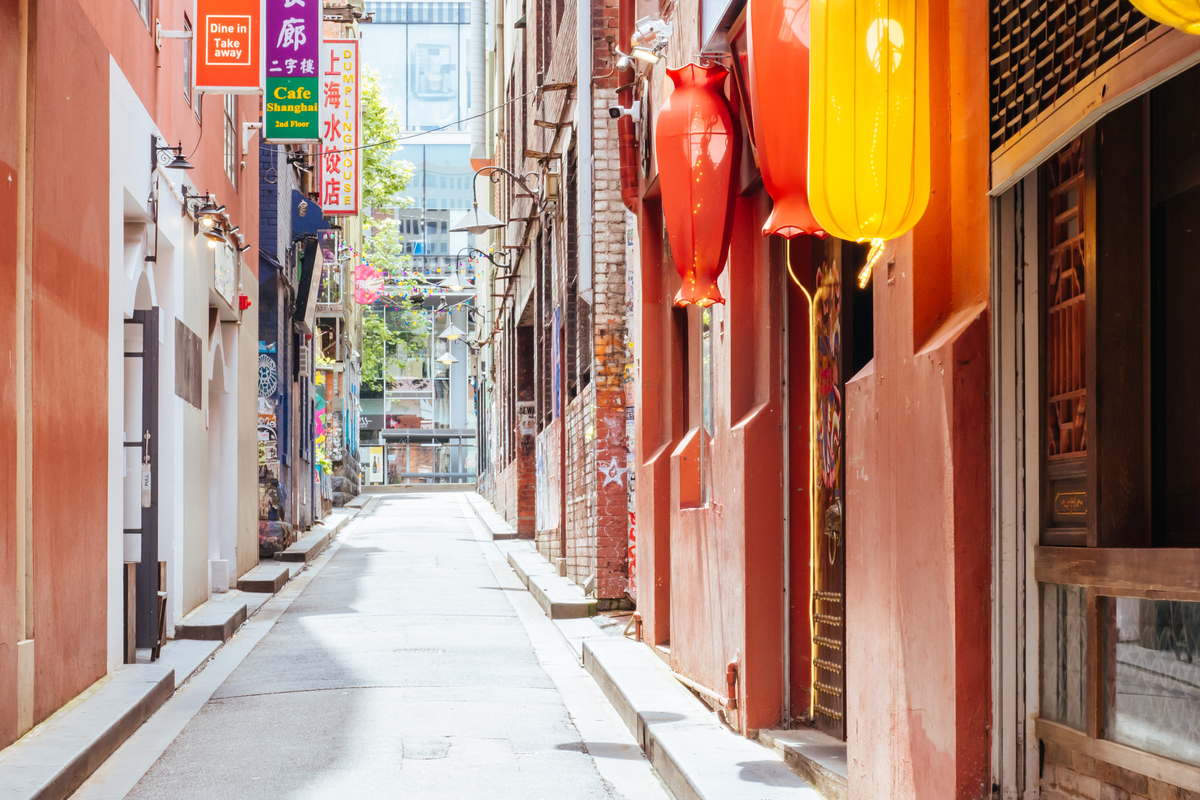 Unfortunately, the only royalty-free image I could find for Tattersalls Lane is from during COVID-19 Lockdown in 2020, so this is not the best representation of this iconic Melbourne laneway. This laneway is for the foodies, with Camy Shanghai Dumpling and Noodle Restaurant, Gaylords, an all-you-can-eat Indian restaurant, Section-8 which is a shipping container bar covered in graffiti.
Cathedral Arcade

A truly iconic Melbourne hidden shopping treasure, Cathedral Arcade is on the corner of Flinders Lane and Swanston Street on the bottom floor of the Nicholas Building. This arcade is full of little speciality stores and has a beautiful arched art deco ceiling and cool statues shown in the centre of the image above.
Meyers Place for Bars & Food
This hidden gem is located between Bourke Street & Little Collins and between Spring Street and Exhibition Street. It is full of little bars and restaurants and some hidden entertainment venues. This includes Lane's Edge cafe & bar, The Waiters Restaurant for Italian food with Bar Carlo, San Telmo Argentinian steaks, Loop Roof and Loop Top rooftop bar, Loop Project Space and Bar for pizza, music and events, Lily Blacks cocktail bar and the Improv Conspiracy comedy club. You could quite easily spend your whole evening in Meyers Place in Melbourne's CBD.
The Block Arcade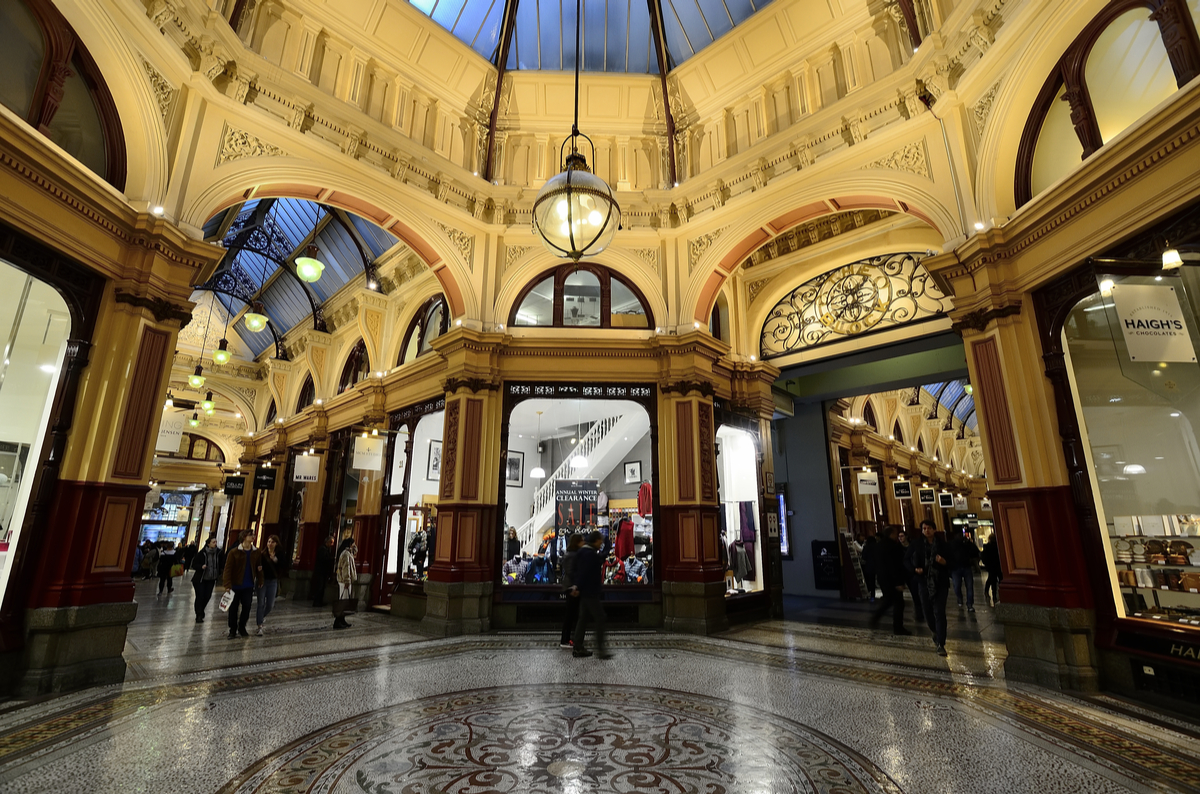 Home to Hopetoun Tea Rooms or The Tea Rooms 1892 as they are now called which is in tribute to the year this building was established. The beautiful architecture and unusual specialty shops make the Block Arcade a must-visit for travellers to Melbourne's CBDs looking for a unique shopping experience.
The complete store directory includes Adriano Carbone – Master Tailor, Alpaca Collection, Art Of Dr. Seuss, Basement Discs, Bell & Ross, Bendigo Bank, Card & Caboodle, Charles Dickens Tavern,  Coal River Farm, Essensorie, French Jewelbox, Georg Jensen Living, Gewurzhaus, Haigh's Chocolates, Haute Horology, Keshett, L'Occitane En Provence, La Crêperie Saint Germain, Mr Wares, Roxanne Fashions, Rutherford, Sophie Catherine Jewellery, Telstra T Shop, The Tea Rooms 1892, Truefitt & Hill and Wittners Shoes.
The Block Arcade is near the corner of Collins Street and Elizabeth Streeet in Melbourne's CBD.
Centre Place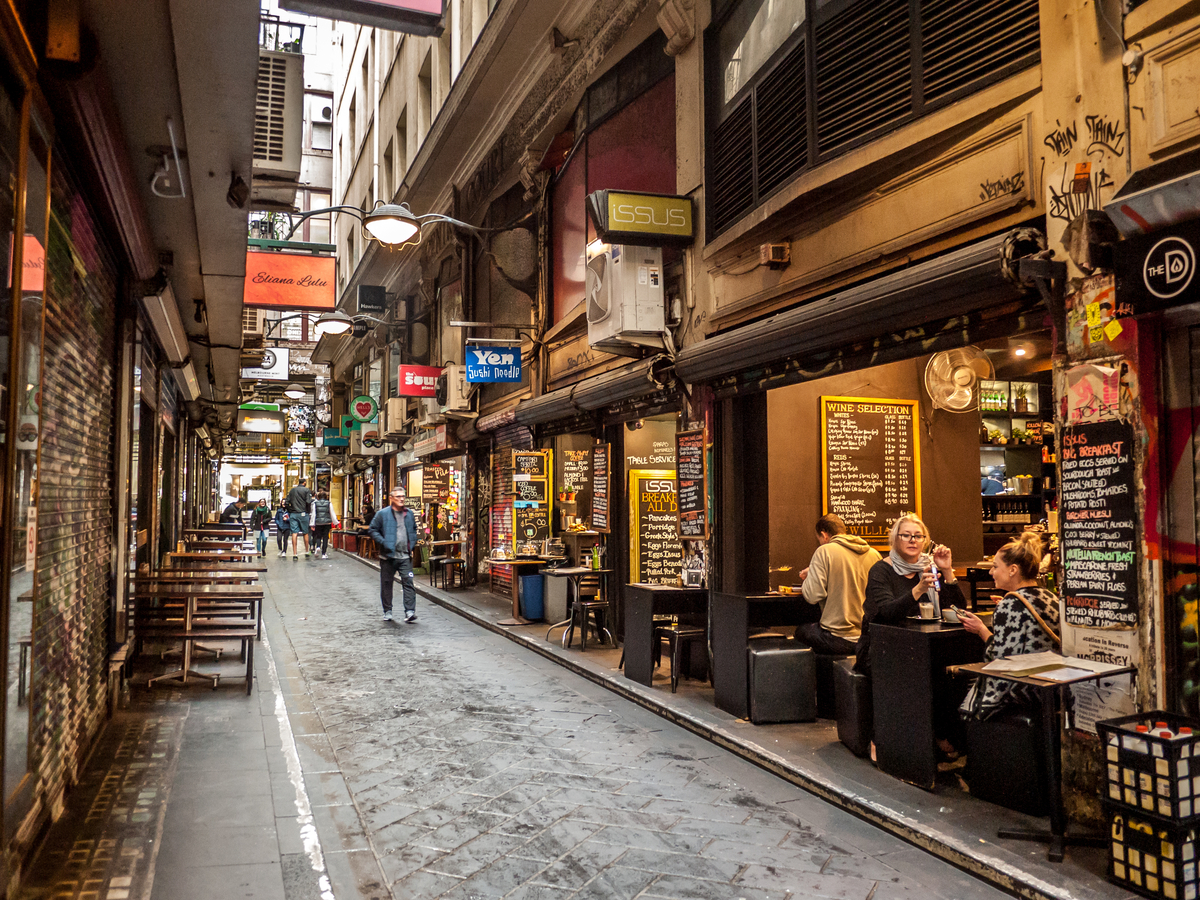 Located off Flinders Lane in between Swanston and Elizabeth Street in Melbourne's CBD, this little laneway is another one for food and drinks. Check out Hell's Kitchen for coffee or cocktails with a view over the lane, Lustre Bar for low-lit cocktails and desserts. Try the various hole in the wall eateries, such as B3 Cafe for cheap baguette sandwiches, The Soup Place for soup and Shandong Mama Mini for fresh dumplings.  There are also a few boutique stores such as Princess Highway and Kinki Gerlinki.