This slow cooker Taco soup has to be one of my all-time favourite winter recipes. This soup is great because it's hearty and actually fills you up. Which is rare for a soup. I'd say that this could even be considered a chilli con Carne recipe. It has all of the flavours of chilli but the light feel of a soup. It is also packed with hidden veggies which is great if you have kids.
This soup is ideal for busy people as you can leave in the slow cooker overnight or on the bench while you're at work.
I like to make this ahead of time and freeze in batches and thaw this out to have this for easy work lunches and quick weeknight dinners.
NOTES. 
If you would like a richer flavour it is important to brown the mince and onions prior to slow cooking. This will also make the mince feel crisper rather than soggy.
This makes a large amount of soup. If desired you may freeze portions for later.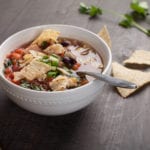 Ingredients
1 Large finely diced onion
3 cloves of garlic
800-gram tin of diced tomatoes
1 tablespoon of olive oil
1 Kilo of beef mince
1 red chilli (optional)
2 packets of taco seasoning
1 teaspoon salt
1 tin of corn cornels drained
1 tablespoon of tomato paste
700 ml  of beef stock
1 tin of black beans drained
1 tablespoon of lime juice
1 Red Capsicum (Bell pepper)
1 Green Capsicum (pepper)
1 Grated carrot
To serve:
Shredded cheese
Sour Cream
Chopped coriander
Instructions
Start by preparing all of your vegetables. You want to peel and grate your carrot. Finely dice the onion, chop the capsicums and chilli and peel and mince your garlic.
For best results, you should brown your mince prior to slow cooking. Add the beef mince finely diced onion, grated carrot, garlic and chilli to the pan.
Drain the mince of excess oil.
Once browned add in both packets of taco seasoning and tomato paste.
Spray the slow cooker with cooking spray then add your browned beef mince along with all other ingredients.
Set your slow cooker on low for 8 hours or high for 4 hours.
Towards the end of cooking add a tablespoon of lime juice to add some acidity if desired.
Serve with sour cream, cheese and coriander and enjoy