The Olsen twins have been working since they were infants, and most people know them as Michelle from Full House. You either thought they were adorable or incredibly annoying. But after Full House ended, they did a few cute movies and then the twins kind of faded away. So what happened to Mary-Kate and Ashley?
Movie and Television Careers
At first, they acted in a few tacky but cute 90's movies, such as "It Takes Two", a movie with one of the most recycled plotlines of all time. And they made that brilliant "Totally opposite identical twins" song, which was better than every season of Full House combined.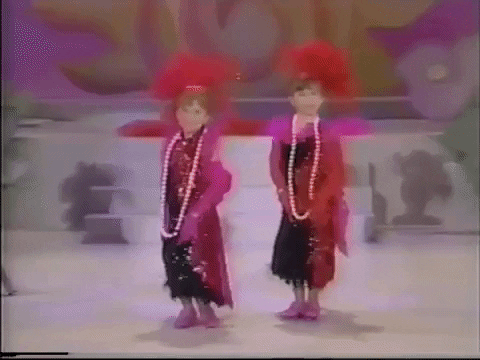 They made a few more movies, with pre-teens as their target audience. They had a really rad fan club, with merchandise and a magazine. When they retired from acting at 18 they were both ranked as some of the world's richest women, each with a net worth of over $100 million. One of the world's greatest mysteries is how they've managed to stay so successful when so many child stars hit rock bottom. Most of their movies have about 10% on Rotten Tomatoes, and yet they pull in millions.  
Older life
But now they're grown up and lead pretty private lives. To be fair, if my face reminded people of Michelle Tanner, I wouldn't show it in public much either. When they didn't appear in Fuller House, people started to wonder what happened to them.
They were the only members of the cast who declined the invitation to return. Ashley's reasoning was that she no longer feels comfortable in front of a camera (she hasn't acted since she was 17). Mary-Kate said she was too busy. Still, fans were upset that they couldn't make a small cameo, to thank the fans who cemented their lifelong success.
They own multiple fashion lines and other brands. Mary-Kate's style is often described as "homeless", and despite being so absent, she's apparently had quite a bit of influence in the fashion world. However, instead of prices, their website states "price upon request". This usually means very, very expensive.
Many of us suspected that the twins were cold-blooded lizard people from the beginning, whenever Michelle flashed that devilish grin. And we may have been right all along. One of the twins was seen walking around Manhattan in almost 100-degree weather wearing a long fur coat and a large scarf. Also, at some point in their life, they decided to stop smiling. I'm not sure who made the decision, and why, but they haven't smiled publicly in some time. They purse their mouths shut in a smirky kind of way. Maybe their teeth fell out.
The sullen pair attended a party thrown by Rihanna, and apparently danced on a banquette until 3 AM. There is, unfortunately, no video of this moment, but I can only picture two stone-faced sisters dancing in an awkward, robot-like manner.
They both married super old dudes
They both got with super old dudes. Mary-Kate married Olivier Sarkozy, and Ashley has been connected to a string of older men. They've been accused of being gold-diggers, but the twins have a higher net worth than most of their middle-aged lovers. Mary-Kate even has two stepchildren. A strange detailed leaked from her wedding- there were bowls and bowls filled with cigarettes and everybody smoked the whole night. And each of the 50 guests had to turn in their phones before entering.
The strange connection between Mary-Kate and Heath Ledgers death
Another oddity is the connection between Mary-Kate and Heath Ledger. She's been connected to his death from the beginning, but it was never specified how she was involved. When Ledger's masseuse found his body, she called Mary-Kate before calling the police. Mary-Kate sent her security team over, and they arrived at the same time as the ambulance. She refused to answer questions about his death unless she was granted immunity. She was let off the hook when the case was closed and nobody was charged.
Rumoured drug use
There has been plenty of speculation about drug use, and although it's likely, there has been no definite proof of this. They released a handbag that was covered decoratively in prescription pills. Their faces are gaunt and they look older than 33. There are also rumours of cosmetic surgery, especially concerning Mary-Kate, who looks utterly different than she did in 2013. However, a plastic surgeon said their appearance looks like more of a result of smoking and/or bad makeup.
Current Social significance 
At their 2019 fashion show, they gave guests an unusual gift. A palm-sized black crystal, along with a card on the magical healing properties of the crystal and instructions on how to properly care for it.
Multiple artists have taken an interest in the twins. Laura Collins painted a series of pictures of them attempting to hide from paparazzi.
Mary-Kate and Ashley were also the subjects of a pop-up museum, mainly themed around their strange public personas. In addition to the pictures of them hiding from paparazzi, it included a recreation of the wedding cigarette bowls and a phone that "only takes calls from Candace Cameron Bure, offering parts on Fuller House".
They avoid social media like the plague. This has saved them from public scrutiny, but it's left many people desperate for content. They appear occasionally for closed-mouth photo opportunities and to promote their brand. Their sister is a successful actor. Their forgotten brother sold autographed photos of his sisters at college and then retreated into a peaceful, regular life. Mary-Kate and Ashley will probably do the same someday.
Now you know sort of what Happened to Mary-Kate and Ashley. I hope this useless information helps you.